Tribeca: Dreamland (2019)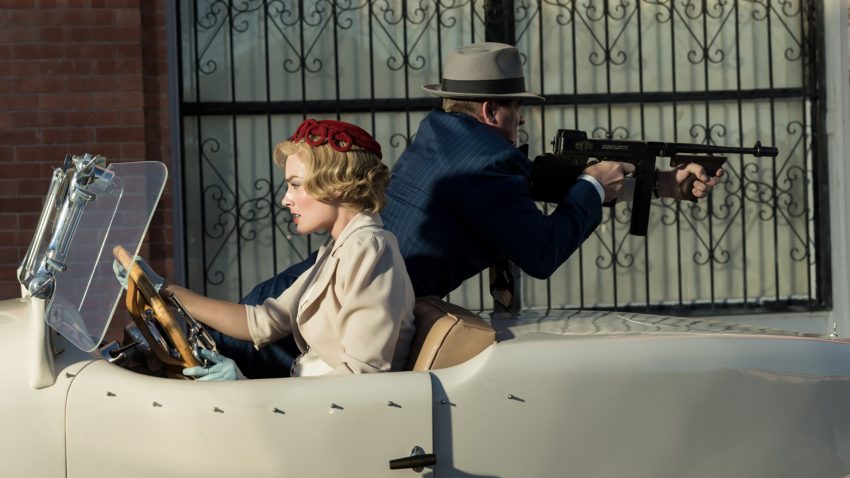 Gangsters possess a certain allure that can be wildly infectious. Those with no desire to see innocent people or even criminals killed may still look upon infamous outlaws with admiration, envious of the way in which they comport themselves and answer to no one. Impressionable young people who read comic books and detective novels are especially prone to fantasizing about what it would be like to meet a real-life gangster, which would be the greatest escape of all from a life lacking excitement.
That fantasy comes true in the Tribeca film Dreamland for Eugene Evans (Finn Cole), who never imagines getting out of sleepy, depressed Bismarck, Texas. After seeing wanted posters for a murderous bank robber, Allison Wells (Margot Robbie), he wanders out to his family barn to find her holed up there, bleeding and in search of a hero to help hide her and protect her.
Earlier in the film, Eugene steals a comic about detectives and outlaws from a local store, sneaking away to read it at home before his stepfather, George (Travis Fimmel), who works for the local police department, finds it and tells him to stop wasting his time imagining silly things. For Eugene, meeting Allison enables the fulfillment of two ideas: to be in the presence of someone who takes what she wants and to give a middle finger to George, since most of his days are spent hunting down that very fugitive.
Allison is also well aware of her audience, taking advantage of the fact that Eugene is clearly attracted to her both ideologically and physically. She plays the damsel in distress rather than threatening to kill Eugene, something she could easily do, instead knowing that her charm will ultimately be her most useful asset. As happens in these types of situations – especially in movies – she does eventually fall for Eugene, though unlike him, she knows that it can't last. He may be ready to run away to Mexico with her and never look back, but life on the road and on the run has taught her that it's never smart to choose that kind of life with someone else, since it always ends badly.
This film has a distinct feel to it, one that aims to capture the spirit and look of its times. Bismarck is presented as extremely prone to dust storms, which dampen an already bleak and boring existence. The costumes of the era, particularly those that Allison wears, pop against the desolate background. The way that Eugene acts and speaks makes him feel most authentic, thanks to a solid performance from Finn Cole, best known for his performances on two TV crime dramas, Animal Kingdom and Peaky Blinders. Robbie, nominated for an Oscar two years ago for playing a different kind of femme fatale in I, Tonya, knows how to play Allison to make her most appealing to Eugene, though it's a far cry from her breakthrough turn as the main character's wife in The Wolf of Wall Street. Though George is supposed to be a good guy, there's nothing more intense in the film than Fimmel's piercing blue eyes, which seem to strike a certain fear in Eugene that threatens to trap him where he is forever.
And that's fitting, because in a film like this where the son of the law falls in love with an established criminal, the greatest threat of all isn't their death – it's succumbing to the monotony of real life.
*lead image courtesy of Dreamland (2019) and Tribeca