GIFnotes: Giving you the basic plot summary of an upcoming book with the help of the Graphics Interchange Format.
This week, head back to the Cotswolds with a visual tour of M. C. Beaton's 28th Agatha Raisin Mystery, The Witches' Tree!
Cotswolds inhabitants are used to inclement weather…
But the night sky is especially foggy as Rory and Molly Devere, the new vicar and his wife, drive slowly home from a dinner party in their village of Sumpton Harcourt.
They strain to see the road ahead…
And then suddenly brake, screeching to a halt.
Right in front of them, aglow in the headlights, a body hangs from a gnarled tree at the edge of town.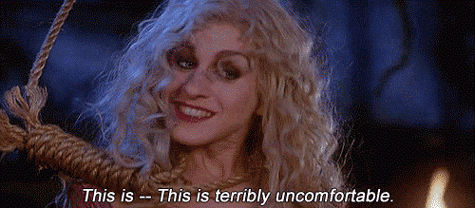 Margaret Darby, an elderly spinster, has been murdered―and the villagers are bewildered as to who would commit such a crime.
Agatha Raisin rises to the occasion (a little glad for the excitement, to tell the truth, after a long run of lost cats and divorces on the books).
But Sumpton Harcourt is a small and private village, she finds—a place that poses more questions than answers.
And when two more murders follow the first, Agatha begins to fear for her reputation―and even her life.
That the village has its own coven of witches certainly doesn't make her feel any better…
The Witches' Tree continues the tradition in M. C. Beaton's beloved Agatha Raisin mystery series―now a hit show on Acorn TV and public television.
Want more GIFs? Take a visual tour through Maia Chance's second Discreet Retrieval Agency Mystery, Gin and Panic!
To learn more or order a copy, visit:
---
M. C. Beaton, who was the British guest of honor at Bouchercon 2006, has been hailed as the "Queen of Crime" (The Globe and Mail). In addition to her New York Times and USA Today bestselling Agatha Raisin novels, Beaton is the author of the Hamish Macbeth series and four Edwardian mysteries. Born in Scotland, she currently divides her time between the English Cotswolds and Paris.