The Ten Best Scooby-Doo Monsters
Join author Tara Laskowski and her son Dash for a non-comprehensive rating of the best Scooby-Doo villains. Bonus: comment on the post below to enter for a chance to win a copy of Tara's new book, One Night Gone.
One of my and my husband's favorite things about being parents is getting to introduce our child to all our beloved TV shows and movies. We started watching Scooby-Doo several years ago, when our son Dash was around 3, and he immediately loved it. How can you not, really? Even though it's weirdly illogical and downright silly at times, the show is addictive and spooky. It's strangely comforting.
Somewhere in that time, I got the idea that it would be fun for Dash and me to actually rank our 10 favorite monsters from Scooby-Doo. Dash is now nearly 8 years old, and today, I'm pleased to finally reveal the results of all our years of research, all our toil and time.
A few notes: for this experiment, we concentrated solely on the bad guys. This is not a ranking of the intricacies of episode plots or the most exotic locations (although, hello, how in the world did the gang get the Mystery Machine to China?). It's a carefully curated list of the best villains—how original they are, how they interact with the gang, what their greatest tricks and scares are.
We only viewed and ranked the episodes in the Scooby-Doo, Where Are You? boxed set, which claims to consist of the complete first three seasons. However, there are other episodes not included in this set and therefore we did not consider those in this study. Future research could include these episodes and may challenge our results.
Before we get to the top 10, Dash and I need to give a quick shout-out to a few honorable mention monsters. These beasts didn't quite make the cut, but they still have a special place in our hearts:
The Loch Ness Monster from "A Highland Fling with a Monstrous Thing," for his powerful steam-puffing snout and ghostly bagpiper companion.
The Wax Phantom from "Don't Fool with a Phantom" for his melty weirdness.
The zombie and the witch, From "Which Witch Is Witch?" for crafting tiny voodoo dolls of Fred, Daphne, Velma, Shaggy, and Scooby. (I really, really love those voodoo dolls.)
And now, finally, on to our winners:
#10—The Beast of Bottomless Lake

Appears in: "The Beast Is Awake in Bottomless Lake" (Season 3)
Features: A fish beast with a lizard tail, a yellow fin, bulging eyes, big teeth, and a tendency to grunt.
Coolest trick: Creating thunder and spooky lights in Bottomless Lake
Downfall: An airlock in its own underground tunnel
The lake beast, which is the last episode in Season 3 of our box set, just squeaked into our top 10 rating. We appreciated its ability to make thunder when there are no clouds in the sky. We liked the dripping seaweed hanging from its arms like a slimy scarf and its ability to pop up from nearly anywhere. But what really kicked it into the top 10 for us before others was the fact that the villain under the lake monster's disguise is a woman. So rare for the Scooby-Doo villains to be ladies! Especially ones that even cats don't like. And this one is a gold smuggler and a good swimmer, too!
#9—The Tar Monster
Appears in: "The Tar Monster" (Season 3)
Features: Tar monster cyclops with a scuba mask and red mouth.
Coolest Trick: Great maze navigator
Downfall: Air compressors that defy reason and logic
Dash thinks the Tar Monster's drippy ooze looks like fur. We thought this monster was sort of sweet, in the way that creepy tar-drenched, treasure-stealing nightmares can be sweet. The Tar Monster also has a statue of himself, which, as Scooby discovers in the end, holds the key to the "inner sactum" where all the treasure is hidden. But what put him in the top 10 for Dash and me, besides, his adorableness, was a laugh-out-loud scene where Scooby and Shaggy pretend to be photographers and invite the Tar Monster into their studio for pictures. Ole Tarster is a good sport about it.
#8—The Headless Specter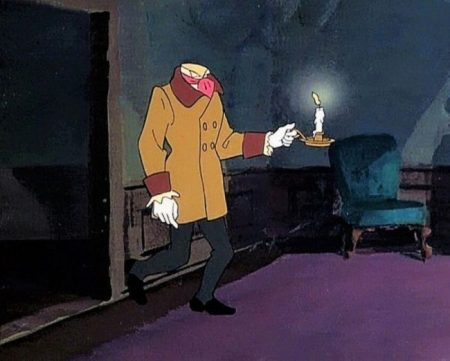 Appears in: "The Haunted House Hang-Up" (Season 2)
Features: A beheaded, well-dressed man who usually carries a candle.
Coolest Trick: Floating candles
Downfall: Some wild balloons and a chicken coop
This episode starts with my favorite spooky situation ever: A dude walking down a spooky road in the middle of the night with a lantern—and the gang is stupid enough to stop and ask him for directions. This is also the first Season 2 episode on our list, so I have to mention that Season 2 is our favorite because of the random, nonsensical pop songs that play over the chase montages in the middle of each episode. (In this case, "Love the World"). But the headless specter, the ghost of Jefferson Stillwell, is the star here—and a well-dressed villain he is. He's also got a wicked streak—at one point he delivers his own head IN A BOX to the gang (turns out to be just a wooden dummy, but still), and his footprints separate off at one point, as though he's divided himself in half. This villain is also unique because in the end he is someone who's not trying to steal or scheme someone else out of something, but rather just trying to scare everyone away to protect what's rightfully his.
#7—The Phantom Disc Jockey
Appears in: "The Diabolical Disc Demon" (Season 3)
Features: Think the Joker meets K.I.S.S.
Coolest trick: Stealthy stealing
Downfall: Getting tangled in a big pile of music reels
This monster was one of Dash's favorites, though both of us agree that "The Phantom" isn't really the best name for him. Since Dash is currently trying to learn how to play the piano, he liked the fact that this disc demon was so obsessed with music he simply had to steal it all. Bonus points for having some groovy musicians, and one funny sequence where Scooby and Shaggy break from being chased around a desk to play a hand of cards while the stupid ghost continues to pursue air.
#6—Miner Forty-Niner
Appears in: "Mine Your Own Business" (Season 1)
Features: A very tall man with a long bushy beard and mustache and a great hat.
Coolest trick: Villain walks on stilts the whole time to make himself look tall
Downfall: Trapped by a runaway train in an abandoned mine shaft
This episode strikes gold because of its eerie ghost town setting. The ghost miner himself isn't all that active—his biggest actions seem to be swinging his arms around to grab people. But we actually liked that he was for the most part silent and expressionless—no need to howl and moan ridiculously like many of the Scooby-Doo villains seem to do. His one mission, according to legend, is to haunt the town until he finds his missing gold. The gold here, as it turns out, is all black—oil is at the heart of this mystery. Dash and I felt sorry for Hank the caretaker, the guy behind the mask, because he loses out over the rich oil tycoon, who says callously at the end, "Too bad, we could've been partners," to which Fred answers, "Now instead of being rich, he's going to jail." Yeah right, rich oil guy. Like you would've really made Hank an equal partner.
#5—The Puppet Master
Appears in: "The Backstage Rage" (Season 1)
Features: Phantom in a black cape and hat.
Coolest trick: Creepy freaking puppets—everywhere
Downfall: Puppets
This episode is one of the creepier ones. The gang gets trapped in a theater with a sly, caped villain who seems to be a whiz at creating nasty, weird puppets. There's much to love here—such as when the doorman to the theater, who the gang first meets and chats with, later turns into a life-size puppet of himself. Cool theater tricks, a spooky organ, and violin cases stuffed with cash. The Puppet Master talks, too, which always makes it more interesting. His most chilling dialogue: "You know my secret, now you can never go!" with laughter. Just a bonus that this whole puppet show is a cover for a counterfeiter.
#4—Ghost of Redbeard
Appears in: "Go Away Ghost Ship" (Season 1)
Features: A pirate with, you guessed it, a red beard.
Coolest trick: The ghost sword-swinging and hovering in mid-air
Downfall: Tickled by an egg-beater
It's fitting that Red Beard has a great belly laugh—because he's one of the only villains we see with a sense of humor. The highlight of the episode is when he captures Scooby and Shaggy and tells them, "If you can cook, I'll spare you. Or else I'll cut your neck!" Scooby and Shaggy then proceed to prepare a stew of ashes, cobwebs, soap, chains, and other gross things and serve up their ghost pirate stew to Red Beard. He pauses, then bellows, "You eat it!"
Two other point-scorers in this episode: A pirate chest with a talking pop-up skull and a ghost sword that hovers in mid-air, which never gets explained away by the gang at the end.
# 3—Ghost Clown
Appears in: "Bedlam in the Bigtop" (Season 1)
Features: Creepy clown with a large red nose, dramatic eye shadow, and an evil smile.
Coolest trick: Hypnotism
Downfall: Mirrors
Who doesn't want a crazed, dart-throwing, hypnotizing, cackling evil clown in her life? The ghost clown has a poetic heart, though—he rhymes as he's hypnotizing everyone. "Watch the pretty coin of gold, and you will do as you are told." He causes a lot more mischief than many of the Scooby-Doo monsters. Under his power, he makes Daphne ride a unicycle, Scooby walk a tightrope, and Shaggy tame a lion. However, in the end, he is not bright; he gets out-witted by Scooby and Shaggy, who hold a mirror in front of their faces so the clown hypnotizes himself into acting like a monkey.
Dash's take: "He looked really scary. My favorite part was when Daphne could never even ride a bike, but he made her ride a one-wheeled one."
#2—Ghost Witch of Old Salem
Appears in: "To Switch a Witch" (Season 3)
Features: A gorgeous witch in a purple dress with green hair.
Coolest trick: Disappearing in a flash
Downfall: A hidden hole in a cemetery
This episode has all the things. It takes place in Salem, Massachusetts on Halloween, with cursed witches. Graveyards! Twins! Mobs! A witch rising from her grave to say, "I'll have my revenge!" (Swoon!) There's a fantastic scene during a town hall meeting with a group of angry white men who later rush out with torches. They're so dumb they think Scooby, dressed in a witch costume for Halloween, is the ghost witch turned into a dog, and they try to dunk poor Scooby in a tub of water to make him confess. The witch, who turns out to be Arlene's long-lost twin trying to scare her away from the estate, is way smarter than anyone in this episode—even the gang. She's badass. I hope she goes on to curse a whole slew of people.
#1—The Thawed Caveman
Appears in: "Scooby's Night with a Frozen Fright" (Season 2)
Features: A strong, grunting caveman with a club and loin cloth.
Coolest trick: Coming back to life after being frozen for thousands of years
Downfall: A giant clam
The caveman isn't one of the most iconic Scooby-Doo villains out there, but he is hands-down our favorite. We've watched this episode the most of any, and it always makes Dash laugh out loud. There are some delightful hijinks that make the caveman memorable as a not-so-bright villain. The montage during the '70s pop music song ("Seven Days a Week") takes us on a fun journey of the aquarium. Our favorite sequence is when Scooby and Shaggy are hiding from the caveman behind a curtain. Scooby's tail is hanging out under the curtain, so the caveman comes over and steps on it. Behind the curtain, Shaggy hands Scooby a paper bag, which he screams into, closes the bag, and hands it to the villain. The caveman opens it, and Scooby's yowls come tumbling out. At another point, Scooby and Shaggy open the door of a fish tank and dive inside and close the door. The caveman comes right on their trail, opens the same door, but this time all the water spills out, knocking him on his butt. Given that it's a science professor behind this ghost, you'd think the caveman would be a little brighter—but nope.
This episode might also have one of the best endings of the Scooby Doo series—the gang is in a malt shop, congratulating themselves on another job well done, when they talk about how Scooby found a great new dancing partner. Cut to Scooby dancing with the skin of the caveman costume. It's delightfully disturbing and hilarious, and all the reasons why we love this show.
---
About One Night Gone by Tara Laskowski:
It was the perfect place to disappear…
One sultry summer, Maureen Haddaway arrives in the wealthy town of Opal Beach to start her life anew—to achieve her destiny. There, she finds herself lured by the promise of friendship, love, starry skies, and wild parties. But Maureen's new life just might be too good to be true, and before the summer is up, she vanishes.
Decades later, when Allison Simpson is offered the opportunity to house-sit in Opal Beach during the off-season, it seems like the perfect chance to begin fresh after a messy divorce. But when she becomes drawn into the mysterious disappearance of a girl thirty years before, Allison realizes the gorgeous homes of Opal Beach hide dark secrets. And the truth of that long-ago summer is not even the most shocking part of all…
---
Comment below for a chance to win a copy of One Night Gone by Tara Laskowski!
To enter, make sure you're a registered member of the site and simply leave a comment below.
One Night Gone Comment Sweepstakes: NO PURCHASE NECESSARY TO ENTER OR WIN.  A purchase does not improve your chances of winning.  Sweepstakes open to legal residents of 50 United States, D.C., and Canada (excluding Quebec), who are 18 years or older as of the date of entry.  To enter, complete the "Post a Comment" entry at http://www.criminalelement.com/the-ten-best-scooby-doo-monsters/ beginning at 12:00 p.m. Eastern Time (ET) Octber 3, 2019. Sweepstakes ends at 11:59 a.m. ET October 17, 2019. Void outside the United States and Canada and where prohibited by law. Please see full details and official rules here. Sponsor: Macmillan, 120 Broadway, New York, NY 10010.