The Minotaur Sampler V.5: Oscars Dresses That Resemble Our Minotaur Sampler Book Covers
With the 2022 Oscars just around the corner, here are a few red carpet looks from years' past that are indistinguishable from our captivating Minotaur Sampler: Volume 5 book covers. This delightful eBook contains the first few chapters of 8 new fantastic titles on our list and is available for download now—click here to start reading!
Outside by Ragnar Jónasson // Naomi Watts
At the 2016 Oscars, Naomi Watts stunned in a midnight blue and red Armani Prive gown and a shimmering Bulgari diamond necklace. This sequined strapless beauty proved to be a unique look that highly resembles the cover of Ragnar Jónhasson's upcoming standalone thriller Outside. When a snowstorm hits the Icelandic highlands, four friends hide out in an abandoned hunting lodge without any contact with the outside world. In one night, the course of their friendship forever changes and not everyone makes it to morning. This terrifying read will be published on 6/28/2022. 
Things We Do In The Dark by Jennifer Hillier // Brie Larson
Brie Larson was a vision in blue at the 2016 Oscars. Gracing the red carpet in this stunning Gucci gown with an ornate floral belt, Larson's look closely resembles the gold and blue stylings of Jennifer Hillier's new thriller Things We Do in the Dark. In this chilling novel, Paris Peralta is suspected of murdering her celebrity husband and garners media attention that risks her dark past coming to light. Terrified of risking the life she's worked so hard to build, Paris must finally confront her past. Look out for this incredible novel on 7/19/2022.
Die Around Sundown by Mark Pryor // Michelle Williams
Michelle Williams wore this unforgettable saffron Vera Wang gown at the 2006 Oscars that is so legendary, it has its own Wikipedia page. This sunny hue pairs perfectly with the newest addition to Mark Pryor's mystery series, Die Around Sundown. This mystery is set in Paris during World War II where inspector Henri Lefort must solve the murder of a German major at the Lourve in just five days. In an effort to prove his loyalty in German-occupied Paris, Lefort consorts with a group of artists like Picasso in this race against time. This riveting novel will be available on 8/16/2022.
The Favor by Nora Murphy // Nicole Kidman
One word: unforgettable. Nicole Kidman made history at the 1997 Oscars in this chartreuse Christian Dior gown with floral accents that would inspire future red carpet looks in years to come. This beautiful gown closely resembles the cover of Nora Murphy's new thriller The Favor. As gripping as Kidman's dress, this domestic suspense novel explores the parallel lives of Leah and McKenna in which they appear to have it all, but are in fact, trapped by the dangers they face at home and what happens when they finally cross paths. This novel will be published on 5/31/2022.
Last Call at the Nightingale by Katharine Schellman // Sofia Vergara
The 2016 Oscars red carpet was full of memorable looks that included Sofia Vergara in this timeless Marchesa gown. The elegance of this strapless, navy blue beauty was not lost on anyone. The cover art for Katharine Schellman's debut in a Jazz age mystery series, Last Call at the Nightingale is just as classy as Vergara. This captivating mystery takes place in 1924 New York where Vivian Kelly escapes to the glamorous speakeasy, The Nightingale to dance her worries away. However, The Nightingale no longer represents freedom and fun when she discovers a body behind the club one night. As the crime gains attention, Vivian begins to understand the dangers of getting involved with the city's wealthy and careless. Find out what happens in Last Call at the Nightingale on 6/7/2022.
A Rip Through Time by Kelley Armstrong // Rita Hayek 
Rita Hayek brought color to the 2018 Oscars red carpet in this gorgeous Elie Saab gown. As if not daring enough with its deep neckline and high slit, this beautiful jewel-toned dress was made even bolder by the attached cape. The dramatic look mirrors the cover of Kelley Armstrong's series debut A Rip Through Time in which Mallory, a homicide detective, is visiting her ailing grandmother in present-day Edinburgh. After being knocked unconscious during her run, she wakes up as a housemaid in Victorian Scotland where she becomes involved in catching a murderer with the hopes that she can return to the present. This suspenseful novel will be published on 5/31/2022.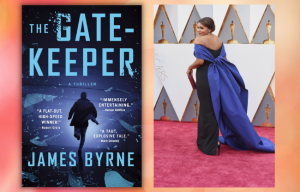 The Gatekeeper by James Byrne //  Mindy Kaling
Mindy Kaling took the red carpet by storm in this show-stopping Elizabeth Kennedy gown at the 2016 Oscars. While many critics were quick to judge the simplicity of the dress from the front, the blue sleeves that double as a dramatic train, proved to be anything but. The dark blues and black hues of Kaling's gown closely resembles the cover of James Byrne's new book The Gatekeeper. When the hotel that Dez is staying at is under attack, this retired mercenary springs into action and successfully thwarts the attack which then leads him to act as a gatekeeper and to prevent conspirators from achieving success. This thrilling book will be available on 6/7/2022.
The Blame Game by Sandie Jones // Lupita Nyong'o
Lupita Nyong'o wore this breathtaking powder blue Prada gown at the 2014 Oscars. This princess-like, flowy look was topped off with an elegant crystal headband. The light blue of this dress resembles the brightness of the sky before the storm on the cover of Sandie Jones' upcoming novel, The Blame Game. In what appears to be an ominous story from the start, Naomi, a psychologist, must learn to face the consequences of her actions when one of her clients goes missing after she advises him to leave his wife. This page turner reveals Naomi's dark past and the danger that surrounds more than just her clients. This novel will be published on 8/16/2022.