The Inside Story: A Reporter's Favorite Reporter Movies
Read which reporter movies Emmy Award-winning journalist and author Hank Phillippi Ryan thinks got it right, then make sure you're signed in and comment below for a chance to win a copy of her standalone novel, Trust Me!
Journalists writing in spiral notebooks and making phone calls and knocking on doors—that simply doesn't have the slam-bang movie-trailer appeal of explosions or car chases or monsters from the deep. But hey. Forget about boy gets girl or girl gets boy. I'm hooked on girl (or boy) gets story. A midnight secret source. A hunch. A mysterious phone call. Following leads and tracking down clues and finding the truth. And then, in the end, when the director cues you're on or the presses roll? That's the best.
The true story. It's as elusive as the sorcerer's stone or Red October. And for journalists, the search for the truth is a powerfully compelling motivator. I love movies about the ones who defy the odds and the interfering editors (sorry) and the machinations of the rich and powerful—and come up with the story.
That's the core of my new book, Trust Me. A sinister mother. A creepy boyfriend. Lies. Drugs. And many, many secrets. At center stage: how a reporter's search for the truth might lead to her own downfall. Did the notorious party girl Ashlyn Bryant really commit a horrible murder? She's the most hated woman in Boston—but does she deserve it? Maybe there's a reason no one believes her. Or maybe—she's a scheming manipulator.
Reporters battle not only through lies and cover-ups and manipulations but their own fears and secret biases. The tough reporters face their targets, one on one. Trust me, the reporter says. Trust me, the target says.
It's always a challenge for me to watch reporter movies—there's the looming possibility that the portrayal is embarrassingly wrong. "It would never happen that way!" I'll yell. And my husband will say, "Honey, it's just a movie."
Here are some just-a-movies that got reporters right. And one, I fear, that didn't.
All the President's Men (1976)
I worked in Washington, D.C., on Capitol Hill during Watergate. Every day, The Washington Post would land on our doorstep, and we'd read it in disbelief. Could all that be true? It was. And this heart-poundingly important dramatization of the Watergate uncover-up should be required viewing. It's so realistic and suspenseful that every time I watch it, I still wonder who will prevail. I cannot imagine how many students were inspired to become reporters after watching the dogged determination and relentless obsession of Woodward and Bernstein.
And here's a cool fact: In the parking lot scene, Deep Throat says "follow the money." Right? But it's not in the book, and the screenwriter later admitted it was made up. Whatever. That movie is still perfection.
His Girl Friday (1940)
This is a version of Ben Hecht and Charles MacArthur's (two reporters, by the way) The Front Page—but with the main character as a woman, the fabulous Rosalind Russell. She's trying to leave her reporter job to settle down and get married to an insurance salesman. (Like that's gonna happen.) But she gets lured by her diabolical but well-meaning editor (Cary Grant) to cover the imminent (and probably unfair) execution of the milquetoast bookkeeper whose been convicted of murdering a black policeman.
Of course—especially after some hilariously ridiculous Grant antics—she falls prey to the lure of the big scoop. Duh. There are crooked politicians and bribery and blackmail, and oh wait, Cary is Rosalind's ex-husband. And someone gets hidden in a roll-top desk.
The outcome is never is doubt, not one bit of it, but I love this movie anyway. Hildy—obsessed with the story—is my hero.
Spotlight (2015)
I was in the midst of my career as an investigative reporter in Boston when my news director came to my office with a copy of the morning's Boston Globe. If I remember, the front page was emblazoned with the Spotlight team's first expose of pedophiles in the Catholic Church. "Do you have anything on this story?" he asked. "No," I had to say. I had no idea.
The Globe proceeded to scoop the hell out of the entire city—and country—with its revelations. Spotlight, with its fictional portrayals of people I know, is spot on. It gives me goosebumps. The scene where one reporter knocks on the door of Father Geoghan, a suspected pedophile. He opens the door himself! I can see the astonishment on the reporter's face. And then, she asks what we call "the one question"—the one you ask when you know the door will get slammed in your face. But to her shock—he answers. And a story is born.
The spotlight is not only on the big story but on the humble, hardworking devotion of journalists who will not let their story go. When you can make an unforgettably riveting scene out of a document search—you got me. And stay through to the very end. It gets even more profoundly shocking.
Broadcast News (1987)
The stress! I could watch this a million times. It's crazy-true, absolutely on the money for the time it was made. At one point, it was difficult for me to separate this movie from my real life. But the intense pressure on the producer, the devaluation of the smart but not-so-attractive guy, and the elevation of the beautiful is hardly fiction. And the shock from true journalists when someone stages a shot is reassuring. I'm in awe of longtime producer Susan Zirinsky, on whom the Holly Hunter character is based. But if you've ever wondered what it was really like to be a TV reporter in 1987—and who hasn't—this is the movie for you.
The Big Clock (1948)
A hit in 1948, this movie holds up beautifully. (Including the fabulous hats, designed by Edith Head.) In the first two minutes, we know exactly what's going to happen: the sleazy, slimy publisher (Charles Laughton!) will try to cover up his murderous guilt by assigning the editor of his Crimeways Magazine (Ray Milland!) to hunt down the man being sought for the murder of the publisher's mistress—a man he's trying to frame, see, because the publisher himself is the real bad guy. What the publisher doesn't know: the innocent man he's trying to frame is that very editor! But, of course, the editor can't say so because he'll be arrested. It's a double-triple cover-up, where a tough reporter is hunting himself down and cannot afford to succeed. It all works. With crème de menthe stingers and fabulous apartments and swoopy peignoirs.
Oh, and here's a cool thing: The movie's director was John Farrow, Ronan Farrow's grandfather. How meta is that?
Absence of Malice (1981)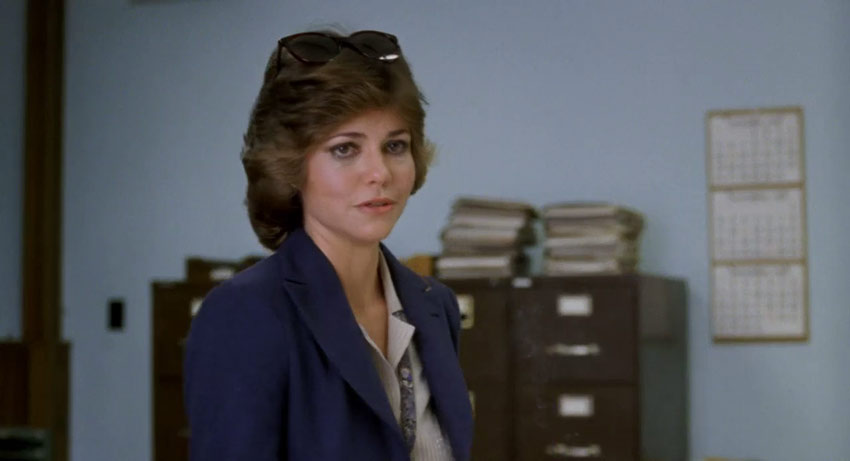 Being a reporter is complicated, and sometimes the pressure and the drive to break the big story can blind you to the truth. If someone is telling you he's not guilty—a reporter's built-in skepticism hears that only as an excuse. But what if it's true?
Sally Field as the reporter. Paul Newman as the supposed bad guy. (Ya think?) It's a complicated, twisty, realistically multi-layered story, but the point is: what if a good and honorable journalist gets duped? And lives are ruined? It's an object lesson in the terrifying responsibility that journalists accept. And the end is wonderfully ambiguous, just like real life.
The Post (2017)
I know, some people say it should be called The Times, but it's really the story of the increasingly brave and eventually iconic Katherine Graham, who finally values truth over financial security—her own and an entire newspaper staff's—and reveals the Pentagon Papers. In the '70s, I worked at Rolling Stone Magazine and had tea with Mrs. Graham at her DC home. I had to pour our tea from a scalding hot porcelain teapot, and I burned my hand like crazy on it. But I was too intimidated to say anything. I was so in awe of her and what she'd done that I—wanting to be brave—kept quiet. I still have the scar. But The Post shows the insistent, persistent, devoted journalists who unglamorously plow through impenetrable documents to uncover the treasures they know are there. I had to be held back from giving a standing ovation in the theater.
I could only list seven favorites, so I'm sneaking these in. Zodiac. Absolutely riveting. Gentlemen's Agreement. A classic, where reporter Gregory Peck goes undercover, pretending to be Jewish, to expose the anti-Semitism of 1947. Foreign Correspondent. Johnny Jones, tired of his boring newspaper assignments, goes to wartime London to expose Nazi spies. Citizen Kane. Call Northside 777. Nightcrawler. My beloved The Philadelphia Story has a reporter, but I don't think of it as a reporter movie. And Network. Terrific, but it's not a reporter movie either.
But—and your experience may vary—there's one reporter movie that, even though I last saw it 20 years ago, still bothers me so much that if you bring it up over drinks it will send me into a tizzy.
Up Close and Personal (1996)
I am so sorry about this, and I love Robert Redford and Michelle Pfeiffer and Stockard Channing. But I have to admit I was so angry at this movie that I almost walked out. I didn't, but only because I wanted to give it a chance. When the movie was over, I was actually crying. Not because it was sad—it wasn't, it was stupid—but because it was so misleading about the reality of television news that I wanted to grab everyone in the lobby and say, "This would never happen!"
Michelle Pfeiffer, a gorgeous "weather girl" (named Tally!), gets taken under the wing of craggy, brave, brusque, and tough (of course) veteran journalist Robert Redford and shows such a talent for investigative reporting (within about 10 minutes) that she replaces the experienced but older (maybe 35) Stockard Channing. Channing instantly conveys that she's over the hill because she wears red nail polish and sleek business suits. Trust me, skip this one.
And although The China Syndrome is great fun to watch and I have a lot of affection for it, apparently someone forgot that it would have been impossible to do a live broadcast from inside a nuclear reactor using equipment without any electrical wires in 1979. Just saying.
So, pass the popcorn and let's see those presses roll. Trust me, I've won 34 Emmys for investigative reporting. But after I meet my deadlines, it's also satisfying (and often inspirational) to close my computer and watch a great story about getting a great story.
Comment below for a chance to win a copy of Trust Me by Hank Phillippi Ryan!
To enter, make sure you're a registered member of the site and simply leave a comment below.
Trust Me Comment Sweepstakes: NO PURCHASE NECESSARY TO ENTER OR WIN.  A purchase does not improve your chances of winning.  Sweepstakes open to legal residents of 50 United States, D.C., and Canada (excluding Quebec), who are 18 years or older as of the date of entry.  To enter, complete the "Post a Comment" entry at https://www.criminalelement.com/the-inside-story-a-reporters-favorite-reporter-movies-comment-sweepstakes beginning at 1:00 p.m. Eastern Time (ET) August 28, 2018. Sweepstakes ends at 12:59 p.m. ET September 11, 2018. Void outside the United States and Canada and where prohibited by law. Please see full details and official rules here. Sponsor: Macmillan, 175 Fifth Ave., New York, NY 10010.