The Best Crime Books for Non-Crime Readers
Jessica Fellowes wasn't always a crime fiction reader, but thanks to these books, she saw the light. Join her for a criminal reading guide for non-crime readers. Plus, comment for a chance to win her new novel The Mitford Scandal
If you are wondering why crime is such a big genre that doesn't appeal to you because you prefer fantasy, romance, period drama or because you tried a Poirot once and didn't get it (this was me, too), these might change your mind. They're not just crime books—they're good books.
Best Book for Romance Readers
The Pilot's Wife by Anita Shreve
Shreve describes the falling apart of a woman's view of her marriage with taut prose that never fails to whip you along.
Best Book for College Students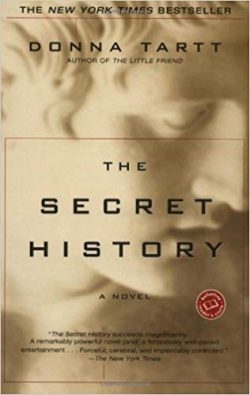 A Secret History by Donna Tartt
A masterpiece in crime writing, the backward raveling of a crime committed in a group of wayward, complicated students in New England in the early 1990s.
Best Book for Those Who Like Psychology
The Magus by John Fowles
Epic and intense, set on a small Greek island, this is a book that draws you into a world of psychological games that are hard to escape.
Best Book for Travelers (and Satirists)
The No.1 Ladies Detective Agency by Alexander McCall Smith
Set in Botswana, once you've met Mma Precious Ramotswe, I don't think you'll ever want to let her go. Warm and funny, she solves her cases by relying on The Principles of Private Detection, which means McCall Smith gently satirizes the very genre he writes in.
Best Book for Anglophiles
Agatha Raisin and the Quiche of Death by M.C. Beaton
This is the first in a series dressed up with cozy-looking jackets but Beaton's writing is sharp and funny. Raisin is a tough former publicist who leaves London to retire in the countryside but is soon meddling in local skulduggery. The grit of modern life lies just below the picture-postcard perfect Cotswolds.
Best Book for Fantasy Lovers
Dirk Gently's Holistic Detective Agency by Douglas Adams
There are lots of Adams' quirks to recognize here, and many of them will appeal to crime fans: philosophical mon bots, mathematical conundrums, aliens and time-travelers.
Best Book for Literary Readers
One Good Turn by Kate Atkinson
Atkinson's literary credentials are well-established with several books from Behind The Scenes at the Museum to Life After Life, earning heavy-weight prizes and plaudits. Her Jackson Brodie books lack none of her pin-sharp observations in clean prose yet are ripping whodunnits too.
Best Book for Those Who Prefer the Other Side of the Law
Rumpole of the Bailey by John Mortimer
Mortimer's actress daughter, Emily, is rumoured to be updating the Rumpole books for the screen, and they probably do need it: the eponymous barrister is a wine-drinking, rabidly non-PC lawyer of the old school who calls his wife 'Her Indoors'. But he also delights in getting one over on snobbish judges who do not live in the real world and his clients, dim-witted lowlifes to a man, are the ones he defends with the sympathetic view that they are not always bad people but live in a world that condemns them to bad choices.
Best Book for Environmentalists
Skin Tight by Carl Hiaasen
I've chosen Skin Tight here because it's probably the one that cracks along at the fastest pace, but almost any of Hiassen's books would do. In amongst the crime and world-weary policemen are vivid and authentic rages against the institutions that have destroyed the wildlife and waterways of his much-loved Florida.
Best Book for Period Drama Fans
Exposure by Helen Dunmore
With exquisite writing and attention to detail, depicting a marriage struggling in the Cold War, with the excitement of spy secrets and a tightly-wound plot, this is a haunting piece of work.
Best Book for Those Who Say They Don't Like Agatha Christie
Peril At End House by Agatha Christie
A cracker: short, funny, observant and with Christie's trademark unguessable ending. Warning: once you start Agatha, it's quite hard to stop. But this is the only one to start with. (Thanks to Sophie Hannah, a great crime writer herself, who put me on the path to Christie.)
---
The Mitford Scandal by Jessica Fellowes is the third book in the Mitford Murders series, where lady's maid Louisa Cannon accompanies Diana Mitford into a turbulent late-1920s Europe.
Comment below for a chance to win a copy of The Mitford Scandal by Jessica Fellowes!
To enter, make sure you're a registered member of the site and simply leave a comment below.
The Mitford Scandal Comment Sweepstakes: NO PURCHASE NECESSARY TO ENTER OR WIN.  A purchase does not improve your chances of winning.  Sweepstakes open to legal residents of 50 United States, D.C., and Canada (excluding Quebec), who are 18 years or older as of the date of entry.  To enter, complete the "Post a Comment" entry at https://www.criminalelement.com/the-best-crime-books-for-non-crime-readers/ beginning at 3:30 p.m. Eastern Time (ET) January 30, 2020. Sweepstakes ends at 3:29 p.m. ET February 13, 2020. Void outside the United States and Canada and where prohibited by law. Sponsor: Macmillan, 120 Broadway, New York, NY 10010.