SXSW: Villains (2019)
When petty thieves are the good guys in a movie, it can be expected that things are going to get dark. Villains, which premiered this past weekend at the South by Southwest Film Festival in the Narrative Spotlight category, approaches its protagonists with varying degrees of ethics, or lack thereof, from an inherently comedic perspective. This is a twisted portrait of a simple break-in gone horribly wrong, exposing much more insidious elements within a home than the unwelcome intruders.
On the surface, Mickey (Bill Skarsgård) and Jules (Maika Monroe) are bumbling robbers who freely announce their real names and exercise minimal caution in not leaving fingerprints or other identifying evidence during the perpetration of a crime. When their car runs out of gas, they happen upon a house in the woods, only to find a young girl (Blake Baumgartner) chained to a pipe in the basement. As they try to free her, the homeowners, George (Jeffrey Donovan) and Gloria (Kyra Sedgwick), return, treating their uninvited guests with typical Southern hospitality that is evidently a mask for far more sadistic behavior which will ultimately find Mickey and Jules fighting to survive and escape this prison they have unknowingly entered.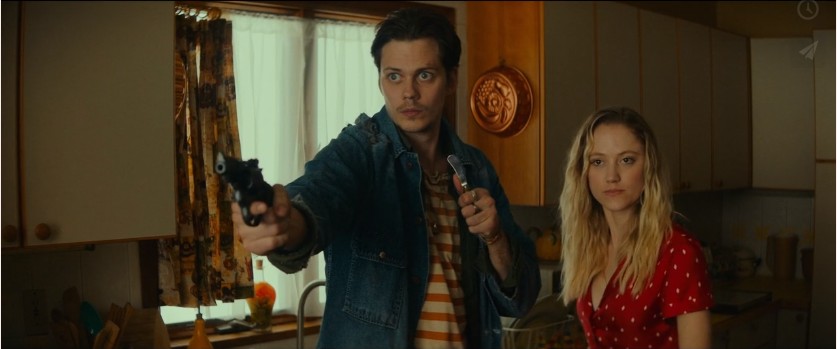 Beneath that first layer and the comedy that overwhelms this borderline horror film, there are clues that all of the characters are much smarter than they seem. As he is looking through the drawers in a desk, Mickey casually tosses out a camcorder which quickly reveals to the audience footage of a couple tied to chairs and screaming as an unknown figure with a knife approaches. When he is introduced, George clearly values style and presentation, dressing up the nastiness of what he does with a polite tone and creepy smile. Gloria seems particularly unhinged, trapping Mickey in a twisted fantasy that suggests a disconnect from reality. While they have clearly tortured and killed others in the past, they have a process to it, and each new opportunity, particularly this unexpected one, presents fresh excitement.
[a] talented, committed cast and a humorous framing lens help make Villains an entertaining and very worthwhile watch.
Though many of the interactions between Mickey and Jules are played for laughs, like when Jules calms her fellow robber by putting her hair over his face to invite thoughts of serenity, there is more to them as well. Mickey prefers to pick a lock rather than knocking down a door, and he comes up with one of the film's cleverest and most cringe-worthy ideas to use Jules' tongue ring to unlock their handcuffs. Jules could be mistaken for a dumb blonde, but she has tricks up her sleeves as well, able to charm those around her, and, in the heat of the moment, spring into action to fight for her life. These two might seem hapless, but they're much better-equipped than anyone who met them, including their captors, might assume. While there is a familiar formula here to the way the narrative plays out, this talented, committed cast and a humorous framing lens help make Villains an entertaining and very worthwhile watch.
*lead image courtesy of SXSW Film Festival