Six Lesser-Known Pulp Writers of the Revolution and Counterculture Era
Join Andrew Nette for a list of six pulp, crime, and popular fiction writers from the counterculture era who may have slipped your radar, but are ripe for rediscovery. Andrew Nette and Iain McIntrye are editors of Sticking It To The Man: Revolution and Counterculture in Pulp and Popular Fiction, 1950 to 1980.
Sticking It To The Man: Revolution and Counterculture in Pulp and Popular Fiction, 1950 to 1980, edited by myself and Iain McIntyre, is the first comprehensive account of the ways in which the changing politics and culture of the 1950s, '60s, and '70s were reflected in pulp, crime and popular fiction in the UK, United States, and Australia.
From Civil Rights and Black Power to the New Left and Gay Liberation, the 1960s and 1970s saw a host of movements shake the status quo. The impact of feminism, anticolonial struggles, wildcat industrial strikes, and antiwar agitation were all felt globally. With social structures and political structures challenged at every level, pulp and popular fiction could hardly remain unaffected. Feminist, lesbian, gay, black and other previously marginalised authors broke into crime, thrillers, erotica, and other paperback genres previously dominated by conservative, straight, white males.
For their part, pulp hacks struck back with bizarre takes on the revolutionary times, creating fiction that echoed the Nixonian backlash and the coming conservatism of Thatcherism and Reaganism. Their work includes vigilantes, rogue cops, assassins, and off-the-books secret agents, many of whom emerged as key protagonists amongst 'men's adventure' and other novels and films riding the anti-sixties backlash.
Sticking it to the Man features more than three hundred full-colour covers. It includes in-depth author interviews, illustrated biographies, articles, and reviews from more than two dozen popular culture critics and scholars. Many of the books we cover are by well-known authors, people like Chester Himes, Joseph Hansen, and E.R Braithwaite. However, we also tackle numerous works by lesser-known or long-forgotten writers, that we feel are ripe for rediscovery. Here are six such writers and their books who are covered in detail in Sticking it the Man.
Trashing, Anne Fettaman (1972)
A lot of books considered in Sticking it to the Man were written by people who had nothing to do with the radical movements they were writing about. Not so, Anne Fettaman, the author of Trashing. A pseudonym for Anita Hoffman, wife of Yippie leader, Abbie Hoffman, the book is a semi-autobiographical tale of a young woman who gets involved in the counterculture.
The Iceman series, Joseph Nazel (1973-1974)
Joe Nazel was a prolific author and editor for the infamous white-owned 'Black experience' Los Angeles publisher, Holloway House. He helped reorient Holloway House from its origins in black sleaze pulp to a publisher of books that put a black American inner-urban spin on genre formulas such as hardboiled crime fiction and men's adventure series, popular in the 1970s. The seven-book Iceman series focused on a self-made black millionaire businessman, Henry Highland West, who engages in a running battle with racist white cops and the Mafia.
Where Have All the Soldiers Gone?, Con Sellers (1969)
Con Sellers was a former army combat correspondent in Korea whose careers as a pulp write included some 230 novels under 94 names, spanning genres such as crime fiction, science fiction, westerns, movie tie-ins, and smut. His 1969 novel, Where Have All the Soldiers Gone? focuses on an anti-war activist who decides he will have more impact stopping the war in Vietnam by joining the marines and exposing what is going on from the inside.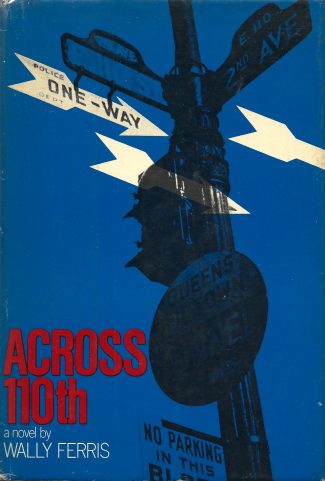 Across 110th Street, Wally Ferris (1972)
The basis for the gritty 1972 American crime film, Across 110th Street, the novel, which experienced phenomenal sales when it was first published, is not only an excellent heist gone wrong story, but a searing depiction of early 1970s New York on the brink of chaos. Ferris was a television news cameraman who died in 2014, and this was his only book.
The Lone Wolf series, Mike Barry (1973-1975)
Misanthropic right-wing cops with bad fashion sense and poor diet were thick on the ground in 1970s American pulp fiction. None were crazier than Burt Wulff, a Vietnam vet, turned narcotics cop, turned lone vigilante, who engaged in a fourteen-book war against a shadowy criminal organisation called 'the Network'. Mike Barry was the pseudonym of well-known American science fiction writer, Barry Malzberg, and the series is noteworthy for the way it treats Wulff and his battle against crime, as an extension of the conflict in Vietnam.
Trying Hard to Hear You, Sandra Scoppettone (1976)
Scoppettone was an American author of mystery and young adult novels, whose career stretched from the 1960s to the 2000s. Coming out in the 1970s, her books are some of the earlier YA novels to deal with the experience of young gay and lesbian adults. Trying Hard to Hear You deals with the terrible ramifications of a young woman outing her boyfriend and his male lover.
*Photo credit: Tatjana Plitt
---
About Sticking It To The Man: Revolution and Counterculture in Pulp and Popular Fiction, 1950 to 1980 edited by Andrew Nette:
Contributors include: Gary Phillips, Woody Haut, Emory Holmes II, Michael Bronski, David Whish-Wilson, Susie Thomas, Bill Osgerby, Kinohi Nishikawa, Jenny Pausacker, Linda S. Watts, Scott Adlerberg, Maitland McDonagh, Andrew Nette, Danae Bosler, Michael A. Gonzales, Iain McIntyre, Nicolas Tredell, Brian Coffey, Molly Grattan, Brian Greene, Eric Beaumont, Bill Mohr, J. Kingston Pierce, Steve Aldous, David James Foster, and Alley Hector.