Sherlock Holmes and the Beast of the Stapletons by James Lovegrove: New Excerpt
Who's ready for the continuation of a classic Sherlock Holmes mystery? New York Times bestselling author James Lovegrove has us covered with Sherlock Holmes and The Beast of the Stapletons, continuing the story of The Hound of the Baskervilles five years later as another monstrous creature stalks across Dartmoor...

Read on for a new excerpt!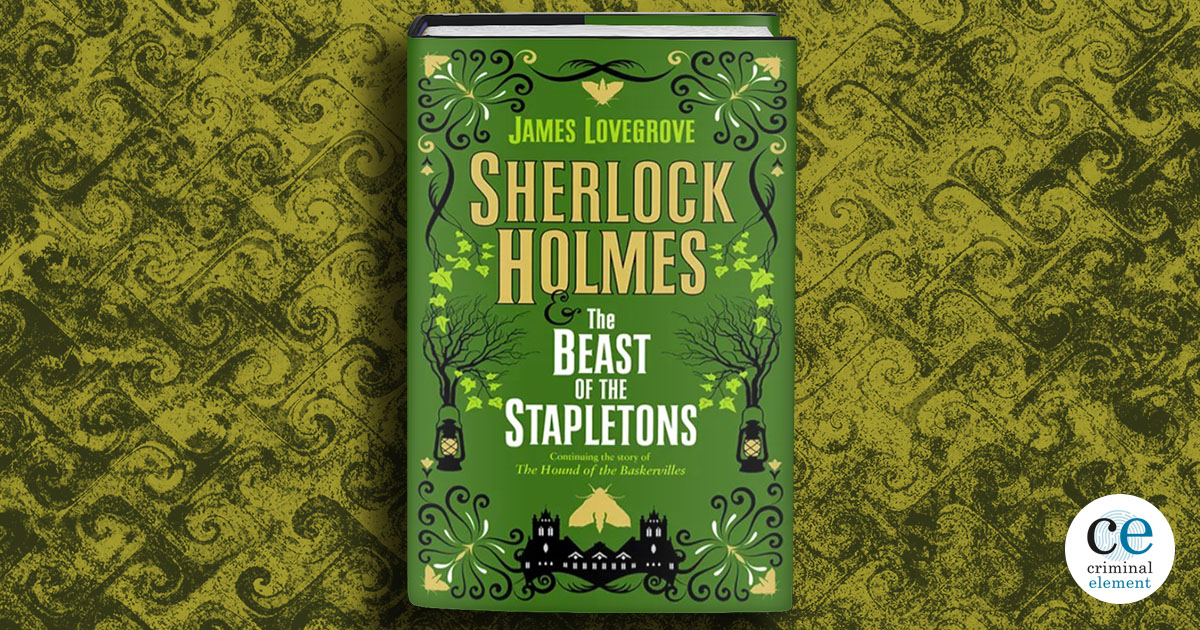 "But to begin at the beginning…" said Corporal Benjamin Grier.
"If you wouldn't mind," said Holmes.
Sitting back, the American commenced his narrative. "I was owed several weeks' leave by the army, and got it into my head that I should visit with my old pal Henry all the way across the Atlantic. I was keen to see his home and get an idea of how life as a baronet was treating him. He had a wife now, too."
"Lady Audrey."
"That is she. You know her?"
"Know of her. A Devonshire lass, and by all accounts a great beauty."
"He also had sired a son, and I had yet to make the acquaintance of either. I wrote him, expressing my intentions, with the proviso that if he was too grand now to consort with commoners such as myself, naturally I would not come. In his reply, Henry matched my joshing tone. 'Normally I send peasants packing with my shotgun when they come to my house, but for you, Benjamin, I shall make an exception.'" Grier heaved a deep sigh. "Those words proved, in the event, to be horribly prophetic.
"Throughout the ocean voyage my prevailing mood was one of joyous anticipation. Everything I knew about Henry's present circumstances, from the correspondence he and I had exchanged over the years since he came to England, suggested that he had found happiness. He was deeply in love with Audrey, and she had provided him with a healthy heir, name of Harry, who had lately turned three and upon whom Henry clearly doted. He was settling into the ways of Dartmoor, befriending neighbours and enjoying an active social life. It seemed he had put behind him the whole episode involving the hound and Jack Stapleton, or whatever the man's name was. About this his letters had furnished only a sketchy account, but from what I could gather, it was a horrendous ordeal. By the way, regarding you, Mr Holmes, Henry was fulsome in his praise. The same goes for you, Dr Watson. It is quite apparent that he owes you two his life. But how much can change in a single moment! How easily can disaster strike when least expected!" Grier nodded towards the whisky decanter on the sideboard with an importunate air. "I realise it is barely gone noon, sirs, but might I…?"
I stood up, charged a glass and handed it to him. With appreciation, he drank deep.
"That's better," said he, and resumed his account. "Of my arrival at Southampton and my subsequent journey to Devon, there is little to say, other than to mention a strange foreboding that came over me, its intensity increasing the further inland I travelled. At first my inexperienced eye roved with delight over the hills, rivers and quaint villages I passed in a succession of trains. Yet, as I crossed into Devon, the terrain grew not only wilder but in some weird way darker: small towns interspersed with solitary stone hovels, all huddling beneath a low, grey sky. An oppression settled over my spirits, and I ascribed it to the bleakness of my surroundings, and also to exhaustion. I had been a week at sea and am no sailor; nor had my accommodation helped, for all I could afford was a cabin in steerage. There was a part of me, however, that seemed convinced somehow that disaster lay ahead—and in this, alas, it was proved accurate."
"Yes, yes, enough of the hors d'oeuvres," said Holmes, somewhat curtly. "Please, I beg you, Grier, the entrée."
One might deem this remark rude, and I fear his interlocutor took it as such. I, on the other hand, who knew Holmes's ways intimately, understood that he was excited by Grier's story and anxious to get to the heart of the matter.
"You are right," the American said, a little stiffly. "Here I am, insisting that time is of the essence, and what do I go and do but get lost in digression? I shall henceforth do my best to be concise."
"But at the same time, you must omit no salient fact."
"Agreed. Well, eventually I alighted at a place called Bartonhighstock, a tiny, out-of-the-way village with an inn and a train halt to its name and not much else."
I knew Bartonhighstock, for it was there, at a little rural wayside railway station, that I had fetched up, along with Dr James Mortimer and Sir Henry himself, on the way to my memorable sojourn at Baskerville Hall.
"By prior agreement, Henry was to have laid on a wagonette to collect me," said Grier. "None, though, was to be seen. I waited a full hour, and still no wagonette appeared. This struck me as odd but explicable. Maybe there had been some kind of miscommunication. Maybe Henry had got his dates muddled up, or I had. So I assured myself, even as my misgivings mounted.
"In the end I decided to walk, and duly went to ask for directions to Baskerville Hall. There was no station master—the station was too small for that—but there was a booking clerk. Upon hearing my destination, the fellow's face turned grim.
"'You have heard about the recent tragedy there,' said he. I shan't attempt to replicate his thick rural burr.
"'Tragedy?' I enquired.
"'The death of Lady Audrey.'
"At that, my heart sank like a stone. All at once, my feelings of foreboding were justified.
"'Her Ladyship was killed,' the clerk said, 'just a short distance from the Hall.'
"'Killed? How?'
"Now his expression became not just grim but evasive. 'Well, it's not for me to say one way or another what might have been responsible. Nobody knows for certain. But a terrible bad death it was. And there are rumours…'
"'What sort of rumours?'
"'That some monster did it. Nothing else could account for the awful state of her body.'
"'Monster,' I echoed wonderingly. I pressed him for more detail, but none was forthcoming. All he would tell me was that Baskerville Hall was not somewhere I, or anyone, should go. He advised me to take the next train out of Bartonhighstock.
"He still had not vouchsafed the Hall's whereabouts. However, I managed to extract that morsel of information from him, if nothing else. I can be quite… persuasive when I put my mind to it. What is the good of being built so sturdily if one cannot take advantage of it from time to time?
"I was told it was a distance of some seven miles to the Hall, and it was anything but an easy journey. Yet to a soldier who has marched, day upon day, across desert, mountain and prairie, seven miles is nothing. Having double-checked the route with the booking clerk—for there were many junctions where I would have to make turns, and few signposts for guidance—I hefted my suitcase and set off at a fast lick. A couple of hours of daylight remained, I estimated, and it would not do to get caught out in the open, somewhere remote and uninhabited, as darkness fell.
"Along narrow lanes and up and down hillocky slopes I strode. A wind stirred, bringing enough of a chill to the air that I felt obliged to button my coat up to the neck. The overcast sky darkened. All the while, as I walked, I felt a profound pang of sorrow for my friend Henry. A widower now, after a mere four years of marriage—and his wife taken from him in circumstances which, judging by the clerk's hints, were as violent as they were mysterious. I recalled Henry saying once, in a letter, that there was a widely held belief that the Baskervilles were cursed. The wicked antics of an ancestor of his, name of Hugo, had seen to it that the family would never know happiness. Successive generations would pay the price for their forebear's sins. He had mentioned this laughingly, and doubtless when the supposedly spectral hound that killed his uncle was revealed to be no more than a flesh-and-blood dog, it did put Henry's mind at rest, convincing him that he was not the victim of some supernatural legacy of suffering.
"But now it occurred to me that perhaps, after all, the Baskerville curse was real, and Audrey was just the latest in line to fall to it."
Copyright © 2020 by James Lovegrove. All rights reserved.
---

About Sherlock Holmes and the Beast of the Stapletons by James Lovegrove:
1894. The monstrous Hound of the Baskervilles has been dead for five years, along with its no less monstrous owner, the naturalist Jack Stapleton. Sir Henry Baskerville is living contentedly at Baskerville Hall with his new wife Audrey and their three-year-old son Harry.
Until, that is, Audrey's lifeless body is found on the moors, drained of blood. It would appear some fiendish creature is once more at large on Dartmoor and has, like its predecessor, targeted the unfortunate Baskerville family.
Sherlock Holmes and Dr Watson are summoned to Sir Henry's aid, and our heroes must face a marauding beast that is the very stuff of nightmares. It seems that Stapleton may not have perished in the Great Grimpen Mire after all, as Holmes believed, and is hell-bent on revenge…