Revisiting 1971's Cult Classic Horror Film Let's Scare Jessica to Death
Brian Greene revisits the divisive 1971 cult classic horror film Let's Scare Jessica to Death, soon to be released in Blu-ray by Shout! Factory this month.
Many of us film watchers rely on critical reviews of movies to help us decide whether a particular title is worth our time, whether it's a new release we're thinking of seeing in a theater or an old one we're considering checking out through various means. But what to do when a certain movie has garnered reviews that are so mixed that we have no idea what to expect from it? The low budget, cult classic 1971 horror film Let's Scare Jessica to Death is a prime example of a cinematic title about which experts have just never been able to come to a critical consensus. Stephen King has hailed at as "quite simply, one of the best ghost stories ever filmed." Rod Serling has been quoted as stating it was one of the scariest motion pictures he ever viewed. Film scholar Kim Newman credits Jessica with "coming up with a fresh American take on overworked material," and "grasping the heart and mind with icy fists, leaving a permanent impression on the psyche."  Yet other reviewers, both at the time of the title's release and in more recent years, have been less flattering in their appraisals. It's been panned in ways such as, "little nourishment for even horror movie cultists," "isn't able to live up to its reputation as a hidden gem within the horror genre," "mostly after-the-fact shock rather than well-plotted and built-up suspense."
Hmm. So is Jessica "an insightful consideration of the emotional legacy of social transformation," and "a time-specific classic," as another critic suggests, or is it better summed up the way yet another expert did: "great title, lousy film"? With all these confusing inconsistencies in the various critical analyses, interested parties need to simply watch the movie and decide for themselves what to make of it. With Shout! Factory releasing Jessica in a new Blu-ray edition in late January 2020, there's never been a better time to take the dive.
The film's writer, Lee Kalcheim, conceived it as satirical fare that would be a romp about hippies getting terrorized by some kind of monster that lives in the water when they attempt to make a life for themselves out in the country. But John D. Hancock, who made his debut as a full-length film director via Jessica, altered the tone when he came on board. Hancock wanted it to be more of a serious horror film, and he had his way. But he kept some of the elements of Kalcheim's original script intact. In the finished product, the story is about a late 20s/early 30s-ish woman named Jessica who is a New York City denizen and who has just completed a six-month stay at a psychiatric facility in NYC. When she is released from the mental hospital, her husband decides that the best thing for Jessica is for them to leave the city and temporarily relocate to quieter surroundings. He purchases a farmhouse in rural Connecticut, and the couple, along with a male friend of theirs, go back to the land and set up home in the rustic village.
Naturally, this being a horror movie, all does not go well for the trio in their attempt at leading an idyllic lifestyle out in the sticks. First, they encounter a wayward young woman who'd been squatting in the farmhouse; she stays on after they move in and creates a wedge between the married couple. The locals are mostly crusty old dullards who are hostile to their new, younger neighbors (also, they all seem to have wounds around their faces and necks). And Jessica starts hearing menacing voices, seeing dead bodies neither her husband nor their friend can see, and getting followed by a strange mute woman who runs around in a white dressing gown. Oh, and they come to learn that there's a legend about the family that used to own the farmhouse—that a 20-year-old woman drowned in the nearby cove decades before and has been haunting the home and its grounds ever since.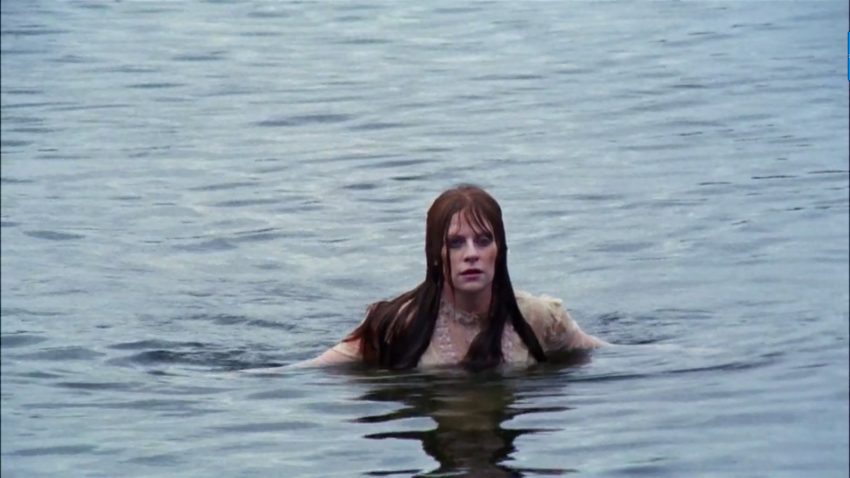 That there are both lesbian and vampire undercurrents to the story, has caused some to draw comparisons between Jessica and Sheridan Le Fanu's classic of gothic literature, Carmilla (1872), a must-read for any lover of vampire fiction. The fact that the squatter woman looks and sometimes acts like a hippie, yet has sinister danger about her, is apt to make one think of the Manson family. George Romero's horror masterpiece Night of the Living Dead (1968) is sure to come to mind for some viewers as they sit through Jessica.
Some of the critics who aren't overly fond of Jessica, and who find the performances of the supporting players wanting, have found it in themselves to praise the acting of Zohra Lampert in her portrayal of the titular character. It's true that Lampert, who had a role in Splendor in the Grass (1961), and who most recently had been working on Broadway, is effective and affecting in her portrayal of the psychologically stricken woman. But there's also something to be said about the work of the thespians who played her husband, their friend, the squatter, and even the stodgy locals. They're all a bit dull-seeming, sure. But this is an offbeat story that didn't call for grandstand acting done by seasoned pros. These are mostly average people behaving in average ways, which makes them believable. And some of the blandness in their lives as exhibited through Hancock's lens, nicely offsets the more sensational, supernatural moments in the story. Likewise, while Jessica's hallucinations (or are they hallucinations?) are what give the film its drama and scariness, what really makes her character compelling are more normal, everyday moments for her, like when she gets her feelings hurt when her husband is clearly attracted to the squatter woman. That none of the main characters were played by actors who had the looks of movie magazine cover models, adds another layer that makes all of them, and the story, feel authentic in an everyday way.
To this writer, it's odd that the mastermind behind The Twilight Zone found Jessica to be so frightening. It's eerie, sure, but is it really all that scary? But then it's a very different experience to watch a movie on a disc, in your home, close to 50 years after its release, than it is to see it in a theater when it is fresh and new to the viewing world. And I'm not sure I'm ready to place the film on a pedestal set as high as the one Stephen King has. What's clear to me, though, is that the movie works quite well as an offbeat horror story. I think of it as being akin to another cult classic, 1962's Carnival of Souls. Both films are low budget, atmospheric movies that have loosely drawn storylines and a lot of unpolished acting people surrounding a psychologically vulnerable, haunted woman.
The next film Hancock directed, 1973's Bang the Drum Slowly, is perhaps his best-known cinematic work. It's a baseball drama that features a young Robert DeNiro in a prominent role. Personally, I have a soft spot for Hancock's 1979 melodrama California Dreaming, which concerns a misfit nerd who drifts into a SoCal beach town and gets involved in the lives of some of the locals. Whatever anyone thinks of those two titles and Hancock's other directorial efforts, no one can reasonably question that he made a memorable work with his debut, Let's Scare Jessica to Death. Some think it's the shit, while others think it's just plain shit; but few who have seen the film, whether back in 1971 when it first hit theaters, or since, are likely to forget it.
Shout! Factory's new edition of Jessica includes a generous assortment of bonus features, among them audio commentary by director Hancock and an essay by the above-mentioned film critic Newman.