Review: The Turn of the Key by Ruth Ware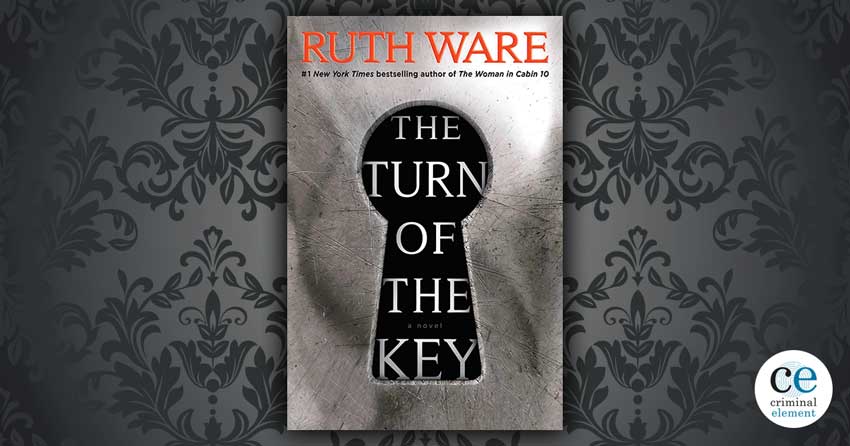 The Turn of the Key by Ruth Ware introduces Rowan Caine. She wasn't looking for this sort of job, but when she comes across a live-in nannying post with a staggeringly generous salary, she can't help but answer the ad. What she doesn't know is that she's stepping into a nightmare.
The Turn of the Key plunges the reader into a spiraling mystery. It opens with a series of increasingly fraught letters.
Dear Mr. Wrexham,

I know you don't know me but please, please you have to help me.
The second letter contains a clue; he or she is writing from HMP aka Her Majesty's Prison Charnworth.
Dear Mr. Wrexham,

You don't know me, but you may have seen coverage of my case in the newspapers. The reason I am writing to you is to ask you please
The missive ends abruptly, but on September 4, 2017, the prisoner writes again.
I hope that's the right way to address you. I have never written to a barrister before.

The first thing I have to say is that I know this is unconventional. I know I should have gone via my solicitor, but he's
The agitated prose ends midsentence. Then, a day later, "Are you a father? An uncle? If so, let me appeal …" And lastly, "Dear Mr. Wrexham, Please help me. I didn't kill anyone." How could anyone not want to find out what lies behind these agonized pleas? Ruth Ware has us in the palm of her hand. [NB: Here's a general explanation the barrister/solicitor dichotomy: "The basic difference between barristers and solicitors is that a barrister mainly defends people in court and a solicitor mainly performs legal work outside court."]
On September 7, 2017, the floodgates open; the writer decides to "make" Mr. Wrexham aware of every detail.
I am a young woman, twenty-seven years old, and as you'll have seen from the return address above, I am currently at the Scottish women's prison HMP Charnworth. I've never received a letter from anyone in prison, so I don't know what they look like when they come through the door, but I imagine my current living arrangements were pretty obvious even before you opened the envelope.

What you probably don't know is that I'm on remand.

And what you cannot know is that I'm innocent.
She ruefully says that everyone in prison is innocent, "according to them, anyway." Finally, we find out the crime of which she is accused.
I am the nanny in the Elincourt case, Mr. Wrexham.

And I didn't kill that child.
Is there a more horrific crime than the murder of a child? That it's a nanny—someone hired for the specific purpose of caring for children—makes it that much worse. But if the nanny is innocent, who killed the child?
The prisoner realizes she has left her middle-class English background far behind when she sees herself in a mirror with "scraped back" hair, "eyes like chips of granite," and a "hard and white" set face. Her shock at her resemblance to her fellow inmates propels her into action. Truth is her only ally, so she starts with the advert, a "busy family of four children" wants an experienced live-in nanny. But the household is in the remote Scottish highlands, and the nanny must be prepared to stay there on her own. The salary is very generous—£55,000 per annum (a little less than $70,00 U.S.) with eight weeks' holiday.
I read it through once, and then again, my heart beating faster, the second time, because it was perfect. It was almost too perfect.
How can this job measure up? She realizes something is amiss—what's with the "dizzying, fabulous salary?"
That should have been my first warning signal, you know. The salary. Because it was stupidly generous. I mean it would have been generous even for London, even for a live-out nanny.
If she has misgivings, why does she pursue the job? Ware piles on details that create a feeling of inevitably. The applicant is not happy at her Little Nippers nursery job where she works in the baby room with "pushy, faddy parents, with their fucking fabric nappies and their homemade—" She stops writing and says she's just letting off steam. Still. Her roommate has been off traveling for months. A desired promotion didn't materialize. She's "not very good at failing," so she never aims high in order to avoid pain. She had the grades for university, but she didn't even apply. The nanny job seems ideal—it will get her out of her "comfort zone," perhaps provide a new start in life.
She comes across as needy, even rather desperate—a lonely singleton. She works up her CV, applies, and then waits. Interestingly, she fudges the application a tad. "The only problem was the driving license. But I pushed the issue aside for the moment." She wants an interview "so much." Finally, Sandra Elincourt emails her.
Hi, Rowan! Thank you so much for your application, and apologies for taking so long to get back to you. I have to admit, we were slightly taken by surprise at the volume of applications. Your CV was very impressive, and we would like to invite you to interview.
Mrs. Elincourt says Heatherbrae "is an old building and has had no more than the usual number of deaths and tragedies in its past, but for some reason these have resulted in some local tales of hauntings, etc." The tales have resonated with her "recent nannies, to the extent that four have resigned in the past fourteenth months." A revolving door of nannies, with no one staying for more than 3 or 4 months—why doesn't Rowan see a red flag?
Off she goes to Scotland where, after a day of travel, she arrives at a remote, "dusky platform." No one is there to pick her up. Five, 10, 15, 20 minutes pass before a man approaches her, Jack Grant, the Elincourt's odd-job man. He takes her to Heatherbrae, which "exuded warmth and luxury and comfort." Or does it?
Rowan is anxious to meet her potential employer.
Instantly something felt off-kilter. But what was it? The door in front of me was traditional enough, paneled wood painted a rich glossy black, but something seemed wrong, missing, even. It took me a second to realize what it was. There was no keyhole.
And "there was no knocker either." She sees a "ghostly illuminated icon in the shape of a bell," hears a chime from inside, and finally, a voice booms out, "Rowan! Hello!" Jack and Sandra Elincourt are architects, and according to Jack, Bill is "into technology." That's an understatement. Rowan finds out there's "constant surveillance from the cameras installed around the house," and worse, the omnipresent technology often goes on the fritz.
Sandra is polished and professional, but her need for a nanny is obvious. She's relieved to hear that Rowan is "firmly single." With subtle strokes, Ruth Ware paints a picture of ratcheting tension. When Sandra says, "So … no ties to London then," a reader might be tempted to tell Rowan to leave while she can. But then, we wouldn't find out how a "perfect" job with a "dizzying, fabulous" salary could go so wrong. The Turn of the Key is a tour de force—Ware is writing at the height of her powers.