Q&A with R. G. Belsky, Author of Below the Fold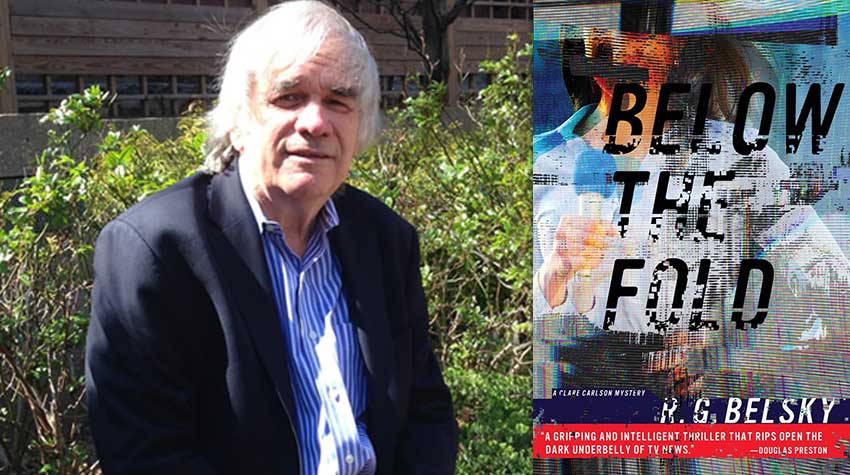 R.G. Belsky is a veteran journalist in New York City who has an extensive background in newspapers, magazines, and TV/digital news. A former managing editor at the New York Daily News, he has also been a top editor at the New York Post, Star magazine, and NBC News. Belsky brings that expertise to the realm of crime fiction, where has written both standalone and series novels. His works include Loverboy, Playing Dead, and the award-winning Gil Malloy series (The Kennedy Connection, Shooting for the Stars, and Blonde Ice). Last year, Belsky introduced TV news director Clare Carlson in Yesterday's News; that title was named Outstanding Crime/News Based Novel by Just Reviews in 2018 and was a Finalist for Best Mystery of 2018 in the Foreword INDIES Awards. His newest, Below the Fold, follows Carlson's journey to break the news even as she makes the news.
Recently, Belsky offered insights into the genesis of his new series, the clash between journalistic instincts and bottom-line business, the media's role in reporting crime, the shifting landscape of journalism, and how his newsroom days influenced his transition to novelist. He also teased what comes next for Clare Carlson.
Below the Fold is the second book in your Clare Carlson series. How does this story work as both a standalone plot and a continuation of the overall arc you established in Yesterday's News?
Well, the story definitely is a standalone plot. It's about the seemingly insignificant murder of a homeless woman on the streets of New York City, which explodes into a sensational news story involving some of the city's richest and most powerful figures. The media usually only covers more high-profile crimes, but this time my TV journalist character Clare Carlson breaks the rules to report on a murder no one really cares about at first. But everyone has a story, she believes, and it's up to her to find out what that story is. Not unlike Harry Bosch's mantra of "everybody counts or nobody counts" in the Michael Connelly books, I suppose. I love that concept.
The overall "arc" is the secret we find out about Clare in Yesterday's News. I don't want to go into much detail here for those who haven't read the first book—but her personal quest for answers about a daughter that she has never known continues in Below the Fold.
But people who have read Below the Fold so far say it works as a standalone story even if you haven't read the previous book.
Clare has evolved from a reporter to a TV news director. How does this progression influence her view of what is, or should be, newsworthy, and in what ways does this perspective (as evidenced by the case at hand) put her firmly in the crosshairs, both personally and professionally?
Clare is definitely in the crosshairs between her instincts as a journalist and the demands of her job (ratings, ad money, demographics, etc.) as a TV news executive. There's nothing she loves better than being out on the street chasing a big news story. But she also realizes the responsibilities of her job make her more than just an ordinary reporter.
Why did I create a character who was a news director instead of a reporter? Good question. And the answer is … uh, it was kind of a mistake.
My first Clare Carlson book, Yesterday's News, was originally meant to be a standalone. And it made sense for Clare to be a news director in that one, chasing after a big story from her youth that had never really been resolved.
But people liked her enough that I turned her into a series. And now I have to always figure out a reason why she's not sitting behind a desk but instead out covering a story herself. Sort of like McMillan & Wife used to be on TV, I guess. He was the police commissioner, but he solved crime cases too.
It's fun to write about Clare, though. And because she is a TV news executive, I get to write about a lot of the behind the scenes things—good and bad—that go on in a big city TV newsroom.
We've all heard the adage, "If it bleeds it leads." What, in your opinion, is the media's role in the perpetuation of violent crime, if any—and how do you endeavor to balance entertainment value with sensitivity in your fiction?
I don't think the media plays any role whatsoever in the "perpetuation of violent crime." Violent crime happens; the media reports it. That's the media's job. The reason we do is that people care about crime, no matter how violent and tragic and ugly it is. That's why stories like O.J. and Jon Benet and Casey Anthony get so much media attention. People care. If they didn't care, the media wouldn't cover the stories.
That's how the media works in real life anyway.
In fiction—and certainly in my mystery fiction—it's really all about being entertaining. No one really dies; it's simply about providing people with a good crime story. That's been the case from Hammett to Chandler to Columbo and Rockford Files on TV to Connelly to Child and on and on. I'm not worried about sensitivity in my books—just about telling people a good story.
You have worked extensively in print, television, and digital news. How has the shifting landscape of journalism influenced your career trajectory, and in what ways does this new series reflect the current (but ever volatile) state of affairs?
All the changes in the media have certainly influenced the careers of journalists today—including my own.
I started out working at the New York Post when it was a tabloid print paper that sold a million copies a day back in the tabloid heydays of the '80s. I then went to Star magazine where we sold 3.5 million copies a week as one of the top entertainment publications. This was before the days of the internet and TMZ and 24-hour news channels and all the rest, of course. My last job was at NBCNews.com where I was involved in running their website and doing live streams and video and tweets and everything else social media related that's a part of what journalism is today.
It's impossible to write mystery fiction without acknowledging these dramatic changes in the business. When I wrote my last series—about a New York newspaper reporter named Gil Malloy—he was a traditional journalist in the first book (2014), writing stories for the next day's print edition. By the last book in the series (2016), he was tweeting and live-streaming his stuff to get it on the paper's website in real time.
But it's also dangerous to focus too much on the technical stuff like this in a mystery novel because it is all changing so fast! By the time a book comes out, a lot of that stuff in it might be outdated. So I try to make the changes going on in journalism part of the story—but not the story.
In fiction—and certainly in my mystery fiction—it's really all about being entertaining. No one really dies; it's simply about providing people with a good crime story.
How have you found this background to inform your creative writing process, both in terms of craft and discipline? Also, given a journalist's ethical obligation to the truth, how do you achieve a sense of authenticity while still allowing yourself creative license?
Gillian Flynn—who wrote Gone Girl after she got laid off as a reporter at Entertainment Weekly—once said, "I could not have written a novel if I hadn't been a journalist first." I feel the same way.
I draw on my own years of media experience—both in covering crime stories and in capturing the feel of a big city newsrooms—for my mystery fiction novels.
As for authenticity, let's just say I allow myself lots of creative license. The truth is that the job of a real-life journalist, like most real-life jobs, isn't all that interesting. In my entire career, I don't think I've ever heard of a journalist singlehandedly catching a murderer. But it happens in all my books!
I always love the classic Raymond Chandler story about the time someone criticized Philip Marlowe for not being an authentic portrayal of a private investigator. "A real-life PI doesn't get hit over the head every time he walks into a room or have a beautiful blonde client on every case," the critic said. Chandler replied something to the effect of: "You're right. But if I wrote about what a real PI does all day no one would read me." I feel the same way when it comes to writing about journalists in my mystery novels.
Leave us with a teaser: What comes next?
The next Clare Carlson mystery—the third in the series—will be out in spring 2020. It's called The Last Scoop and puts Clare on the trail of a terrifying serial killer called "The Wanderer" who has left a trail of dead women across the country. I've covered a lot of serial killers in my time as a journalist—Son of Sam, Ted Bundy, Zodiac, etc.—and this gave me an opportunity to tell some of that in a "ripped from the headlines story."
After that, well … I love Clare Carlson and plan to keep writing about Clare as long people want to read her.