One for the Books: Reality TV Meets the Mystery Story
In Eve Calder's A Tale of Two Cookies, pastry chef Kate McGuire is on the case when an old friend's wedding goes off the rails and the groom goes missing right as a television crew arrives in town to film a hot, new reality show. Read on for Eve Calder's list of novels that feature reality shows and see how reality TV meshes with mystery in A Tale of Two Cookies!
I have a secret. One that some of my nearest and dearest don't even know.
No, it doesn't involve the perfect murder-mystery plot. Or even the ideal chocolate cookie recipe. (Although in my book, any cookie recipe involving chocolate is ideal.)
The truth is, I love reality shows. Fashion reality shows. Cooking reality shows. Real estate reality shows. And especially renovation reality shows. (I blame my mom for that last one—she loves a good fixer-upper with "potential.")
You can keep the ones involving housewives, famous families, high-dollar competitions, and medical angst. Give me something light and frothy that the hosts, designers, an army of professionals, and good camera work can resolve in less than an hour. Preferably with someone saying both "wow!" and "thank you!" at the end.
Whether the answer to their dilemma is an over-the-top wedding dress, a new recipe for mac-and-cheese, or a tear-down home remodel, that's a win. And it's kind of inspiring to see someone tackle a problem and cross it off their to-do list in 60 minutes or less. Even if that isn't exactly "reality."
Plus, you can't beat the backstories. And—can I say it?—for a mystery writer, they're pure gold. The launchpad to a hundred different nefarious plots, suspicious characters, and murderous motives that you can twist in so many diabolical directions. The wedding planner stirring up trouble. The real estate agent with an ulterior motive. The bickering adult siblings. And that engaged couple who seems so perfect for each other—maybe a little too perfect.
When I was writing A Tale of Two Cookies, I wanted to throw a curveball at the normally chill residents of my fictional small town of Coral Cay. But these folks have seen it all. They live in an idyllic beach hamlet that hosts tourists by the horde, as well as enigmatic billionaires and splashy Hollywood types on a regular basis. They're nonplussed by money, status, and glamor.
So what might stir the pot? How about a group of visitors bent on wreaking havoc just for the sake of getting attention, creating drama, and boosting ratings? A total 180 from the reality shows I most enjoy—but perfect for my evil purposes.
Given the aggression, angst, and alcohol consumption displayed by a few of the fictional contestants, my amateur sleuth and her friends soon wonder what dastardly deeds and discoveries might lurk—like an iceberg—unseen beneath the surface. (Or, in this case, in the unexplored areas of the castmates' luxurious mansion.)
And with good reason.
Reality shows are such a natural treasure trove of conflict and drama that it's no wonder a number of mystery writers are incorporating reality TV into their books. Some fairly recent ones include:
Like the criminals we create, mystery writers are good at improvising—using what's at hand to get the job done. And reality shows are a rich source of heroes and villains, tensions and motives. A world in microcosm.
So the next time you grab the remote to catch the stunning reveal of that sparkling new reno, go ahead and marvel at the high ceilings, granite countertops, and hardwood floors.
I want to know who could be buried in the basement.
---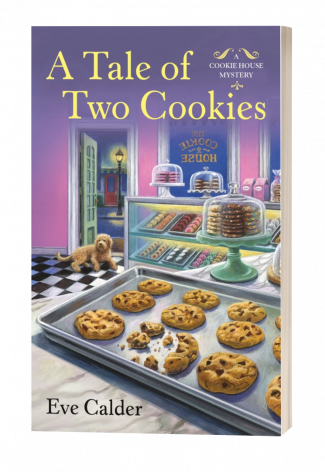 About A Tale of Two Cookies by Eve Calder:
Pastry chef Kate McGuire is loving life on the laid-back island of Coral Cay, Florida. As junior partner in a bakery renowned for luscious desserts—especially her cookies—life is pretty sweet. So when an old friend arrives and announces a spur-of-the-moment beach wedding, that's just the icing on the wedding cake.
But the groom vanishes right as a television crew descends on the town to film a hot, new realty show. Is there a connection? Is her friend Desiree somehow involved? Or did groom Judson simply get cold feet? The bride and groom were paired better than warm cookies and cold milk, so Kate doesn't buy it.
As the show's cast runs amok on the island and the investigation into Judson's disappearance heats up, Kate and her pal Maxi, along with town dog Oliver, will brave the rambunctious world of reality TV and a wedding weekend gone awry, in an all-out effort to find the missing groom.