Of All the Gin Joints
Read British spy writer Charles Cumming's reflection on the movie Casablanca and its influence on his latest novel, The Moroccan Girl, then comment below for a chance to win a copy!
In a culture of prequels and sequels, origin stories and franchise reboots, it seems no box-office hit can be considered safe from the recycling junkies in Hollywood. Psycho, Minority Report, The Karate Kid, Fargo—all have been variously updated and rebranded for the 21st century, with wildly different results. For every Dawn of the Dead there was an A-Team; for every True Grit, a Point Break.
In the midst of all this cultural cannibalism, it's a relief nobody has dared touch the most iconic love story of them all: Casablanca. Like Citizen Kane or Lawrence of Arabia, perhaps some movies are too precious, too cherished to be remade. Besides, what actor would relish filling the shoes of Humphrey Bogart or Ingrid Bergman? And show me a screenwriter, firing up their laptop on a crisp LA morning, who would be brave (or arrogant) enough to think they could surpass Julius and Philip Epstein's peerless script?
Casablanca was on my mind as I was writing The Moroccan Girl, my new spy thriller published in the U.S. this week. You might ask what a black-and-white love story from 1942 and a British spy novel set in the present day have in common. Well, Casablanca is recognized as a timeless tale of war and romance, but it is also a spy thriller. Bogart's Rick Blaine fought against Franco in the Spanish Civil War and ran illegal guns into Ethiopia. In helping Ilsa Lund (the part played by Bergman), he is aiding and abetting Victor Laszlo, a Czech Resistance hero hunted by the Gestapo.
The fusion of the political and the romantic is one of the holy grails of the spy genre. Graham Greene did it brilliantly in The Quiet American; John le Carré pulled off a similar feat with The Constant Gardener. Having loved Casablanca since I was a child, I wanted to draw on some of the themes of this enduring film and pay homage to them in The Moroccan Girl.
Casablanca occupies a unique place in the hearts and minds not only of American audiences but of moviegoers around the world. Why has this always been the case? It can't just be the box-office clout of Bogart and Bergman or the endlessly quotable one-liners, from "Here's lookin' at you, kid," to "Round up the usual suspects." Watch the film again and the flashbacks to Paris can seem a little awkward, even cheesy. And it's striking, to say the least, that a story supposedly set in the largest city in northwest Africa features so few Moroccan characters.
Clearly, something else is at work. The film touches on profound themes of heroism and redemption, of thwarted love and noble sacrifice. It was these that I wanted to tap into when considering my own characters. Bogart's Rick is an archetype of masculinity: on the surface, he's tough and resourceful, but underneath, he's burning with passion and regret. Could some of that rub off on Kit Carradine, a British novelist drawn into the world of espionage while attending a literary conference in Marrakech? At the same time, Ingrid Bergman's Ilsa is a woman of great complexity: sensual, impassioned, and steadfast. Lara Bartok, the woman with whom Kit falls in love in The Moroccan Girl, deliberately shares these characteristics.
F. Scott Fitzgerald famously observed that there are no second acts in American lives. Perhaps he was right—Casablanca is certainly about the impossibility of second chances. In the famous final scene, Rick puts Ilsa and her war-hero husband on the plane because the cause of defeating fascism is greater than the cause of his own heart. In doing so, he gains a measure of personal redemption but at the price of his own contentment.
Yet, perhaps the abiding memory of Bogart's most celebrated film is the city itself. As director Michael Curtiz presents it, Casablanca is a hotbed of corruption and double-dealing. Yet the city has also become a byword for glamour, excitement, and intrigue. Who among us, given the chance, would turn down the opportunity to spend an evening in Rick's Café Americain sipping a Veuve Clicquot served by Carl and listening to Sam playing "As Time Goes By" on the piano?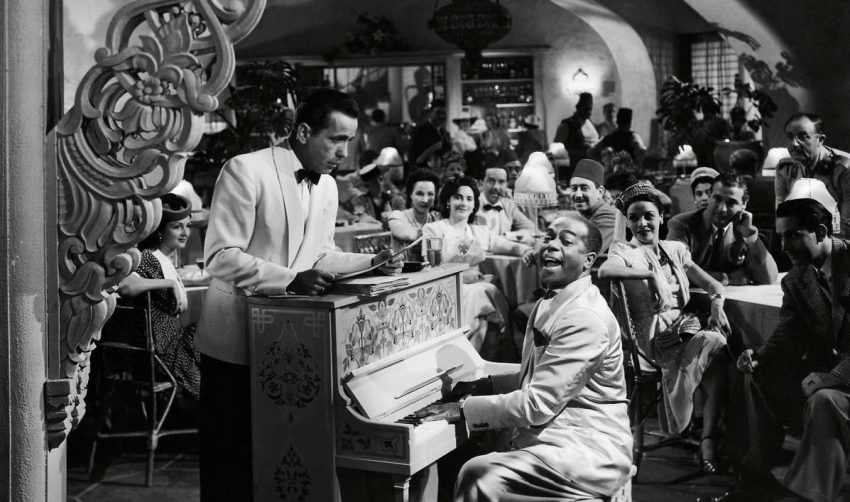 So I felt it was important to go to modern-day Casablanca and to see the place for myself. Alas, it saddens me to report that no fictional cinematic city, from Woody Allen's Manhattan to Graham Greene's Havana, bears as little resemblance to its real-life counterpart as Casablanca. To go there nowadays is to experience a crowded, traffic-choked industrial conurbation far removed from the mystical, exotic getaway of the cinematic imagination.
That is not to say Casablanca is without charm—the food is good (and cheap), the people are friendly, and there are scarcely any tourists. But if you had to stay there for two or three years—like most of the characters in the film—waiting on the off-chance for a plane to spirit you to the New World, there is every possibility you might go slightly mad.
Kit's mission in The Moroccan Girl takes him through Casablanca, where he expects to encounter all of the mystery and romance of the movie. In a deliberate homage to Bogart, he meets an MI6 contact at "Blaine's," my fictional version of a famous, popular restaurant in the city where international men and women of questionable virtue and intention drink cocktails and smoke shisha into the small hours of the morning.
In that same restaurant, Kit bumps into a mysterious CIA officer, Sebastian Hulse, who greets him with the words, "Of all the gin joints, Carradine." I was deliberately nodding to Casablanca because I wanted The Moroccan Girl to feel like a contemporary reworking of the film. Kit finds himself on the trail of Lara Bartok, the estranged girlfriend of Ivan Simakov. Simakov is the figurehead of Resurrection, a global revolutionary movement whose members are being sought by competing intelligence services. Is he a modern-day Victor Laszlo? Is Lara, like Ilsa, a decent woman who finds herself on the wrong side of the law—or will she betray Kit in order to save her own skin?
Certainly in Lara, Kit finds his Ilsa Lund. Forced to choose between his political beliefs and his personal contentment, he alights on a path that brings him dangerously close to the activities of Resurrection. Rick Blaine was forced to confront Nazism; Kit Carradine must decide whether Resurrection's attacks on prominent right-wing politicians and journalists are justified in the age of Trump or simply terrorism by another name.
I don't mean directly to compare my novel with one of the greatest films ever made. That would be absurd. But, more than 75 years after its release, Casablanca continues to exert a huge influence on the culture. I was the latest lucky recipient of the legacy of this cinematic masterpiece.
Comment below for a chance to win a copy of The Moroccan Girl by Charles Cumming!
To enter, make sure you're a registered member of the site and simply leave a comment below.
The Moroccan Girl Comment Sweepstakes: NO PURCHASE NECESSARY TO ENTER OR WIN.  A purchase does not improve your chances of winning.  Sweepstakes open to legal residents of 50 United States, D.C., and Canada (excluding Quebec), who are 18 years or older as of the date of entry.  To enter, complete the "Post a Comment" entry at https://www.criminalelement.com/of-all-the-gin-joints-comment-sweepstakes beginning at 10:00 a.m. Eastern Time (ET) February 19, 2019. Sweepstakes ends at 9:59 a.m. ET February 26, 2019. Void outside the United States and Canada and where prohibited by law. Please see full details and official rules here. Sponsor: Macmillan, 175 Fifth Ave., New York, NY 10010.