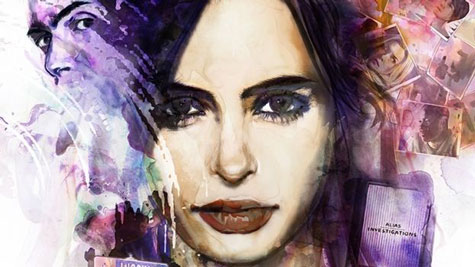 Hello, and welcome back to my look at Season 2 of Netflix and Marvel's Jessica Jones, where Krysten Ritter's hard-drinking PI uses her sharp observation skills, sharper tongue, and superhuman strength to crack strange cases. Today, we reach the penultimate installment of my review coverage with a look at Episode 8: "AKA Ain't We Got Fun"; Episode 9: "AKA Shark in the Bathtub, Monster in the Bed"; and Episode 10: "AKA Pork Chop." We'll examine the elements of these episodes that worked (and those that didn't), discuss connections to the Marvel Cinematic Universe and the Marvel Comics Universe that you may have missed, and talk about what I'd like to see develop in future episodes.
So stand against the wall so I can take your picture—and then, let's get started!
If the other Marvel Netflix shows have taught me anything, it's that by Episode 10—and often quite a few episodes before—you know exactly what you're going to get from that season. And in Episodes 8-10, it became clear that Season 2 of Jessica Jones will not be as stellar as Season 1. It's more a case of something fantastic, something blah, and something that's achieved Iron Fist levels of terrible.
Once again, Krysten Ritter's Jessica Jones continues to be the best aspect of this show, including the characters she interacts with the most: her mother, Alisa Jones (Janet McTeer); her Mom's new husband and the man that transformed Alisa into a superhuman rage monster, Dr. Karl Malus (Callum Keith Rennie); and her new building super and significant other, Oscar Arocho (J. R. Ramirez). Episodes 8-10 were essentially a family drama about dealing with a sick parent, that parent's new lover, and a budding new romance, which is a bit different from the usual superhero fare. It still included the genre trappings of crime and superpowers, but ultimately, the storyline worked for me because of Ritter's ability as an actor.
Janet McTeer also stole her fair share of scenes in these episodes. I especially enjoyed the way the Jones women worked together to help recover Oscar's son, Vido. Jess is allowing herself to be emotionally vulnerable with both Oscar and her mother, which is a nice development for her character. Plus, Jess handled Pryce Cheng's attack on her mother well, and it showed some interesting sides to them both.
Unfortunately, Jeri Hogarth's side plot fell short. As usual, Carrie-Anne Moss does a great job selling Jeri's emotions, but the twist that Inez was conning her and that Shane had no healing powers at all just did not work for me. It made the story feel hollow. I'm hoping for something more in the final episodes; following this storyline just to show Jeri being grifted isn't worth the screentime or character payoff.
I did like that it was Malcolm who cracked the case of Jeri's control of her law firm. It should be interesting to see the outcome of this, especially since Jeri and her partners are important characters on other Marvel/Netflix shows as well.
I absolutely hated the developing storyline with Trish Walker in this block of episodes. They doubled down on everything I have loathed about Trish needing to prove herself and her addiction to the super-steroid inhaler (I got angry just typing that sentence). In these episodes, Trish is annoying, bratty, stupid, and worst of all, certain that her foolish choices are right ones. She even manages to ruin Malcolm's character arc. So congratulations, writers of Jessica Jones Season Two! You've done what I thought unthinkable: you've made one of your characters achieve Danny Rand levels of awfulness!
At this point, there's only one way the character of Trish can be redeemed—give her what she wants: superpowers. If the payoff from this arc is that Trish assumes the superhero identity of her comic book counterpart, Hellcat, I may feel a little better. The way she scratched one of her attackers when she saved Malcolm suggests that might be the case.
If Trish becomes Hellcat, I'm hoping her and Jess fall out over the use of lethal force. I'd love to see Trish find herself with an angel on her shoulder in the form of Jess and a devil in the form of Jon Bernthal's Punisher. To see Frank Castle battle Jess for Trish's soul could be a very interesting future storyline.
The possible Hellcat scratches weren't the only Easter egg in these episodes. In discussing what to do with Jess's mother, they mention the superhuman prison known as the Raft several times. It's a regular locale in the Marvel Comics shared Universe, and it made its Marvel Cinematic Universe debut in Captain America: Civil War.
It may sound like I didn't really enjoy Episodes 8-10 of Jessica Jones Season Two. I did … for the most part. It's just that the good stuff was really good, and the bad stuff was really bad. I expected better of this show after its amazing first season. There's still a chance for the show to stick the landing and provide a fantastic wrapup to everything. I'm off to see!
Join me back here next week for my final review, where we'll tackle Episodes 11-13 and examine what might happen in a possible Season 3 of Jessica Jones.
---
Dave Richards covers all things Marvel Comics for the Eisner Award-winning website Comic Book Resources and his book reviews and other musings can be found at his blog Pop Culture Vulture.