Marcia Clark Investigates the First 48: Season 1 Recap
"You deserve the truth."
It's not just the tagline for A&E's new docuseries, Marcia Clark Investigates the First 48, but a personal mantra that encapsulates the leading lady's decades-long pursuit of righteousness.
"I do feel as though this show is a continuation of my life's work," Marcia Clark tells Criminal Element. "Because I'm invested in seeking justice—whether it's by attempting to persuade the police to reopen a case or by showing people new information about a case that may change the way they see it. Either way, it's all about a search for the truth and seeking justice. In short, my life's work."
A world-famous prosecutor known best for leading the People of the State of California vs. O. J. Simpson in 1995, Clark—who once ranked as the only woman assigned to the elite Special Trials Unit of the Los Angeles District Attorney's Office—first worked as a criminal defense attorney and now represents the indigent on appeal. In the years since she resigned from the DA's office, she co-authored a #1 New York Times bestselling trial memoir, Without a Doubt (reissued with a new foreword in 2016), served as a legal analyst and commentator on radio and television, toured the country and Canada for speaking engagements, wrote scripts, and sold pilots in Hollywood.
Currently, Clark is balancing an appellate caseload with writing books (her seventh novel, Snap Judgment, was published in August) and overseeing TV projects. She and her collaborators just turned in the pilot episode for a show called The Fix—a prospective ABC drama series starring Robin Tunney for which she serves as writer and executive producer.
But it's Marcia Clark Investigates the First 48 that showcases her role as a victims' advocate. Beyond simply rehashing some of America's most notorious crimes, Clark fully reinvestigates them with a sharp focus on analyzing the critical first 48 hours with a no-bias, no-spin filter. In addition to interviewing those directly involved in the cases (attorneys, family members, witnesses), she visits the crime scenes, engages experts, and pursues fresh leads before breaking the evidence down and rendering her verdict. And while some episodes explore divisive verdicts with the intent of illuminating what went wrong (Casey Anthony and Robert Blake), others—including the unresolved deaths of Stacy Peterson, Chandra Levy, Rebecca Zahau, and Jam Master Jay—provide a call to action in the hopes that justice might still prevail in a criminal courtroom.
Here's a quick recap of the series' first six episodes.
Episode 1: Casey Anthony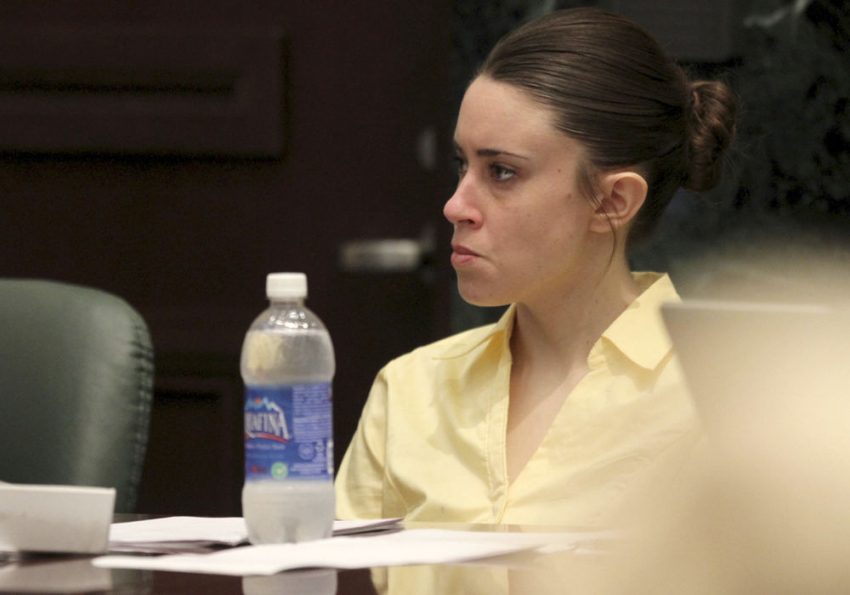 The notorious "party mom" was controversially acquitted of killing her daughter, two-year-old Caylee, in 2011; a presumption of guilt has followed her ever since. At the time, Clark publicly disavowed the verdict, calling it more "shocking" than the outcome of the Simpson trial in a piece she wrote for the Daily Beast. While the defense posited that Caylee died by accidental drowning, Clark points to one of the few pieces of physical evidence—duct tape attached to the hair when Caylee's skeletal remains were found—as a clear indication of homicide. But her team's bombshell discovery is this: an internet search done for "foolproof suffocation" on the Anthonys' home computer was actually made an hour later than initially believed, with a software glitch accounting for the discrepancy. While Defense Attorney Jose Baez referenced this search (which was missed by the prosecution) in his book and theorized that it was done by the victim's grandfather, George Anthony, the modified timeframe eliminates him as the doer. In fact, Casey Anthony was home alone at the time of the search—which was done immediately following her questioning by authorities but prior to her arrest.
Episode 2: Drew Peterson
The Bolingbrook, Illinois, cop was convicted of murdering his third wife, Kathleen Savio, in 2012—but it's the disappearance of his fourth wife, Stacy Peterson, that remains a mystery. The 23-year-old mother of four went missing in 2007, and her remains have never been found; while foul play has long been suspected, no charges have been filed. Clark spoke to a relative of Drew Peterson's, who professed to unwittingly help dispose of Stacy's body in a blue barrel. Further, this witness claimed that Drew once asked him, "Could you live with knowing that I killed someone?" Despite admitted credibility problems (a history of drug use and emotional instability), Clark found him believable—and showed evidence to corroborate parts of his story. Drew Peterson's lawyer, Joel Brodsky, also added fuel to the fire, telling Clark, "The problem is, I know what happened to Stacy," before asserting attorney-client privilege and wisely clamming up. The case remains open, and charges can still be brought against Peterson—though this remains unlikely without Stacy's remains first being discovered.
Episode 3: Chandra Levy
Congressman Gary Condit fell under the umbrella of suspicion when 24-year-old intern Chandra Levy—alleged to have been his mistress—went missing in 2001. Her remains were found a year later in a park near her Washington, D.C., apartment; while no evidence tied Condit to her death, his seeming aloofness raised the suspicions of the police and the media—arguably a case of "confirmation bias." Clark exonerates Condit of any criminal activity, attributing his so-called suspicious behavior to a desire to cover up his extramarital affair. Ingmar Guandique—who admittedly attacked other women in the area where Levy's body was discovered—was eventually found guilty of killing Levy, though this conviction was later overturned, and he was deported to El Salvador in 2017. While it would appear that the case has gone cold, Clark spoke to renowned forensic pathologist Dr. Cyril H. Wecht, who maintains that advancements in genetic testing could allow for a more sophisticated DNA analysis to be done on Levy's remains, which were last tested in 2009. But will authorities pursue this possible lead? Clark argues it's "a chance" worth taking.
Episode 4: Robert Blake
Much like O. J. Simpson, actor Robert Blake was acquitted of criminal charges in his wife's murder despite a strong circumstantial case against him; he was later found liable in a civil court and ordered to pay $15 million in damages. Though Bonnie Lee Bakley had a dark past and a seemingly endless pool of potential enemies, Clark argues that the lack of evidence against anybody but Blake proves that the simplest explanation is most likely the correct one here: that Blake did it. Bolstering her position is the fact that two industry stuntmen came forward to share that Blake attempted to solicit them in killing Bakley on his behalf; despite their initial reluctance to cooperate with police and their checkered pasts marked by drug use and hallucinations, there is compelling evidence to support this claim. But the smoking gun in this case may just be the one used to kill Bakley—a World War II-vintage German pistol, which was discarded in a dumpster located directly in front of the car where Blake claims to have discovered her body. While this doesn't physically tie Blake to the crime, and gunshot residue testing was inconclusive, it does beg the question: Why would an assassin flee the scene of a crime but leave the murder weapon behind? On the other hand, if the killer had to remain on site to summon the authorities and avoid suspicion, he would first need to dispose of the weapon, however haphazardly.
Episode 5: The Spreckels Mansion
32-year-old Rebecca Zahau was found dead, her hands and feet bound, nude, and hanging from a balcony at the Coronado home of pharmaceutical executive Jonah Shacknai on July 13, 2011. Despite the bizarre circumstances, authorities ruled her death a suicide, theorizing that she was depressed over an accident that had left Shacknai's young son hospitalized (he would later succumb to his injuries). Shacknai's brother, Adam—who was home alone with Zahau at the time of her death—was found responsible for Zahau's death in a civil judgment last month, though authorities have not yet pursued a criminal case against him, nor has Zahau's official cause of death been changed. Clark makes a compelling circumstantial case; one expert finds that Adam Shacknai's handwriting is more consistent with a message left at the scene than Zahau's, while another finds that his lie-detector test, originally ruled inconclusive, should actually have been classified a failure. But once again, it's Cyril Wecht who delivers the most damning evidence: the presence of four contusions on Zahau's head (indicating trauma prior to death) and a fractured band of cartilage in her neck—which he says is consistent with manual strangulation and not suicide by hanging. Clark advocates for a complete reopening and reinvestigation of the case and has publicly urged viewers to contact the San Diego County Sheriff's Department to do the same.
Episode 6: Jam Master Jay
Run DMC's celebrated DJ, Jason Mizell—aka "Jam Master Jay"—was gunned down in his recording studio in Queens, New York, in 2002. Despite witnesses that included personal assistant Lydia High, nobody ever identified the shooter(s) to authorities—and they have remained notoriously tight-lipped ever since. Rumors and innuendo still abound, including speculation of an inside job, but Clark finds that his death was most likely a hit ordered as the result of a drug transaction gone wrong; the fact that Jay was known to have been carrying a gun in the weeks preceding his death supports the notion that he was living in fear of reprisal. Private Investigator Vito Colucci Jr. is successful in tracking down the elusive High (who allegedly admitted the perpetrators), though she declines to speak when reached by phone. Clark maintains she may yet tell the truth of that tragic night, and criminal proceedings could likely follow. Meanwhile, talk of a grand jury being convened continues to pop up from time to time, though there have been no indictments.
Episode 7: Billionaire Boys Club (airs tonight)
Clark investigates the disappearance of con-man Ron Levin, allegedly murdered by Billionaire Boys Club Founder, Joe Hunt.
The season finale of Marcia Clark Investigates the First 48 airs tonight on A&E at 9 p.m. EST/PST, 8 p.m. CST; episodes are also available to stream online, and the corresponding podcast can be downloaded from Apple.