Locked-Room Mysteries: Modern Interest in the Classic Mystery Subgenre
With roots in the Golden Age of detective fiction, locked-room mysteries are making a comeback. Author of Under Lock & Skeleton Key—the first book in the Secret Staircase Mystery series—Gigi Pandian writes about the genre and how it offers the ultimate puzzle for readers to crack. Read Gigi's essay below, and leave a comment on this post to enter for your chance to win a hardcover copy of Under Lock & Skeleton Key!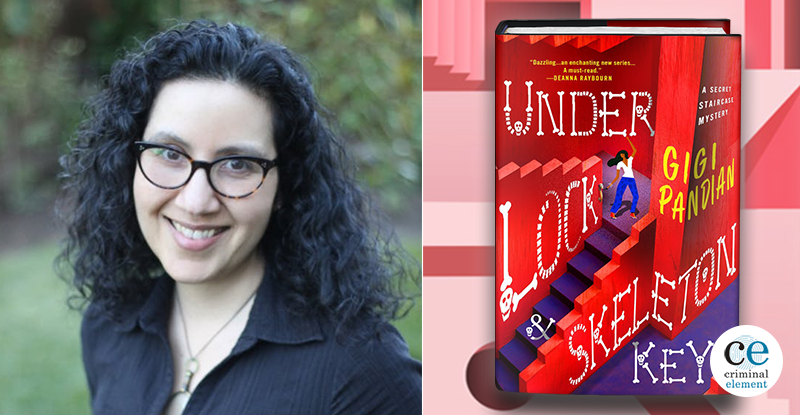 A locked-room mystery is the ultimate puzzle. Not only is the mystery plot fairly clued, so the reader can match wits with the detective, but the crime itself appears to be truly impossible. 
This style of mystery had its heyday in what's known as the Golden Age of detective fiction, a period loosely defined as between the two world wars, when mystery readers devoured not only whodunits but also howdunit puzzles, following clues and trying to solve the crime before the book's detective. A "clue finder" often occurred in the back of a book, so readers could see what they missed. In a locked-room mystery, a sketch of the layout of the room or house was also often provided. 
In the middle of the 20th century, puzzles fell largely out of fashion. Some prolific mystery writers, like as John Dickson Carr and Agatha Christie, continued writing them, yet many talented Golden Age writers were forgotten. 
As a huge fan of traditional puzzle-plot mysteries, and locked-room mysteries in particular, I've been thrilled to see a renewed interest in the genre in recent years. I began reading locked-room mysteries as a kid in the 1980s, and writing locked-room mystery short stories in the early 2000s. That was before they became popular once more, so in the last few decades I've observed two things I believe have helped fuel the renewed interest in the genre:
First, technology enables long-forgotten authors and out-of-print books to be published once again and find a wider audience. 
eBooks and print-on-demand technology mean it's easier than ever to inexpensively produce an author's works to see if a new generation will embrace it. Online reviews and podcasts spread the word about excellent classic mysteries to a wider audience than was previously possible. 
Books and stories I'd previously only heard about but couldn't find are now available, and thanks to blogs and podcasts celebrating the genre there are so many "new" authors I'm only now discovering—nearly a century after they wrote their books. 
Second, during uncertain times, a diverting puzzle where the reader knows there will be a satisfying answer can be incredibly gratifying. 
Locked-room mysteries are truly the ultimate puzzle, because the crime appears as if it could not have been committed without a supernatural explanation. Yet the reader also knows it must have a rational explanation (otherwise it's cheating). 
Not all of these traditional mysteries can be considered cozy, although most do keep graphic violence off the page. But all of them share the contract with the reader to present a fair game with all loose ends tied up. 
Those aren't the only reasons the genre is making a comeback. Reader tastes change over time, and predicting popularity is always guesswork, but regardless of the convergence of factors making it possible, I'm so pleased to see more books in the genre. 
Not only are classic mysteries being rediscovered, but more present-day authors are writing locked-room mysteries, so there are new gems to discover.
Many foreign-language locked-room mysteries are now being translated into English for the first time as well. One of Japan's most widely known classic honkaku mystery writers, Seishi Yokomizo, is finally being translated into English and published by Pushkin Vertigo. Locked Room International publishes translations of impossible crime novels from around the world, including more than a dozen novels by celebrated French author Paul Halter.  
It's an exciting time to be a reader of locked-room mysteries, and also to be a writer in the genre. When I began writing my novel that became Under Lock & Skeleton Key, published this month, I had no idea if there would be an audience for it. I was simply writing a story I loved. A traditional locked-room mystery with a fair-play puzzle plot, a gothic backdrop that baffles the characters by suggesting a possible supernatural explanation, and a cast of diverse characters based on my own life that I hope helps bring this classic style into the 21st century. 
I've previously had more than a dozen impossible crime short stories published, as well as one novel with a secondary locked-room mystery plot, but Under Lock & Skeleton Key is my first novel where it's front and center. An impossible crime. A family legacy. The intrigue of hidden rooms and secret staircases. When illusionist Tempest Raj finds her stage double's dead body hidden inside a wall that's been sealed for a century, she must use her skills creating misdirection to see through the trick and lay her own family curse to rest.
As I wrote the novel, it was such fun paying homage to the Golden Age locked-room mystery writers I've loved since I was a kid. The novel includes a locked-room lecture (a tribute to John Dickson Carr, the master of the locked-room mystery) and the setting includes the Locked Room Library, a quirky private library devoted to classic mystery novels. 
I hope readers will have fun with Tempest as she solves a seemingly impossible crime, and also seek out classic locked-room mysteries.
*Author Photo Credit: Susan Parman
---
Enter the Sweepstakes!
Sign in and comment on this post for a chance to win a copy of Under Lock & Skeleton Key by Gigi Pandian!
To enter, make sure you're a registered member of the site and simply leave a comment below.
Under Lock & Skeleton Key Comment Sweepstakes: NO PURCHASE NECESSARY TO ENTER OR WIN.  A purchase does not improve your chances of winning.  Sweepstakes open to legal residents of 50 United States, D.C., and Canada (excluding Quebec), who are 18 years or older as of the date of entry.  To enter, complete the "Post a Comment" entry at https://www.criminalelement.com/locked-room-mysteries-modern-interest-in-the-classic-mystery-subgenre/ beginning at 3:00 p.m. Eastern Time (ET) March 15, 2022. Sweepstakes ends at 2:59 p.m. ET March 29, 2022. Void outside the United States and Canada and where prohibited by law. Please see full details and official rules here. Sponsor: Macmillan, 120 Broadway, New York, NY 10271.
---

About Under Lock & Skeleton Key by Gigi Pandian:
An impossible crime. A family legacy. The intrigue of hidden rooms and secret staircases.
After a disastrous accident derails Tempest Raj's career, and life, she heads back to her childhood home in California to comfort herself with her grandfather's Indian home-cooked meals. Though she resists, every day brings her closer to the inevitable: working for her father's company. Secret Staircase Construction specializes in bringing the magic of childhood to all by transforming clients' homes with sliding bookcases, intricate locks, backyard treehouses, and hidden reading nooks.
When Tempest visits her dad's latest renovation project, her former stage double is discovered dead inside a wall that's supposedly been sealed for more than a century. Fearing she was the intended victim, it's up to Tempest to solve this seemingly impossible crime. But as she delves further into the mystery, Tempest can't help but wonder if the Raj family curse that's plagued her family for generations—something she used to swear didn't exist—has finally come for her.