I Am Watching You: 5 Favorite Books about Stalkers
Join Nina Laurin, author of The Starter Wife, as she breaks down five of her favorite books featuring stalkers.
Can love ever be too much? At what point does it stop being love and become something deadly? Stalkers have been a mainstay of psychological thrillers for as long as the genre has existed. From Edgar Allan Poe to Patricia Highsmith to Fatal Attraction, authors have found fertile ground in our obsession with obsession.
In my novel The Starter Wife, the protagonist, Claire, finds herself in the crosshairs of a stalker who wants what she has and will stop at nothing to get it. Needless to say, my research for this novel took me to some interesting places. (I'm pretty sure I'm on a watchlist somewhere.) Stalkers have been known to get away with it for years, and the digital age has made stalking easier than ever. You can win over the object of your love, get rid of a rival, or even dispatch that annoying coworker using all the things they put on their social media without a second thought. Nothing is creepier than a stalker, and, for all you know, someone could be watching you right now.
Now that you've checked over your shoulder and made sure all the doors are locked, here's my list of favorite books involving stalking or stalkers.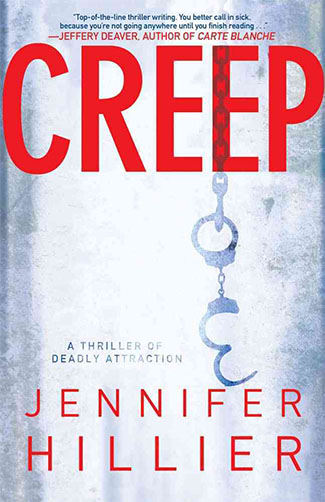 Creep by Jennifer Hillier
This one turns the tropes on its head with a female college professor starting an affair with a handsome and charming grad student, Ethan. But when she decides to break it off, things quickly get, well, creepy. If she doesn't do as he says, Ethan has the power to ruin not just her relationship but also her career. And that's before the dead body turns up. Creep is a deliciously sordid story by the author of last summer's big hit, Jar of Hearts.
Gone Without a Trace by Mary Torjussen
No gone girls in this diabolical 2017 thriller—it's the main character's boyfriend who suddenly disappears. What's even stranger is that everything points to the fact that Hannah's boyfriend Matt never existed at all. And as she frantically searches for answers, someone seems to be following her as well. A curious what-if premise turns into something… different, but it's better to go in knowing as little as possible.
Our Kind of Cruelty by Araminta Hall
This is a book that doesn't hide what it's about. We know the narrator, Mike, has an unhealthy obsession with his ex, V. And meanwhile, V. has moved on… or has she? Are we reading about a straight-up stalker or is all of it part of the same twisted game Mike and V. used to play when they were together? Hall plants just enough doubt to make the reader wonder.
Best Day Ever by Kaira Rouda
Paul has built the perfect life: great job, big house, beautiful family. And now he's planning a trip to the lake house with his beloved wife. It'll be the best day ever. But soon enough, his perfect life begins to fall apart at the seams. It pretty much goes where you think it goes from here, but Rouda maintains tension masterfully, and it's like watching the proverbial slow-motion train wreck you can't seem to look away from.
YOU by Caroline Kepnes
Can't leave out the classic! From the moment Beck walks into the bookstore where Joe works, she's doomed. It's just that no one knows this yet, except Joe, who falls in love at first sight and is determined to win her over. There are no crazy twists or shocking reveals here, but as the story marches towards its (foregone) conclusion, you can't help but get invested in the characters' fates. You either dare hope, deep down, that Beck makes her escape or you simply give up and start rooting for Joe to get away with everything. And the Netflix adaptation is equally well-paced and tense and definitely worth a look.
---
About The Starter Wife by Nina Laurin:
Local police have announced that they're closing the investigation of the suspected drowning of 37-year-old painter Colleen Westcott. She disappeared on April 11, 2010, and her car was found parked near the waterfront in Cleveland two days later, but her body has never been found. The chief of police has stated that no concrete evidence of foul play has been discovered in the probe.
I close the online search window, annoyed. These articles never have enough detail. They think my husband's first wife disappeared or they think she is dead. There's a big difference.My phone rings, jarring me away from my thoughts, and when I pick it up, it's an unknown number. The only answer to my slightly breathless hello is empty static.When the voice does finally come, it's female, low, muffled somehow. "Where is it, Claire? What did you do with it? Tell me where it is."
A woman. A real flesh-and-blood woman on the other end of the phone. She's not just in my head.
A wave of panic spreads under my skin like ice water. It's Colleen.
The Starter Wife is available now from Grand Central Publishing.