How Gentrification May Force Crime Novels to Change
Read Nick Kolakowski's discussion of how crime fiction must reflect the change that gentrification brings to the seedier parts of major cities and settings, then comment below for a chance to win a copy of the final installment in his Love & Bullets Trilogy, Main Bad Guy!
Seven a.m. in early December is the best time to visit Times Square. The hordes of holiday tourists have yet to descend; the stores and theaters are closed; the costumed "performers" won't show up to hustle the passersby for another few hours. Sure, you have to deal with the visual offense of building-sized screens flashing garishly colored messages—but at least you don't have to elbow your way through herds of Spider-Men, naked cowboys, and befuddled visitors.
Depending on who you ask, the bright lights and costumed hustle are probably an improvement over the seedy Times Square of yore, packed with misery and porn theaters. I recently finished reading Lawrence Block's A Dance at the Slaughterhouse, parts of which take place along "The Deuce," as they used to call 42nd Street, which forms Times Square's southern border. The book is nearly 30 years old, and the gritty thoroughfare it describes feels like something that existed only in some alternate, dystopian universe.
These days, if you're writing a crime novel set in New York City and you want your action to take place on a seedy strip, you'd be hard-pressed to find one in Midtown Manhattan—or large swaths of Brooklyn and Queens, for that matter, considering how fast gentrification is spreading through neighborhoods on that side of the East River.
In Main Bad Guy, the concluding novel in my Love & Bullets Trilogy, my characters return to New York City after a meandering (and bloody) journey through Oklahoma, Cuba, and Nicaragua. At first, I wanted to put them in some gritty places around the city—I always like research I can do with a quick subway ride—only to abandon that idea; I was afraid that my locations would become dated by the time the book came out. You wouldn't believe the speed at which the taxi depots, strip clubs, and abandoned warehouses in my Queens neighborhood have become multimillion-dollar condos and smoothie joints. Even the Port Authority, which legend suggests was the inspiration for Guns N' Roses' "Welcome to the Jungle," has gotten a makeover.
One of my characters, Walker, is someone who grew up in New York during what you might call the Bad Old Days. Returning to the city after a decade away, he asks a contact to meet him at a favorite watering hole—only to find the place transformed to meet the needs of its new, hipster clientele:
The new owners had painted the walls sky-blue and hung velvet paintings of bulldogs every few feet. They had replaced the tables with long picnic tables designed to foster love and community. The speakers overhead blared a pop song that sounded like a castrato trapped in a video arcade.
It's also filled with people he finds … disagreeable.
As he ordered a microbrew at the bar, Walker felt like he was attending a wake for someone that nobody in the room had liked. Bearded kids kept their heads down, dour and silent as they tapped away at their phones. He remembered how, in the nights following the collapse of the Twin Towers, people had crowded the bars, went home with strangers, knocked on their neighbors' doors for the first time: anxious for any sort of connection, to feel united with the living. Most of the people in this bar had been small children at the turn of the century, and grew up with the omnipresent fear of the hijacked airplane, the backpack stuffed with explosives left under a bus seat. They were too frightened by existence to do anything other than stare at little screens.
Walker is, essentially, a creature from a Block novel forced to live in a world that has evolved beyond him.
I also decided to "lean in" and set a big chunk of action in a giant multimillion-dollar condo under construction. That gave me a nice opportunity to lace in some subtext about New York City's changing character and the effects of gentrification on local communities. And make some kickass Die Hard references.
The fact is, all the urban-centric classics of the 1970s and '80s have become time capsules. The downtowns of the largest cities enjoy relatively low unemployment, big development, ultra-expensive housing, and gastropubs. The suburbs where everyone fled 30 or 40 years ago, as metropolitan areas descended into Death Wish-style chaos, have begun to fray around the edges, as have the rural counties. It's a massive inversion—one that contemporary crime fiction is doing its best to reflect.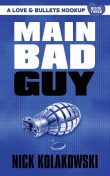 Comment below for a chance to win a copy of Main Bad Guy by Nick Kolakowski!
To enter, make sure you're a registered member of the site and simply leave a comment below.
Main Bad Guy Comment Sweepstakes: NO PURCHASE NECESSARY TO ENTER OR WIN.  A purchase does not improve your chances of winning.  Sweepstakes open to legal residents of 50 United States, D.C., and Canada (excluding Quebec), who are 18 years or older as of the date of entry.  To enter, complete the "Post a Comment" entry at https://www.criminalelement.com/how-gentrification-may-force-crime-novels-to-change-comment-sweepstakes beginning at 1:00 p.m. Eastern Time (ET) February 9, 2019. Sweepstakes ends at 12:59 p.m. ET February 19, 2019. Void outside the United States and Canada and where prohibited by law. Please see full details and official rules here. Sponsor: Macmillan, 175 Fifth Ave., New York, NY 10010.