Have You Ever Questioned the Nature of Your Reality?
Gray Basnight puts reality and technology in question! See how you stack up by taking a quick, 10-question reality quiz, then make sure you are signed in and comment below with your score for a chance to win a copy of his near-future thriller, Flight of the Fox!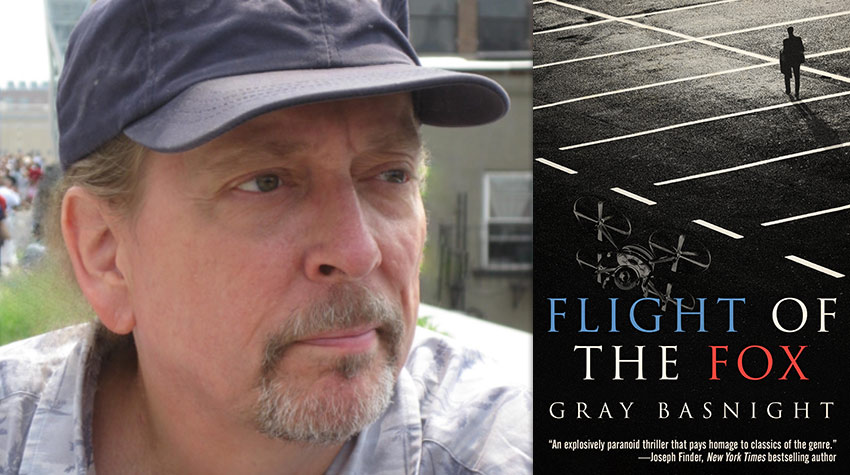 Flight of the Fox is my latest novel. Published by Down & Out Books (available July 23!), it's a run-for-your-life thriller set in the very near future: the summer of 2019. That's close!
In addition to a plot that pits a courageous private citizen against a paranoid federal government police agency, the story also forecasts some lifestyle-altering technological advances. Since the time frame is so near, the challenge was to project believable change without tilting too far into classic science fiction.
The key was to select a known technology, then make it smaller and more sophisticated—like the rapid evolution of mobile phones. I started with drones that are drastically reduced in size—while most are designed to perform beneficial tasks like assisting in traffic control by flashing warnings to motorists while hovering overhead, others have the capacity to kill.
I did the same in relation to our collective and growing loss of web and cellphone privacy. We already know that government and criminal elements can watch, listen, and attempt to manipulate opinion, but it currently takes considerable effort by experts trained in electronics and the arcane language of software. In my novel, there is near-universal access for anyone to snoop in an effortless and instantaneous manner.
Then, there's the Big BM—the nickname for a brick-and-mortar store belonging to the world's largest web retailer. Such outlets already exist, but their offerings are comparatively limited. This fictional brick-and-mortar store sells everything available on the internet, delivered by drones within minutes to the counter where each shopper sits comfortably while sipping a nice cup of tea.
For some readers, these predictions may seem like too much of a stretch for the near future, while others may feel them little more than the obvious present.
With that in mind, here's a reality test stemming from a few topics woven into the narrative of Flight of the Fox. Each of the following questions is true or false.
Take the reality test below and comment with your score for a chance to win a copy of Flight of the Fox by Gray Basnight!
To enter, make sure you're a registered member of the site and simply leave a comment with your score to the quiz below. 
Flight of the Fox Comment Sweepstakes: NO PURCHASE NECESSARY TO ENTER OR WIN.  A purchase does not improve your chances of winning.  Sweepstakes open to legal residents of 50 United States, D.C., and Canada (excluding Quebec), who are 18 years or older as of the date of entry.  To enter, complete the "Post a Comment" entry at https://www.criminalelement.com/have-you-ever-questioned-the-nature-of-your-reality-comment-sweepstakes beginning at 1:00 p.m. Eastern Time (ET) July 20, 2018. Sweepstakes ends at 12:59 p.m. ET August 7, 2018. Void outside the United States and Canada and where prohibited by law. Please see full details and official rules here. Sponsor: Macmillan, 175 Fifth Ave., New York, NY 10010.