The Edgar Awards Revisited: Gideon's Fire by J.J. Marric (Best Novel; 1962)
Up next in our Edgar Award re-read is 1962's winner Gideon's Fire by John Creasey (writing as J.J. Marric), a UK procedural set in the post-WW2 streets of London. Kristin Centorcelli reviews.
Gideon's Fire is book 7 of the 26-volume series featuring New Scotland Yard Commander George Gideon. 21 of those were written by the shockingly prolific John Creasey—he wrote more than 600 books using 28 different pseudonyms—under the pseudonym J.J. Marric, with the last six penned by William Vivian Butler after Creasey's death in 1973. The series was also the basis for a TV series and a film directed by John Ford. Not too shabby. Creasey also founded the Crime Writer's Association (CWA) in the UK in 1953, and the CWA New Blood Dagger is awarded in his memory. He also wrote westerns and romance novels. I told you: this guy was something else.
Gideon's Fire is also my first introduction not only to this author, but also to this series. Since it's the 1962 Edgar Award Winner for Best Novel, I figured I could do worse, right? Gideon's Fire was up against Lionel Davidson's The Night of Wenceslas, an international espionage thriller; Anne Blaisdell's Nightmare, a gothic chiller; Suzanne Blanc's The Green Stone, a Mexico-set mystery (which won the Edgar for Best First Novel;) and Ross Macdonald's The Wycherly Woman, the 9th installment of his popular Lew Archer PI series. It's quite a varied lineup, and I'd encourage you to give each one a look.
So, who is George Gideon—nicknamed GG or Gee-Gee by both his coworkers and the baddies he chases? George has a lovely, supportive wife named Kate and six kids! Gideon's day job is as operational head of Scotland Yard's entire CID division. Yep, he's the top dog, and running such a massive department is a tall order. Don't worry, Gideon is more than up to the job. He'll need to be on top of things, because for this installment, a horrendous tenement fire tops his list of priorities, and it's the crime that sets the stage right out of the gate.
After P.C. Jarvis smells smoke, he heads up to the building to warn the residents.
He did not really feel afraid. It was as much an impulse and a reflex action as anything which made him cover his face with his bent left arm and thrust his way into the room. He felt the agonizing heat at the back of his hand, felt pain at his forehead and the back of his neck. He tried to see beneath his arm. He glimpsed a child with her nightdress blazing, standing on a bed—a screaming torch. He felt a floor board crack beneath him. He lowered his head, struggled to take off his tunic and wrap it round the child as he stood there, but he felt a sickening sense of hopelessness, despair and fear. He felt a crackling sound above, and realized that his hair was burning beneath the rim of his helmet—the child's hair had set his alight. There was agonizing pain at his eyes. There was the roaring of the fire, the fury of crackling, the groaning boards; only the screaming had stopped. He staggered towards the window, preparing to break it with his elbow. He hugged the child tightly to him with one hand and bent his elbow and cracked it against the big pane.
He tosses the child out of the window to the crowd below, who are holding blankets to catch her, and then he collapses. When all is said and done, and the fire is out, Jarvis is near death in the hospital, and a family of seven, including five children, is dead. Then there's the gruesome murder of fourteen-year-old Ivy Manson, who was strangled in her bed and raped. Gideon is also overseeing a fraud case, a possible serial killer case, and a bank robbery. The fire isn't isolated. In fact, there are a string of previous fires that may be connected, all centering around derelict or run-down tenements, and the arsonist shows no signs of slowing down.
Creasey takes care to address the still lingering aftermath of WWII, which left physical and psychological marks long after the last bomb dropped, pointing out the tenements and slums that remain and the plans to replace them with clean and bright new flats—plans that have remained on, or most likely under, the drawing table. This is important in highlighting the motivation behind the fires and shines a stark light on the class divide. This isn't surprising considering the author's very active political life.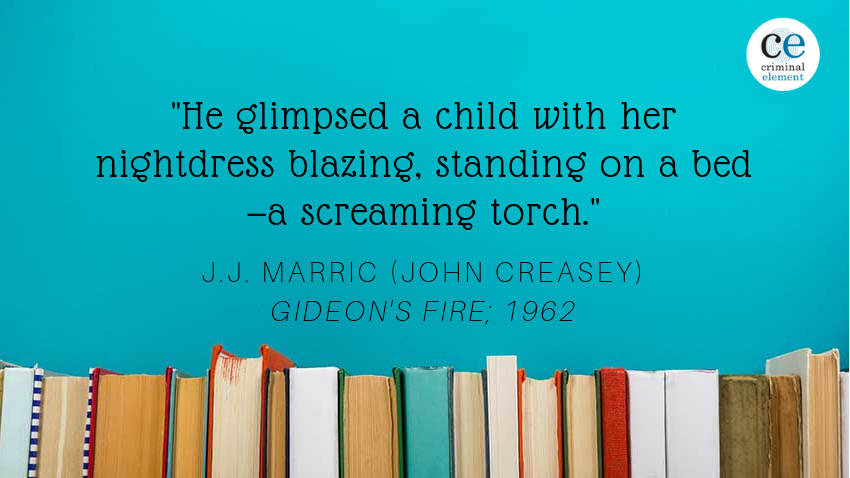 Gideon's overall personality is that of an almost loose affability, but there's nothing loose about how he does his job. Gideon is very capable, almost preternaturally so, something that the author doesn't hesitate to emphasize. He feels personally responsible when criminal activity is particularly rampant, feeling as if it is the policeman's job not only to bring criminals to justice, but to stop crime in its tracks. He's well-liked and balances the rigors of raising a large family with an important job with relative ease. Amid the considerable mayhem that Gideon must contend with, there is a significant family emergency that he and Kate must deal with involving their son Matthew, in which he and a neighbor girl, Helen, find themselves in a family way. There's much stressing and hand wringing over Matthew's future at Cambridge, but to be fair, Helen's future is also given some thought. I wasn't too thrilled that Gideon's first suspicion was that a girl was trying to trap Matthew, but Gideon's wife quickly put the kibosh on that theory. That said, given the year this was written, I really didn't expect much consideration would be given to the girl but was pleasantly surprised. However, that surprise was tempered a bit by the drama's very neat resolution: a very convenient miscarriage. Phew! Now Gideon can get back to crime fighting!
Gideon's Fire is an easy, breezy read, and this series most certainly inspired much of the current crop of procedurals, especially those set in the UK. Although it has plenty of dark elements, it never gets too dark. It doesn't really have time to. Creasey is an efficient writer, and Gideon's Fire is very carefully plotted. There's nary a wasted word, and character development isn't really a priority. I don't mean that in a bad way. After all, it's seven books in, and although it can be read on its own and out of order, the author probably assumes that you know the star of his series pretty well by now. Creasey also includes the viewpoints of the architects and victims of the crimes Gideon is overseeing the investigation of. Most procedurals I've read get down and dirty with the detectives working the crimes, so it was interesting to get a glimpse of what it would be like to oversee those detectives and street cops. However, readers of the genre won't see any much of the political push and pull and tension that is almost always present between the powers that be and the cops on the streets. Gideon gets along with just about everyone—most of the time.
Would I recommend this Edgar winner? Yes, I would, and I plan to track down as much of the series as I can. It's not quite as meaty as many contemporary procedurals, but if you enjoy books that, because of the time they were written, offer a genuine slice of life, there is much to like. In 1962 the world was very much in flux, but George Gideon ran a well-ordered and carefully contained corner of it. Considering the political and social climate we're living in right now, maybe that's not such a bad thing.
Notes from the 1962 Edgar Awards:
As mentioned above, the other nominees for Best Novel included: Lionel Davidson for Night of Wencelas, Anne Blaisdell for Nightmare, Suzanne Blanc for The Green Stone, and Ross Macdonald for The Wycherly Woman.
The Innocents won Best Motion Picture, netting William Archibald and Truman Capote Edgar Awards.
Erle Stanley Gardner served as the Grand Master.
The Raven Award was presented to The Defenders, a TV show in its first year on air.
Avram Davidson won the Edgar Award for his short story "Affair at Lahore Cantonment" which originally ran in Ellery Queen Mystery Magazine (June '61).
Suzanne Blanc won Best First Novel for The Green Stone. Also nominated were: Olivia Dwight for Close His Eyes, Malcolm Braly for Felony Tank, Breni James for Night of the Kill, Winfred Van Atta for Shock Treatment, and Alex Gordons for The Cipher.
* * *
Thanks again for joining us as we work our way through this list. Make sure to stop by next week where Susanna Calkins will be discussing 1963's winner, Death and the Joyful Woman by Ellis Peters. Look for it Friday.
---
A special thanks goes out to The Mysterious Bookshop for donating many of the review copies of the award-winning books. For the latest on all new releases, as well as classic books for your collections, make sure to sign up for their newsletter.