Four Elements All Suspense Novels Need
Join Louise Jensen, USA Today bestselling author of  The Sister, as she shares writing tips and discusses 4 necessary elements all suspense novels should have. Her new novel, The Date, is available now!
Currently, I'm writing my 6th psychological thriller and although my suspense novels all have completely different plots there are four main things each story needs to create mystery and tension. Here they are!
1. A Ticking Clock – Suspense novels often take place over a short period of time. Early on let the readers know how long your hero has to achieve his goal and be clear on what will happen if they don't. This is a great way to introduce a sense of danger from the very first page. A ticking clock automatically raises tension and sets the reader's hearts racing. Will the character manage 'x' before 'y' happens? As the novel progresses and time is running out, shorten your chapter lengths. This will give an increased sense of urgency and pace. The reader will turn the pages faster, rooting for the character to achieve their goal before time runs out. Just before their time runs out, place your character in a situation it seems impossible to get out of. Keep the fear that they might not succeed going until the last few chapters. James Patterson demonstrates this brilliantly – his novels are always very pacey.
2. Red Herrings and Clues – Readers of suspense often love to try to work out the twists and guess the ending before they reach it. Your job as a writer is to fool them. To make it appear as though the story is going in one direction, before you turn it completely in the opposite direction. Each story needs more than one suspect and more than one possible ending. Don't make it impossible for the readers to guess anything correctly – that takes the fun away but balance this with not making it too easy for them to work it out either. Make sure your story contains red herrings to lead them away from your twists but also drop in some clues so if they go back for a second read they can experience the 'a-ha' moments. I put lots of twists in my books and I make some of these easier to work out than others. For me, as a reader, there's nothing more frustrating than the reveal coming out of nowhere, or the twist featuring a character that hasn't been featured in the story.  As I don't plan my stories before I write, and I don't often know who the 'bad-guy' is before I reach the end I go back through my manuscript when I've finished the first draft to dot in the clues and red herrings. B. A. Paris does this well. I've often finished one of her books and flicked back through to find her carefully laid trail.
3. Secrets – Commonly in suspense novels at least one of the characters will have dark, hidden secrets. Your trick as a writer is to slowly reveal this information when it's needed. Don't frustrate the reader by dragging out a secret you hint at on page one until the final page. The reader is trusting you as a writer to give the secret time and space so when it is revealed they can understand how it's impacted on the story so far, and to guess how it might impact as the story reaches its climax. Ruth Ware is fabulous at creating well rounded credible characters who each have a secret.
4. Cliff-hanger Endings – End each chapter with a mini cliff hanger to give the readers a reason to turn the page. You might start off your story with a prologue with high stakes and a sense of danger and then from Chapter One slowly build up the pace, finishing each chapter with a question. How will the character get out of their predicament? What will they do next? Always increase the sense of danger as the novel progresses. The further on into the story, the more the readers will be rooting for your main character. Creating a cliff hanger ending is how you create a real page-turner and how you get readers to dive into 'just one more chapter.'  Dan Brown is great at creating unputdownable books.
---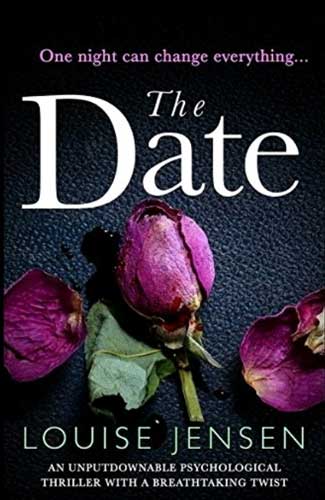 About The Date by Louise Jensen:

Ali thought she was ready to date, but after a blind date goes horribly wrong, she finds her her watching her back. 

One night can change everything.
'I know it as soon as I wake up and open my eyes… Something is wrong.'
Her Saturday night started normally. Recently separated from her husband, Ali has been persuaded by her friends to go on a date with a new man. She is ready, she is nervous, she is excited. She is about to take a step into her new future. By Sunday morning, Ali's life is unrecognizable. She wakes, and she knows that something is wrong. She is home, she is alone, she is hurt and she has no memory of what happened to her.
Worse still, when she looks in the mirror, Ali doesn't recognize the face staring back at her…