Five Crime Novels That Inspired Fake Plastic Girl and Fake Plastic World
Youth, beauty, and the perils of fame combine in Zara Lisbon's Fake Plastic World, the suspenseful sequel to Fake Plastic Girl. Read on for Zara's list of crime novels that helped inspire her new novel!
Ever since reading Nancy Drew in third grade, I've wanted to write about crime. Or, more specifically, the mystery that so often comes hand in hand with crime. Between third grade and the time I eventually wrote Fake Plastic Girl and Fake Plastic World, I had many years to dive deeper into the world of mystery and become obsessed with pulling off the perfect crime. On paper, of course. Here are five crime novels that inspired and influenced me to write Fake Plastic Girl and Fake Plastic World, in the order I read them.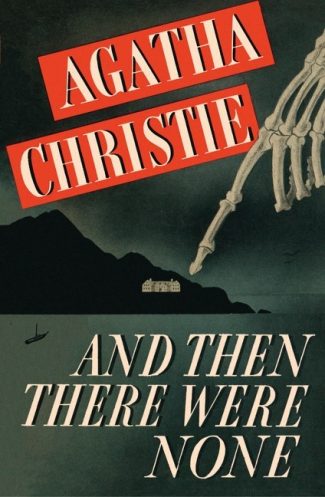 And Then There Were None by Agatha Christie
This book by Agatha Christie originally published in England with a horribly racist title was rightfully changed to And Then There Were None once it was published in America. I'm dismayed that the original title was ever used, but it doesn't change the fact that the content of the novel had a huge impact on me. I read this book in eighth grade sitting in the hallway of my childhood home with my back against the wall because that was the only way I could feel safe. I haven't read it since, but the feeling of suspense so great that it becomes terror left a big impression on me. As you most likely know, And Then There Were None is about a group of strangers who are all invited to an island for vacation, which seems nice enough until they start getting murdered one at a time. Who is doing all the killing?! The ending shocked and chilled me to my little fourteen-year-old core. Years later, I saw a documentary about Agatha Christie, in which she was quoted saying that in a mystery, the killer should always be two things,  1.) The person you least expect, AND 2.) The only person who it could really possibly be. It sounds like mission impossible, and in a way it almost is. However, I did my best to keep these rules close to heart when writing Fake Plastic Girl and Fake Plastic World.
In Cold Blood by Truman Capote
Could this be the novel that began the True Crime genre? Definitely possible. Capote explores the very real murders of the Clutter family, imposing his own fictionalized version of the narrative to give readers insight into the lives of not just the victims, but the killers Richard Hickock and Perry Edward Smith. Capote made sense of a senseless crime. All murder is evil, always leaving us to wonder two questions: 1.) Is the killer, therefore, evil? And 2.) How could this have happened? Capote's deep dive into the Clutter family tragedy inspired me to construct a story that went about answering those two questions.
Gone Girl by Gillian Flynn
When a perfect couple is uprooted from New York to Missouri, the façade of their happiness crumbles like a badly built clapboard house. In case you haven't read Gillian Flynn's bestseller (or seen the film), I won't get into specifics, but this novel provides a plot twist that truly knocked me off my feet. I have friends who claim they saw it coming, but I don't buy it! After navigating the sneaky ins and outs of Amy and Nick Dunne's marriage, I was driven to write something that left people wondering how they'd failed to see the obvious rot beneath a deceitfully sweet surface.
American Psycho by Bret Easton Ellis
I read American Psycho twice. The first time I was on anti-depressants and thought it was the greatest, most innovative and exciting piece of literature I had ever read. The second time, I was not on anti-depressants, and was so profoundly disturbed by the mind of the psycho killer that Ellis created that at points I had to put the book down. What impressed me most was the ways Ellis clues us into Patrick Bateman's insanity. Yes, he's a psycho killer, which makes him obviously unwell, but there are smaller, more subtle details Ellis gives you before Bateman starts murdering that give away his mental state. First of all, there's the next-level OCD skincare and workout routine. Bateman is obsessed with his appearance to a literally psycho degree. Second of all, there is the highly detailed rhapsodizing on Whitney Houston that Bateman often launches into out of nowhere. What kind of grown man not involved in the music industry obsesses over every minute detail of every Whitney Houston album ever released? One that perhaps doesn't represent the pinnacle of mental health. After reading American Psycho, I wanted to write a character that on the surface may be able to pass as functioning, but has odd, maybe even somewhat disturbing quirks that suggest something darker brewing under the surface. In Fake Plastic Girl and Fake Plastic World, Justine Childs' fixation with Taylor Swift is a direct homage to Patrick Bateman's fixation with Whitney Houston.
You by Caroline Kepnes
When I first read this book, it did the opposite of inspiring me. Why? It was so well-written that it made me wonder what the point of even trying was. But once I got over myself and realized that just because I'll never be as good as Caroline Kepnes doesn't mean that I should stop writing, I discovered that thanks to You, I had a new favorite topic: obsession. What happens when a person becomes obsessed with another person? What happens when the object of their obsession doesn't realize they're in danger? And, most interestingly, what happens when the one harboring the obsession doesn't realize that they, themselves, have become the danger? Ultimately, You inspired me to write a main character with a deeply obsessive mind and explore the nature of relationships based entirely on projection.
Fake Plastic Girl and Fake Plastic World were inspired by many more novels, not to mention movies, songs, and real-life experiences. A novel, like any artform, is a collage of inspirations that come together to create something that will hopefully inspire others. If you read Fake Plastic Girl and Fake Plastic World and like them, feel free to say hi on twitter @ZaraLisbon or Instagram @z_list_celeb.
---
About Fake Plastic World by Zara Lisbon:
How badly do you want to be famous? What—or who—would you sacrifice?
These are the questions Justine Childs is forced to reckon with as the main suspect in the murder of It-girl Eva-Kate Kelly. Not long ago, Eva-Kate drew Justine into her orbit before meeting her untimely end in a Venice Beach canal.
Prosecutors and the public want to know: Did Justine, now a social media darling in her own right, kill her celebrity best friend? Can anyone be trusted to tell the truth? Justine has always wanted people to know her name—but not all notoriety is created equal.