Five Authors Who Wrote Too Close to the Flame
Alice Blanchard, author of Trace of Evil, takes a look at 5 famous crime writers who found themselves a bit too close to their terrifying subject matters for comfort. Plus, comment below for a chance to win a copy of Trace of Evil!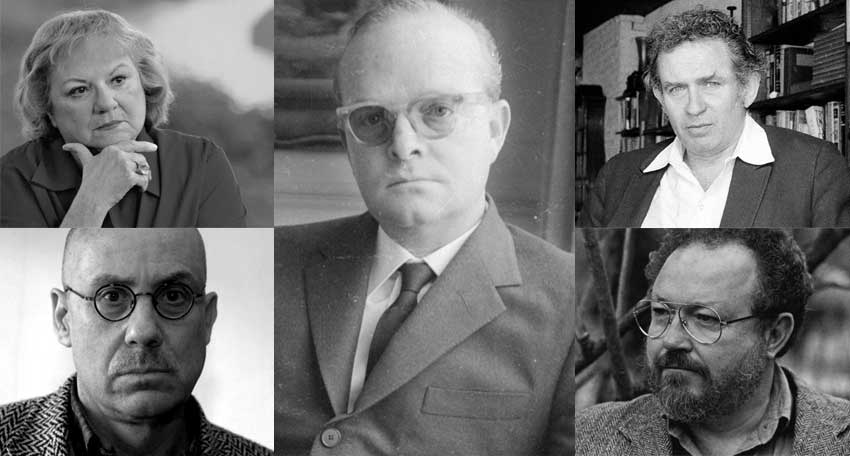 I am in awe of Truman Capote's work. He is an exquisite writer. If you read Other Voices Other Rooms, Breakfast at Tiffany's and Music for Chameleons, which includes the brilliant novella "Handcarved Coffins," you'll see what I mean. They are literary classics.
However, Capote is most famous for In Cold Blood, widely considered to be the first true crime novel. His masterful reenactment of the savage killings of a Kansas family reads like a bestselling mystery, and it catapulted him to stardom.
But he paid a price.
On November 14, 1959, ex-felons Perry Smith and Richard Hickok entered the home of Herb and Bonnie Mae Clutter following a tip that there was $10,000 stashed in a safe. After ransacking the farmhouse, once they realized there was no safe, they became so enraged that they bound and gagged the family of four and brutally murdered them. The news sent shockwaves across the Midwest.
After hearing about the quadruple homicide, Capote traveled to Kansas to write what he believed would become a serious new art form—the "nonfiction novel." He focused on Perry Smith as the subject of his book and spent five years interviewing him in prison, earning his trust and filling his notebooks with private details about the man and his motivation for the horrific murders.
The book was an instant success, but things didn't end well for Capote. Some say he took advantage of Smith's vulnerability in order to obtain literary fame; others insist that Smith played on Capote's gullibility, portraying himself as a sensitive guy who'd had a tough life in order to get his sentence reduced from death to life.
Regardless, Capote became so emotionally involved that he cried for two hours in his car after Smith's execution in 1965. The author's life went into a downward spiral from there. He became addicted to painkillers and never finished his long-promised novel, Answered Prayers.
Capote infused the critically acclaimed In Cold Blood with keenly observed details that resonate with insight and emotion, but he paid a heavy price for getting inside the head of a killer.
Here are four other gifted writers who got too close to the flame.
Ann Rule
Ann Rule was a police-officer-turned-reporter who wrote true crime books that read like novels. Her most famous work, The Stranger Beside Me, was about her real-life friendship with the infamous serial killer Ted Bundy.
The two met as volunteers for a suicide hotline, working the same night together, and Bundy would escort Ann back to her car and warn her to be careful. She liked his smile and his easy charm.  Rule was 40, and Bundy was an intelligent young law student who appeared to be going places. She thought that he—like herself—was saving lives by talking troubled people out of harming themselves.
However, Bundy lived a Jekyll-and-Hyde existence. Half the time he could be charming and personable, but he also targeted pretty young women and gained their trust before kidnapping and killing them. He was a serial killer who mocked authority and impersonated a policeman or an injured skier in order to lure and entrap his victims. He got away with it for a long time, and even after he was caught, he managed to escape from his jailers twice.
Meanwhile, Ann had been commissioned to write about a string of unsolved murders occurring across the northwest. All of the victims were attractive co-eds with long dark hair, parted in the middle, just like Bundy's ex-girlfriend.
After his final murder spree in Florida, where Ted entered a college dormitory and bashed sleeping co-eds with a log, leaving behind tooth-mark evidence that eventually convicted him, Bundy was sentenced to death in the state of Florida.
In her writing, Ann is honest about her relationship with Bundy. She admits she liked him, considered him a friend, and trusted him to the point of imagining one of her daughters marrying him.  And yet, at one point, she was driven enough by suspicion to call the police hotline and give them Ted's name.
In the end, she realized she'd been charmed by a sociopath. Ann Rule's book came out in 1980 and was an immediate bestseller. All told, Bundy killed 30 women, maybe more. He was executed in 1989.
James Ellroy
Novelist James Ellroy achieved bestseller status with his critically acclaimed L.A. Quartet—The Black Dahlia, The Big Nowhere, L.A. Confidential, and White Jazz. In interviews, he traced his interest in crime fiction all the way back to his own personal tragedy—the 1958 murder of his mother when he was ten years old.
Geneva "Jean" Ellroy divorced Ellroy's father and moved with her son to El Monte, California. Described as bad-tempered and promiscuous, Jean couldn't seem to keep a job. Shortly after James' 10th birthday, she went out drinking one night and never came home. Her body was found behind the local high school. She'd been raped and strangled, and the case was never solved.
Ellroy admits he had mixed feelings at the time, because he preferred living with his father, but this traumatic event haunted him for years, leading to his fascination with other murder cases, such as the 1947 cold case of Elizabeth Short, a young woman who came to Hollywood seeking fame and fortune, but who ended up in two pieces on a dew-soaked Los Angeles lawn. Ellroy wrote both The Black Dahlia and My Dark Places with the intent of solving these decades-old cases, and also as a means of coping with his personal loss and grief.
Norman Mailer
In 1948, Norman Mailer rose to literary prominence with his first novel, The Naked and the Dead. Years later, he won a Pulitzer Prize for The Executioner's Song, a masterful chronicling of the life and death of convicted murderer Gary Gilmore. It was during the writing of this book that Mailer helped a convicted killer get out of jail, and as a result, an innocent man died.
Jack Henry Abbott's troubled childhood and criminal history led him to be locked up in a federal penitentiary in Marion, Illinois in 1979. There he began corresponding with various authors he admired, including Norman Mailer.
Mailer was so impressed by Abbott's erudite, insightful letters about his incarceration that he helped Abbott get a publishing deal and was instrumental in getting him paroled. Mailer went so far as to promise to hire Abbott as his research assistant once he was released from prison.
Abbott was paroled in June 1981 with Mailer's help. Several weeks later, he was dining at a restaurant in the Village when he got into an altercation with a young waiter who tried to explain that only employees were allowed to use the restrooms—it was restaurant policy. Abbott became so enraged that he stabbed the young man to death.
The victim's father forgave Norman Mailer, blaming the criminal justice system instead; but if Abbott hadn't attracted the attention of New York's literati, then the young man might still be alive.
Thomas Harris
Stephen King once called Hannibal Lecter "the great fictional monster of our time." Thomas Harris's brilliant prose runs through his terrifying series about a charismatic, cannibalistic serial killer. But who or what was the inspiration for this monster?
Surprisingly, the character had its origins in an unnerving encounter Harris had as a young reporter back in the 1960s. While working on assignment, he visited a Mexican penitentiary to interview an American mental patient named Simmons who'd slaughtered three people and was confined there for life.
After interviewing Simmons, Harris was introduced to the prison doctor who'd saved the killer's life after an escape attempt gone awry. Harris describes Dr. Salazar as "a small, lithe man (with) a certain elegance about him… (his) eyes were maroon with grainy sparks like sunstones."
Sound familiar?
Dr. Salazar and Harris hit it off and discussed Simmons' murderous ways for a while. They were alone together in an unguarded room, which Harris assumed was Salazar's office. Eventually, Salazar began to pick Harris' brain, asking him pointed personal questions reminiscent of the chapter in which Hannibal dissects Clarice with psychological precision.
It was only after Harris had left the room that he was told the truth. The good doctor was a prisoner of the hospital—an insane surgeon who used to cut up his victims and pack the body parts into a surprisingly small box.

About Trace of Evil by Alice Blanchard:

From Alice Blanchard, the author of the New York Times Notable mystery novel Darkness Peering comes Trace of Evil, first in an evocative new series about a small New York town, its deeply held secrets, and the woman determined to uncover them, no matter what the cost.
There's something wicked in Burning Lake…
Natalie Lockhart is a rookie detective in Burning Lake, New York, an isolated town known for its dark past. Tasked with uncovering the whereabouts of nine missing transients who have disappeared over the years, Natalie wrestles with the town's troubled history – and the scars left by her sister's unsolved murder years ago.
Then Daisy Buckner, a beloved schoolteacher, is found dead on her kitchen floor, and a suspect immediately comes to mind. But it's not that simple. The suspect is in a coma, collapsed only hours after the teacher's death, and it turns out Daisy had secrets of her own. Natalie knows there is more to the case, but as the investigation deepens, even she cannot predict the far-reaching consequences – for the victim, for the missing of Burning Lake, and for herself.
---
Comment below for a chance to win a copy of Trace of Evil by Alice Blanchard!
To enter, make sure you're a registered member of the site and simply leave a comment below.
Trace of Evil Comment Sweepstakes: NO PURCHASE NECESSARY TO ENTER OR WIN.  A purchase does not improve your chances of winning.  Sweepstakes open to legal residents of 50 United States, D.C., and Canada (excluding Quebec), who are 18 years or older as of the date of entry.  To enter, complete the "Post a Comment" entry at http://www.criminalelement.com/five-authors-who-wrote-too-close-to-the-flame/ beginning at 12:00 p.m. Eastern Time (ET) December 2, 2019. Sweepstakes ends at 11:59 a.m. ET December 16, 2019. Void outside the United States and Canada and where prohibited by law. Please see full details and official rules here. Sponsor: Macmillan, 120 Broadway, New York, NY 10010.