Fact or Fiction: Visiting 5 Real-life Crime Sites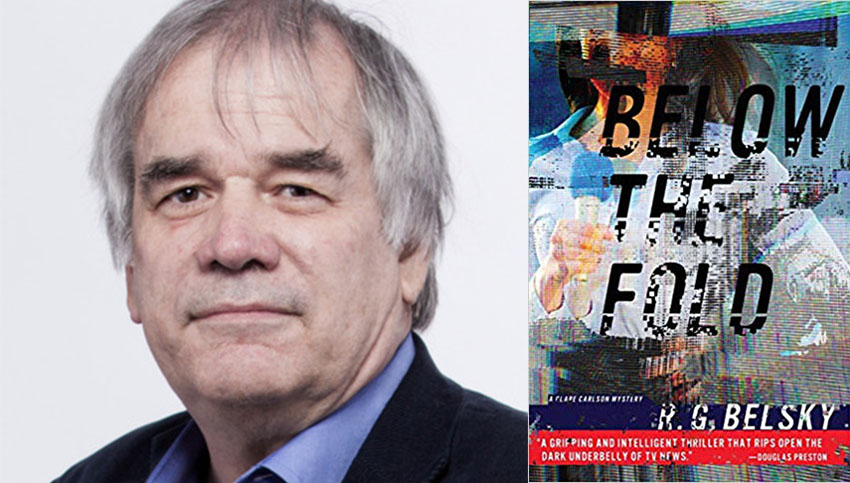 I'm a mystery author these days, and I've published a dozen novels. But I'm also a longtime journalist who's covered most of the big crime stories over the years while working for the New York Post, Star magazine, New York Daily News and NBC News.
My new book, Below the Fold, is about a TV journalist named Clare Carlson who begins investigating the seemingly insignificant murder of a homeless woman on the streets of New York City and uncovers shocking, long-buried secrets that link the woman's death to rich and powerful public figures.
This mystery, like my earlier ones, draws heavily on my own media experiences and is inspired in part by some of the most memorable real-life crimes that I've written about as a journalist.
Sometimes though the lines get a bit blurred between fact and fiction.
Here's a look at 5 actual crime scenes—and how the real thing often turns out to be a lot different than the fiction:
1) O.J. – Nicole Brown Simpson's House
I've written a lot about celebrity crime in my novels, most notably in Shooting for the Stars (2015) where a number of famous Hollywood names are gunned down.
As a journalist, I covered the O.J. Simpson case—the ultimate celebrity murder. One of the things I remember most was the first time I visited the crime scene—the house in Brentwood where Nicole Brown Simpson and Ron Goldman were murdered. All of us had seen that house over and over again on TV and in the papers. The condo where Nicole lived; the street and neighborhood outside; the front yard where the bloodied bodies of Nicole and Goldman were found.
But, standing there myself now on a sunny Southern California afternoon, it all seemed so, well…ordinary.
O.J.'s a national laughingstock, of course. Comedians still make jokes about him. But there was nothing funny to me about looking at that seemingly normal house and yard and street where two people were butchered on a hot summer night in 1994. Nicole Brown Simpson and Ron Goldman died a horrible death there, and sometimes we forget about that.
Me, I don't make O.J. jokes anymore.
2) ETAN PATZ – The Soho Street Where He Vanished
My last book Yesterday's News was about a reporter's obsession with finding a long-lost missing child.
As a young journalist at the New York Post, I covered the story of 6-year-old Etan Patz, who disappeared on his way to school in the Soho section of Manhattan during the spring of 1979 and became one of the most famous missing child cases in history. Different circumstances and outcome (many years later a suspect was convicted of murdering Patz)—but it was one of the real-life stories that gave me the inspiration for my novel.
Walking today on Prince Street in front of the house where Patz lived with his parents—and then walking the route he would have taken to get to his school bus—it still seems unfathomable how a little boy could have vanished so easily in this beautiful Soho neighborhood of downtown New York City.
The man convicted of his murder worked in a bodega at West Broadway and Prince, two blocks away from Etan's home and near the spot where he would have waited for the school bus.
The bodega is gone now, but the memories of that long ago tragic day still remain.
3) PAUL CASTELLANO Mob Hit – Sparks Steakhouse
Most mystery authors wind up writing a mob hit scene in a restaurant sooner or later, and I'm one of them.
There've been plenty of real-life mob hits in restaurants that I've covered over the years,  but most of those restaurants are gone now—or at least moved to different locations. Like Joe and Mary's Italian American Restaurant in Brooklyn where Carmine Galante died with his cigar famously still clutched in his mouth. Or Umberto's Clam House in Little Italy where Crazy Joe Gallo was gunned down in a hail of bullets.
But the site of one of the biggest mob hits ever is still there: Sparks Steakhouse in midtown Manhattan where John Gotti whacked Paul Castellano in 1985 to take over as the most powerful underworld boss in the country.
The hit didn't actually happen inside the restaurant, Castellano was gunned down on the street as he was on his way in (didn't even get a last meal.) But that didn't stop a lot of macabre jokes from being made about the place like "Someone ordered 'duck,' and everyone dived under the tables!"
Today Sparks remains one of the premiere steak restaurants in New York City, with many of its diners probably blissfully unaware of its history as a notorious crime scene.
4) THE PREPPIE MURDER – Dorrian's Red Hand Bar
My current mystery novel Below the Fold, set in a TV newsroom, takes a critical look at the media's obsession for covering high-profile murders—and ignoring less sensational ones. I call it the 'Blonde White Female Syndrome.' The goal is to find a murder with a sexy young woman victim. Sex sells.
Obviously, this is based on a lot of my own experiences in a newsroom.
And one story that certainly fit that sensational category was the Preppie Murder case of 1986. Good-looking, charming Robert Chambers picked up pretty Jennifer Levin at a trendy East Side bar hangout for wealthy young Manhattanites; took her to Central Park; and then strangled her during violent sex. It was front page crime news for months.
The bar where they met, Dorrian's Red Hand, is still there. Pretty much the same as it was on that long-ago night when Chambers and Levin had their fateful encounter. It's mostly a neighborhood bar during the day, then becomes more of a singles/sports place in the evenings.
No one there talks much about Robert Chambers or Jennifer Levin anymore.
Bur Dorrian's Red Hand, like Sparks, will forever hold a spot in crime lore.
5) JFK – Dealey Plaze and the Grassy Knoll
Okay, I saved this one until last because a lot of people will wonder what it's doing in a crime scene roundup. But I believe the murder of President John F. Kennedy remains the greatest unsolved murder case in history. And no, I don't believe a word of the Warren Commission Report.
I write about all this in The Kennedy Connection, a mystery novel published in 2015. In my fictional story, a newspaper reporter discovers a secret son of Lee Harvey Oswald who reveals new evidence which shows Oswald didn't do it. And the reporter is able to find out the truth about the JFK murder—or least most of it—by the end of the book.
In real life, the answers aren't that easy.
A visit to Dealey Place in Dallas is still a profoundly moving experience. Like the O.J. crime scene, it looks much different than all the images we've seen over the years. The infamous Grassy Knoll—where people speculate a second gunman was hiding—is little more than a small patch of grass.  The Texas Book Depository where Oswald supposedly fired from the sixth floor is now a JFK museum. Most of the other locations nearby like Jack Ruby's strip club are just a memory too.
But it is impossible to stand there even now and not wish you could do something to go back in time and stop that damn motorcade from driving through Dealey Plaza that day in 1963.
---
About Below the Fold:
When the murder of a "nobody" triggers an avalanche.
Every human life is supposed to be important. Everyone should matter. But that's not the case in the cutthroat TV news-rating world where Clare Carlson works. Sex, money, and power sell. Only murder victims of the right social strata are considered worth covering. Not the murder of a "nobody."
So, when the battered body of a homeless woman named Dora Gayle is found on the streets of New York City, her murder barely gets a mention in the media. But Clare―a TV news director who still has a reporter's instincts―decides to dig deeper into the seemingly meaningless death. She uncovers mysterious links between Gayle and a number of wealthy and influential figures. There is a prominent female defense attorney; a scandal-ridden ex-congressman; a decorated NYPD detective; and―most shocking of all―a wealthy media mogul who owns the TV station where Clare works. Soon there are more murders, more victims, more questions. As the bodies pile up, Clare realizes that her job, her career, and maybe even her life are at stake as she chases after her biggest story ever.