Desert Island Books with Anna Downes
Join Anna Downes, debut author of the new, thrilling summer suspense, The Safe Place, as she lists her all-time favorite books she'd bring along (in addition to a hot bath) in a hypothetical stranded-on-a-desert-island scenario.
Ever since I can remember, I've always wanted to be on BBC Radio 4's Desert Island Discs. When I was a child, you couldn't enter our house without catching snippets of Michael Parkinson or Sue Lawley chatting to Joanna Lumley, Eric Clapton, or Princess Michael of Kent about their most treasured pieces of music. As a result, I grew up with a rolling list of tracks stored away at the back of my mind just in case I was ever asked to participate—as a last-minute replacement for Judi Dench, perhaps, or Nicole Kidman (I wanted to be an actor back then). But, alas, Dame Judi never caught a cold, Nicole's car never broke down on the way to the recording studio and my acting career didn't quite work out, so my dream never did come true. Which is just as well, because over time I've come to see the format of the show as problematic. At least, it is for me.
For those of you who don't know, the concept is that a celebrity 'castaway' is asked to choose eight pieces of music to a desert island on which they will be marooned indefinitely. They are also allowed to choose a book (in addition to the Bible OR The Complete Works of Shakespeare, one of which is automatically granted) and a luxury item (nothing that would aid escape, e.g. a mobile phone or a boat). The celebrity's choices are supposed to offer some insight into their life and provide a basis on which an interview is conducted.
Now, I get why the emphasis is on music—it's a radio show after all—but to be given such a tight limit on reading material seems horribly unfair. I mean, to be stuck on an island potentially forever with only one novel to read? That's my basic nightmare. So, over the years my rolling list has changed, as has the fantasy: I'm still invited on the show, but new host Lauren Laverne has rejigged the whole set-up just for me. I get a luxury item, as per normal, but instead of eight pieces of music and one book, I now get to choose just one musical oeuvre (in addition to Tchaikovsky's Swan Lake ballet score OR Madonna's Immaculate Collection, one of which is automatically granted) and eight literary works. And my choices look something like this:
Ovid's Metamorphoses
I love all different kinds of genres, but I almost always gravitate towards the dark stuff; possibly because one of my earliest and more fervent obsessions was Greek Mythology. Ovid's 15-book epic poem contains roughly 250 of the world's most twisted tales of passion, brutality and—most importantly—transformation, which have has served as inspiration for Shakespeare, Chaucer, and Dante as well as some of my favourite contemporary writers such as Ali Smith, Margaret Atwood, and Stephen Fry. Reading it is like finding the blueprint of every story that has ever been written, but with extra helpings of sex and death.
Matilda by Roald Dahl
At eight years old, I held a literary awards night in my bedroom and awarded Dahl my top accolade of Most Popular Writer (Sadly, he couldn't make it to the ceremony in person, so I accepted the silver shoe-shaped cake-topper trophy on his behalf). I loved all his stories but the first time I ever remember being shocked by a plot twist was—spoiler alert!—the revelation that Miss Trunchbull is Miss Honey's aunt.
Good Omens by Neil Gaiman and Terry Pratchett
Pratchett was my first literary hero; as a teenager, I was obsessed. Among other things, his writing taught me that when it comes to story anything is possible, and a single book can be many different things at once. This thrilling and pant-wettingly funny collaboration with Gaiman is still the most dog-eared of all the books on my shelves. I have read it about four hundred times (Okay, nine).
Jane Eyre by Charlotte Brontë
I have a vivid memory of reading this by candlelight at fourteen years old, tucked up in bed with my mum because a thunderstorm had cut our power and I was scared. Ever since, the story has held simultaneous associations of terror and comfort, and contains some of my best-loved passages in all of literature, one of which was read aloud at my wedding.
The Complete Works of William Shakespeare
Given that I've changed the format of Desert Island Discs, this one's no longer a freebie—so I'm packing it as a matter of choice. As a former actress, Shakespeare has been a huge part of my life and I would gladly live out my days in isolation if I had him for company. (The local wildlife would doubtless grow bored of my endless soliloquies, but I'd be happy).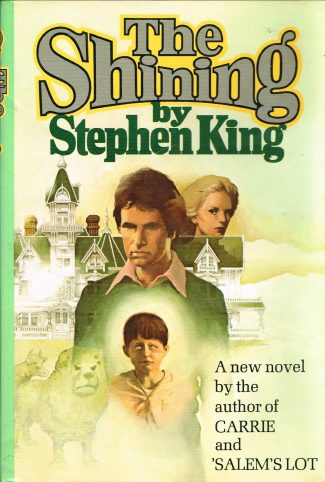 The Shining by Stephen King
I adore a good horror novel, and this has it all. I mean, who doesn't love a petrifying tale about an aspiring writer trapped in a haunted hotel who becomes slowly possessed by malevolent supernatural forces? Seriously, you've got snow, ghosts, cabin fever, a creepy basement, demonic hedges, and a violent alcoholic tormented by feelings of antagonism towards his telepathic son. What more could anyone possibly want?
Feel Free by Zadie Smith
Smith is one of my all-time favourite writers and I can imagine that she would be the best kind of company: witty, wise, and a total book nerd. I would happily take her entire back catalogue, but I think I'll go with this inspired selection of essays on such subjects as identity, suffering, Jay-Z, Charlie Kaufman, race, class, and Jordan Peele. On any given day, it would quench my dizzying cultural thirst and remind me to always think deeply, critically, and curiously, even while stranded alone.
Sweet Sorrow by David Nicholls
If ever I am unlucky enough to suffer long-term memory loss and cannot recall my beautiful, bittersweet teenage years, just hand me this book. Nowhere else in fiction are my own personal experiences of theatre and first love so accurately reflected—almost to the point at which I wonder if Nicholls is a secret mind-reader. Everything he's ever written has changed me in some small, gentle way, but this is by far the most resonant. It's also very, very funny. And who doesn't need a laugh while marooned on a desert island?
Bonus luxury item: A huge, deep bathtub with an endless supply of hot water. There is literally no finer place to read.
Piece of music: Run the World by Beyoncé. Because dancing. And because girls.
And that's it! How did I do? Sorry, what's that you say? I haven't done it right? I can't just change the rules willy-nilly? I need an actual invitation onto the actual show, which I wouldn't get anyway because I'm not famous? Hmm. Okay, fine. Maybe one day. Until then, though, perhaps I ought to hatch a plan to sneeze all over Bernadine Evaristo, or stick a banana in Liane Moriarty's tailpipe…
---

About The Safe Place by Anna Downes:
Welcome to paradise…will you ever be able to leave?
Emily is a mess.
Emily Proudman just lost her acting agent, her job, and her apartment in one miserable day.
Emily is desperate.
Scott Denny, a successful and charismatic CEO, has a problem that neither his business acumen nor vast wealth can fix. Until he meets Emily.
Emily is perfect.
Scott offers Emily a summer job as a housekeeper on his remote, beautiful French estate. Enchanted by his lovely wife Nina, and his eccentric young daughter, Aurelia, Emily falls headlong into this oasis of wine-soaked days by the pool. But soon Emily realizes that Scott and Nina are hiding dangerous secrets, and if she doesn't play along, the consequences could be deadly.