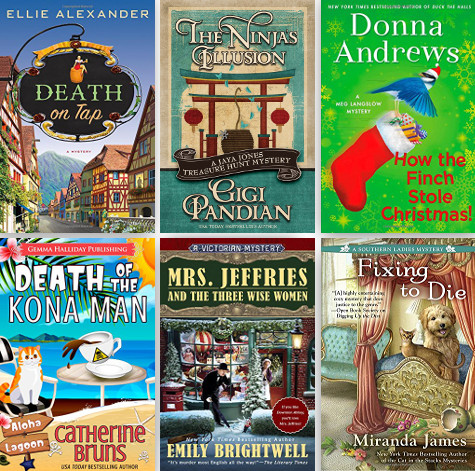 Discover (or remember to order) your next cozy with a delightfully convenient shopping list of upcoming soft-boiled mysteries! Last month, we ended summer with some great cozies; this month, get your tricks and treats with awesome October reads! Let us know in the comments how you like it and what you can't wait to read next!
Like this shopping list? Sign up for our weekly newsletter to stay in touch with all our cozy content!
Criminal Element's October 2017 Cozy Bookshelf Shopping List!
Week of October 1 through October 7
| | | | |
| --- | --- | --- | --- |
| Title | Author | Series | Date |
| Death on Tap | Ellie Alexander | Sloan Krause Mystery #1 | 10/3 |
| Fixing to Die | Miranda James | Southern Ladies Mystery #4 | 10/3 |
| Crepe Factor | Laura Childs w/ Terrie Farley Moran | Scrapbooking Mystery #14 | 10/3 |
| Ghost Times Two | Carolyn Hart | Bailey Ruth Ghost Novel #7 | 10/3 |
| A Room with a Brew | Joyce Tremel | Brewing Trouble Mystery #3 | 10/3 |
| Familiar Motives | Delia James | Witch's Cat Mystery #3 | 10/3 |
| The Ninja's Illusion | Gigi Pandian | Jaya Jones Treasure Hunt Mystery #5 | 10/3 |
| A Secret in the Pumpkin Patch | Gin Jones & Elizabeth Ashby | Danger Cove Mystery #17 | 10/3 |
Week of October 8 through October 14
| | | | |
| --- | --- | --- | --- |
| Title | Author | Series | Date |
| Cat Among the Pumpkins | Mandy Morton | No. 2 Feline Detective Agency #2 | 10/10 |
| Fireworks in Paradise | Kathi Daley | Tj Jensen Mystery #8 | 10/10 |
| Death of the Kona Man | Catherine Bruns | Aloha Lagoon Mystery #9 | 10/10 |
Week of October 15 through October 21
| | | | |
| --- | --- | --- | --- |
| Title | Author | Series | Date |
| Mrs. Jeffries and the Three Wise Women | Emily Brightwell | Victorian Mystery #36 | 10/17 |
| Cold as Ice | Julie Mulhern | Country Club Murders #6 | 10/17 |
Week of October 22 through October 28
| | | | |
| --- | --- | --- | --- |
| Title | Author | Series | Date |
| Gin and Panic | Maia Chance | Discreet Retrieval Agency Mystery #3 | 10/24 |
| How the Finch Stole Christmas | Donna Andrews | Meg Langslow Mystery #22 | 10/24 |
| Bones to Pick | Linda Lovely | Brie Hooker Mystery #1 | 10/24 |
Week of October 29 through October 31
| | | | |
| --- | --- | --- | --- |
| Title | Author | Series | Date |
| Ring in the Year with Murder | Auralee Wallace | Otter Lake Mystery #4 | 10/31 |
| Death, Taxes, and a Shotgun Wedding | Diane Kelly | Tara Holloway Novel #12 | 10/31 |