Cooking the Books: Wedding Cake Murder by Joanne Fluke
Hannah Swensen is getting married! But first, she has to try to win a reality cooking competition.
The Food Network is holding a televised contest to find America's best dessert chef, and Hannah is the only small-town contestant on the slate of five. So it's a big thrill for everyone in Lake Eden when she wins the hometown challenge, which means the rest of the episodes will be filmed where she was born and raised.
The entire cast and crew decamp for the Lake Eden Inn—including head judge Alain Duquesne, whose glamorous biography obscures the fact that he's originally from the area. This actually gives Hannah another advantage, as her business partner's aunt Nancy went to school with the head judge when he was plain old Allen Duke, and so she has insight into his formative tastes that she's more than happy to share.
That's the good news. The bad news is that coming back to Winnetka County means that when Chef Duquesne is found stabbed to death in the Lake Eden Inn walk-in refrigerator, the pool of potential suspects winds up including some of Hannah's nearest and dearest. Hannah races to investigate the murder while also trying to keep her lead in the competition, which presses on regardless of the sudden death of its head panelist. With her wedding also imminent, could her dogged pursuit of a murderer put a fatal end to her dreams both of winning and of wedded bliss?
It was fun to watch Hannah juggle her usual mystery-solving and work at her cafe with the competitive cooking show format, as well as with her pre-wedding planning and the inevitable jitters. I still think her ex-boyfriend Norman has been hard done by here, but he's a stand-up guy and a really true friend. It helped that he himself is aware that he doesn't really have the moral high ground since he dumped Hannah some books earlier for Doctor Bev, even if it was with great reluctance and not out of a sense of romance. Is it terrible that I'm still hoping he and Hannah eventually figure things out and get together?
Anyway, Wedding Cake Murder includes 21 delicious recipes, and I decided to take things back to the cookie basics by trying out this competition-worthy recipe:
Butterscotch Sugar Cookies
Preheat oven to 325 degrees F. rack in the middle position.
Ingredients
2 cups salted butter (4 sticks, 16 ounces, 1 pound)
1 cup butterscotch chips
2 cups powdered (confectioner's) sugar (pack it down in the cup when you measure it)
1 cup white (granulated) sugar
2 large eggs
2 teaspoons vanilla extract
1 teaspoon baking soda
1 teaspoon cream of tartar (critical!)
1 teaspoon salt
4 and ¼ cups all-purpose flour (not sifted—pack it down in the cup when you measure it)
½ cup white sugar in a bowl for coating the cookie dough balls that you will make
Instructions
Melt the butter and butterscotch chips in a microwave-safe bowl by putting the chips on the bottom of the bowl and the butter on top of that. Heat for one minute on HIGH, let the bowl sit in the microwave for one minute, and then try to stir it smooth. If you can, you're done. If you can't, continue to heat in 30-second increments followed by a standing time of one minute, until you can stir the mixture smooth. (You can also do this in a saucepan on the stovetop at LOW heat.)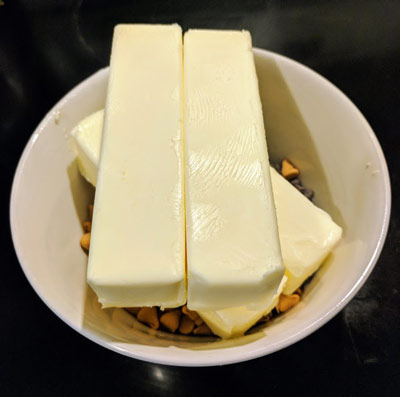 After you have stirred the mixture smooth, set it on the kitchen counter or on a cold burner to cool.
When the mixture has cooled to slightly above room temperature, pour it into a mixing bowl or the bowl of an electric mixer.
Add the powdered sugar and the white sugar. Beat until the mixture is smooth.
Add the eggs, one at a time, beating after each addition.
Mix in the vanilla extract. Make sure it's well combined.
Add the baking soda, cream of tartar, and salt. Mix until everything is thoroughly combined.
Add the flour in half-cup increments, mixing after each addition. You don't have to be precise—just divide your flour into roughly 4 parts.
Once the dough has been thoroughly mixed, prepare your cookie sheets by spraying them with Pam or another nonstick cooking spray. Alternatively, you can line them with parchment paper.
Roll one-inch cookie dough balls with your fingers. (You can also use a 2-teaspoon scooper to form the dough balls.)
Dip the dough balls in the bowl with the sugar and roll them around until they're coated.
Place the dough balls on the cookie sheet, 12 dough balls to a standard-size sheet.
Flatten the dough balls with the back of a metal spatula. This will make them bake evenly. If you leave them on the cookie sheet as dough balls, they will flatten out during the baking process, but the insides will be chewy instead of melt-in-your-mouth crispy.
Bake the Butterscotch Sugar Cookies at 325 degrees for 13 to 15 minutes.
Yield: approximately 5 to 7 dozen fudge Butterscotch Sugar Cookies.
I loved these cookies, as did my family and my lovely assistant Karin, which is a good thing because this recipe yielded 9 instead of 7 dozen for me. I'm usually pretty heavy handed when portioning out cookie dough, so having more than expected was a pleasant change from the norm.
I also have to admit that since I wound up having only 2/3 of a cup of butterscotch chips available to me, I figured there wasn't any harm in making up the difference with chocolate chips. While the cookies I made weren't of the pure butterscotch flavor intended, they were incredibly delicious with the hint of chocolate throughout.
Next week, we stay in Lake Eden as Hannah tells her new husband a story and we whip up another tasty dessert. Do join me!