Cooking the Books: The Diva Cooks Up a Storm by Krista Davis
I've enjoyed several of Krista Davis's books while writing for Criminal Element, and I have to say that the Domestic Divas series is far and away my favorite of her works. Part of this is likely due to its setting; I've enjoyed many an evening in Old Town Alexandria myself, and both the sights and the types of people Ms. Davis describes in her books are so familiar as to fill my imagination with the possibility that she's trading in fact instead of fiction. Of course, Old Town Alexandria is no Cabot Cove, but as I bike through the streets of an evening, it's hard not to look at a landmark and think, "Oh, here is where so-and-so met their untimely demise in her book!"
Another part of my fondness for the Domestic Diva series is the contrasting advice in the chapter headers from our heroine, the down-to-earth Sophie Winston, and her far more highly strung frenemy Natasha (last name Smith, but she'd rather be known as just Natasha). In The Diva Cooks Up a Storm, Sophie is actually looking forward to escaping Natasha for a week by heading out with her best friend, Nina Reid Norwood, to North Carolina for a girls' trip. Hurricanes along the East Coast not only put paid to their plans but also shut down large parts of Old Town Alexandria, which lies on the water.
The community pulls together to help each other out, but one resident, Hollis Haberman, may be beyond all assistance when he rushes out of his home unable to breathe. Sophie makes sure he's brought straight to the hospital but to no avail—he dies from what looks like a deliberate poisoning. Top of the suspect list is his young wife, Kelsey, whose murky past hides a history of violence. Worse still, Hollis had confided in Sophie before his death that he thought someone was poisoning his food. But there's something about Kelsey's vulnerability that has Sophie loath to join the rest of her peers in immediately condemning the widow, and soon she's investigating Hollis's tangled personal and professional relationships to find out who really had it in for the deceased.
Mystery-wise, I felt that this was the strongest of Ms. Davis's plots to date. I also really enjoyed the ongoing developments in our regular cast of characters' personal lives: Natasha especially is a hoot, even if appallingly so on more than one occasion. I'm already looking forward to the next installment in the series!
And, of course, there were nine delicious recipes included, with two for beverages. Though there were several strong contenders, I ultimately decided to try this recipe for this column:
Chocolate Truffle Tart With Strawberries
Crust Ingredients
2 cups all-purpose flour
1 tablespoon sugar
⅜ teaspoon baking powder
½ teaspoon salt
7 tablespoons melted unsalted butter
⅓ cup very cold water
Instructions
Preheat oven to 350. Place flour, sugar, baking powder, and salt in a food processor and pulse about four times to combine. While running the food processor, pour cooled melted butter into flour mixture slowly. Pulse several times. Add cold water while running. Pulse until it sticks together in small bits. Remove from food processor and press into ungreased tart pan.
Bake 18-20 minutes until it begins to pull away from the edge and is a light golden color.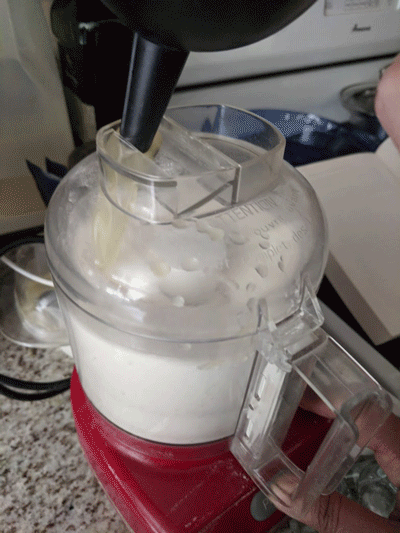 Filling Ingredients
1 ¼ cup heavy whipping cream
12 ounces 55% to 60% semi-sweet chocolate, chopped or a 12 ounce package of semi-sweet chocolate chips
2 teaspoons vanilla extract
Instructions
Heat the cream until very hot but do not bring to a boil. Add the chopped chocolate. Stir until chocolate is dissolved. Pour in the vanilla and stir to mix. Pour into prepared tart pan. Set aside until cool. Refrigerate to set.
Topping Ingredients
1 ½ pounds small strawberries
1 cup heavy whipping cream
⅓ cup powdered sugar
1 teaspoon vanilla
Instructions
Wash and hull strawberries. Cut in half lengthwise. Place on top of the chocolate in a pleasing pattern. Beat the cream. When it begins to take shape, add the powdered sugar and vanilla. Beat until fairly stiff.
Pipe decoratively around the top edge of the tart. Place the rest of the whipped cream in a bowl and pass it when you serve the tart.
This was so good, I made it again a few days later to bring to my sister's for dinner. My pictures do not do justice to this dessert, which is perfectly balanced in flavor and texture—rich without being too sweet, luscious without being too heavy. The combination of tart strawberries with semi-sweet chocolate and sweet cream is always hard to beat, and this recipe melds those ingredients together perfectly. The crust, especially, was exceptional given how easy it was to make. I haven't had the best experiences making tarts for this column, so I was extremely pleased both with how easy this one was to prepare and with how wonderful the end result turned out to be.
Next week, we head to the Midwest to dish up a tasty chicken dinner. Do join me!