Cooking the Books: Murder from Scratch by Leslie Karst
It's been eight months since Sally Solari inherited Gauguin, the upscale restaurant founded by her Aunt Letta. Business is brisk! Better still, she's about to finalize her partnership agreement with Javier, her head chef, making him co-owner. Things are still a little weird with her ex-boyfriend-turned-best-friend, Eric, especially since it looks like he's starting to date again. Sally reminds herself that it's her own fault—she was the one who rebuffed him when he wanted to rekindle their romance, after all. That aside, she has a great life with work, family, friends, and her dog, Buster.
But then, her dad has a favor to ask. Turns out, his cousin Jackie has just passed away, leaving behind her blind 20-year-old daughter, Evelyn. Evelyn has been staying with Sally's dad since then, but her dog is exacerbating his allergies, so he asks Sally if she wouldn't mind taking her on as a roommate until she can sort out what to do next. Sally is somewhat hesitant at the prospect of living with someone half her age, but her fears are quickly quelled by Evelyn herself, who proves to be a delightful young woman with a pretty good head on her shoulders.
Thus, when Evelyn confesses that she doesn't think Jackie committed suicide but was instead murdered, Sally is perhaps less hesitant about investigating than she might be. It helps that she's successfully assisted the police in several prior investigations. But her inquiries now will catch the attention of a killer and put both herself and Evelyn in harm's way.
I really enjoyed the way Leslie Karst incorporated the daily life of a blind person into the narrative, making Evelyn an equal partner in the investigation. I do hope Evelyn returns in future novels, though I imagine college life will keep her too occupied for further detecting with Sally.
I also enjoyed the mouth-watering food descriptions, especially since there was a lot of Southeast Asian cuisine—my favorite—involved. The recipe for one of those Southeast Asian dishes is included in the five printed in the back of the book, but I felt like trying out this Italian dish instead, in honor of spring finally arriving in Maryland:
Nonna Sophia's Pasta With Peas, Onion, Porcini, and Garlic
(serves 4-6)
Ingredients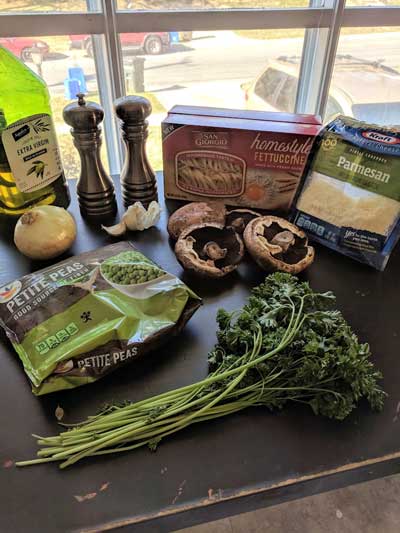 2 ounces dried porcini mushrooms (or ½ pound fresh)
6 tablespoons olive oil
1 large onion, diced (about ¾ pound)
¾ pound peas (fresh or frozen, thawed)
½ teaspoon salt
½ teaspoon black pepper
6 cloves garlic, minced (2 tablespoons)
2 tablespoons flat-leaf parsley, coarsely chopped
¼ pound Parmesan or pecorino cheese, finely grated (about 1 ½ cups)
1 pound dried egg fettuccine or pappardelle
1 tablespoon salt (for pasta water)
Instructions
Pour enough boiling water over the dried porcini to cover them and let soak for an hour. Slice the mushrooms into thin strips, reserving the liquid in a separate bowl.
Heat 2 tablespoons oil in a large skillet over moderate heat till shimmering, then add the onions. Sauté till they soften, then add the peas and continue to cook until the onions start to brown and the peas are cooked through. Season with ¼ teaspoon each salt and pepper. Set aside.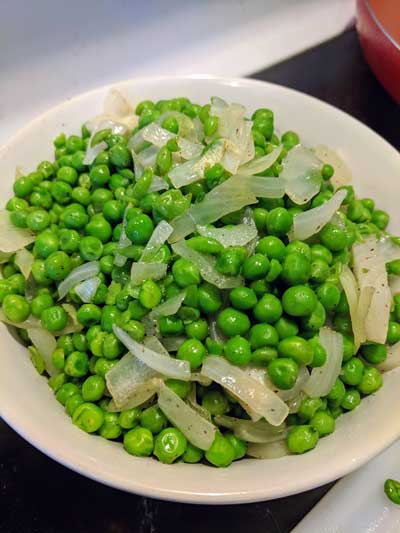 In a separate pan, heat 2 more tablespoons of oil till shimmering, then add the mushrooms (squeeze out most of the liquid first so they don't spatter). Sauté till they cook through, then add the garlic. Continue to cook until the mushrooms start to brown. Season with ¼ teaspoon each salt and pepper. Add the chopped parsley and ½ cup of the mushroom liquid, stir to incorporate, and set aside.
Bring a large (at least 4-quart) pot of water to a boil. While the water is heating, reheat the peas/onions and porcini/garlic over medium heat.
Add the salt and pasta to the water and cook, uncovered, over medium heat until al dente (still slightly firm in the center), stirring occasionally to prevent sticking. If using homemade pasta, it will cook very fast—in about 3 minutes. If using dried pasta, it will take about 10-12 minutes to cook.
Reserving ½ cup of the cooking water, drain the pasta and dump it back into the cooking pot (without rinsing). Add 2 tablespoons of olive oil to pasta and toss to coat all the noodles. Pour in the ½ cup of cooking water, then add the reheated vegetables and toss. Finally, add 1 cup of the cheese and toss again.
Serve garnished with the rest of the cheese.
While Ms. Karst does thoughtfully provide a recipe for homemade pasta, I opted for store-bought egg fettuccine (and she does warn against using "fresh" grocery pasta in favor of dried). I thought it was a very nice primavera dish, though I honestly couldn't tell that there was much of a taste difference in preparing the vegetables separately rather than all together. I did think that the dish would have benefited from perhaps twice as many mushrooms. Also, don't throw out any leftover mushroom broth! When reheating the pasta leftovers, I'd pour in a little of the saved mushroom broth to impart even more flavor to this tasty vegetarian dish.
Next week, we keep with the Italian theme as we cross the country to join another crime-solving duo. Do join me!