Cooking the Books: Hooks Can Be Deceiving by Betty Hechtman
I loved this book so much that it got me to start taking up yarncraft again!
Unfortunately, not the crochet that our heroine's competitive co-worker Adele Abrams Humphries evangelizes for—though, once I'm done with my current project, I absolutely plan on re-learning that skill. Betty Hechtman describes crafting so lovingly that I couldn't help but dive into my old yarn stash in order to finally do something with all these lovely skeins I've owned but was forced by one thing or another to set aside for far too long. Now that I've been inspired to take up knitting again, I'm so grateful—not only to the author but also to her wildly entertaining mystery novel—for reigniting my passion.
The novel itself is about Molly Pink, our intrepid sleuth, who is a founding member of the Tarzana Hookers, a group of crocheters who meet regularly at Shedd & Royal Books and More. Molly is the bookstore's events manager, so when her bosses inform her that a cable TV show, Creating with Crochet, wants to film their pilot episode there, arrangements naturally fall under her purview (to Adele's chagrin). The show wants Molly and the rest of the Hookers to set up a Make and Take project to show the viewers how easy crocheting can be. This last aim worries Molly, as one of the newest Hookers, Marianne Freeman, seems to have trouble with fine motor skills and is barely communicative with the rest of the group. Her companion, Connie Richards, often serves as a bridge, but that abruptly ends when Connie is found electrocuted on the lawn of the home they share.
Molly's initial desire to help sharpen Marianne's skills soon turns into a need to get to the bottom of Connie's death. Was it really an accident, as Marianne's pushy brother claims? Or was Marianne driven by desperation to get rid of her companion? Perhaps Marianne was the intended target to begin with! As Molly juggles investigating with the demands of her day job, she finds unexpected allies even as she unearths surprising clues that put her in mortal danger.
I loved how the mystery unfolded, to the point where I actually said "wow" when the killer was revealed. The clues were all there, but Ms. Hechtman's clever writing and plotting kept me completely in suspense. The many interesting and delightful subplots certainly helped divert the attention. I'm so pleased that there are so many more books in this series (and another yarn-centric culinary cozy series she's written) for me to devour, hopefully in the near future!
Speaking of devouring, there were two recipes included in this volume, alongside two crochet patterns. I really wanted to try out this one, which I've had variations of before but never tried to make for myself:
Molly's Chinese Jelly
Ingredients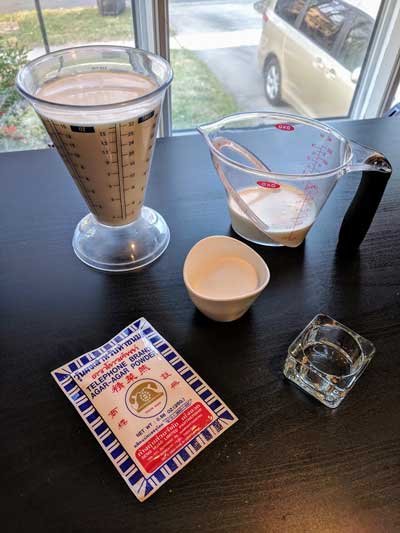 2 cups milk
½ cup half-and-half
3 tablespoons sugar
1 envelope unflavored gelatin
1 teaspoon almond extract
Instructions
Sprinkle gelatin on half-and-half to soften and let sit while heating milk and sugar to almost boiling. Add hot milk and sugar mixture to half-and-half and softened gelatin. Stir until gelatin is completely dissolved.
Add almond extract and stir. Pour into bowl and chill until set.
Approx. 5 servings.
My first mistake was in thinking that when the internet told me I could substitute agar-agar in any recipe that required gelatin, it meant that I could treat the agar-agar exactly the same. This is a lie. When I saw that my jelly was not setting, I deduced that I had to boil the agar-agar for five minutes in order to dissolve it, as opposed to just stirring it into hot liquid, which is all gelatin requires.
My second mistake was in thinking that I should put sliced almonds at the bottom of the serving dishes for a pretty garnish. The almonds neither stayed nor settled at the bottom but wound up lacing the jelly throughout. Fortunately, my lovely assistant Karin quite liked their addition; I have different viewpoints regarding the combination of textures but was pleased that my mistake hadn't automatically ruined the dish.
Self-inflicted difficulties aside, this was quite a tasty dessert that absolutely reminded me of desserts I've enjoyed growing up. I hadn't realized it was the combination of almond extract and milk that lends the dessert its distinctive flavor, but I'm pleased to have another mystery solved and that I now know how to make this whenever I please. Hooks Can Be Deceiving has taught me so much, and I'm really looking forward to reading more by the author!
Next week, we travel north to try out a vegan dessert that could easily double as a healthy breakfast, with the help of a paranormal sidekick. Do join me!