Cooking the Books: Death on the Menu by Lucy Burdette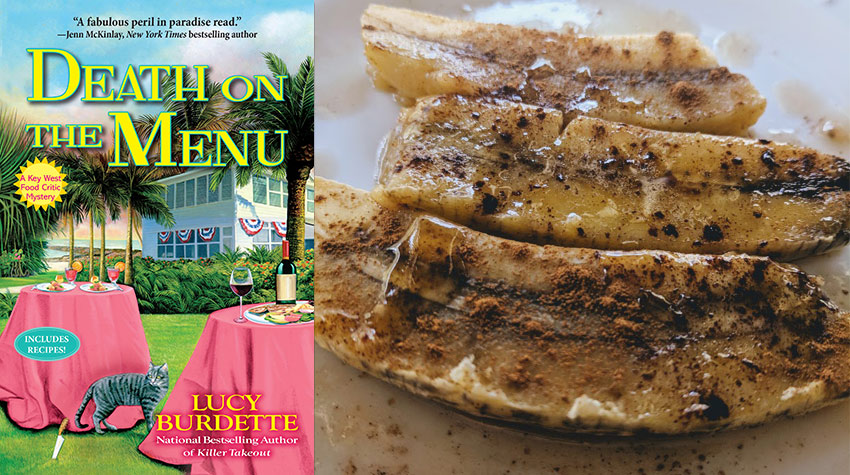 This is the eighth Key West Food Critic mystery novel but my first encounter with the series, and wow, I can see why people are raving! Lucy Burdette brings the Florida island of Key West to such vivid, colorful life that I want to hop on a plane and fly down to stay on a houseboat and drink cafe con leches by the ocean—as our heroine, Hayley Snow, is fortunate enough to be able to do on a daily basis.
Hayley is the food critic who gives this series its title, but it's her mother's catering business that is taking up most of her employable hours as the novel opens. Janet Snow's fledgling company has somehow managed to land an extremely plum contract, catering a three-day summit at the Harry Truman Little White House to promote relations between Key West and Havana. The catering itself is hectic but goes pretty well, especially given how delicious Janet's cooking is.
The summit itself, however, seems fairly ill-starred, from protestors at the gates outside to tensions between the summit-goers themselves. When Ernest Hemingway's Nobel Prize gold medal—on loan from the Cuban government—goes missing, accusations fly, with suspicions landing on one of Janet's newest employees, Gabriel Gonzalez, who has conveniently disappeared as well.
Distraught, Gabriel's family asks for Hayley's help to find him and clear his name—but then, he's found stabbed to death in a Little White House closet. When the police seem more interested in finding the medal than in solving the murder, Hayley decides to keep investigating, despite the misgivings of her detective boyfriend, Nathan Bransford. What Hayley uncovers puts more than one life in danger, including her own.
I really enjoyed how Ms. Burdette was unafraid to tackle political issues like Cuban-American relations with an even-handedness that respected the valid emotions on both sides of the conflict. It can be very difficult to separate a suffering people from an oppressive regime, particularly from the outside, and Ms. Burdette examines the different attitudes towards rapprochement with the kind of probing sociopolitical insight you rarely expect from the culinary cozy genre. This is likely due in part to Ms. Burdette's other life as a clinical psychologist, which also lends itself well to creating deeply believable and sympathetic characters. Miss Gloria, especially, was a standout, and the scene in the club towards the end had me squealing with happiness. I felt thoroughly invested in the proceedings despite this being my first encounter with these utterly delightful characters.
There were eight recipes included here, and since my parents were flying in for an extended visit, I decided to go easy on myself and make a simple, time-saving dessert that I predicted would be a hit with my entire family:
Baked Bananas with a Cuban Flair
Ingredients
5 to 6 bananas, halved lengthwise
½ stick butter
1 tablespoon fresh lime juice, or squeeze half a lime
⅓ cup brown sugar
2 tablespoons rum
Cinnamon, optional
Instructions
Lay out bananas in an 11×13 pan. Heat the butter and other ingredients in a small saucepan. Pour over the bananas. Bake at 375 degrees for 12 to 15 minutes or until the butter is bubbling and the bananas are just beginning to brown. Sprinkle with cinnamon if desired. That's it!
Since my parents abstain from alcohol, I substituted pineapple juice for the rum, and it came out beautifully! My dad, especially, loved this dessert. My family comes from the tropics of Malaysia, where we fry all sorts of bananas and plantains. While we usually prefer a crispier treat—we dip our bananas in a slightly salty batter before deep-frying them—this baked banana dessert comes closer to how plantains are usually prepared in the Americas and serves as a better-than-adequate substitution for the traditional platanos maduros fritos.
In the interests of even-handedness, though, I have to state that my lovely assistant Karin was unimpressed, saying, "It's just baked bananas." If you like this kind of thing, however, you will probably enjoy this recipe as a huge time-saver since, as Ms. Burdette notes in the novel, it's easier and less labor-intensive than frying individual slices. One thing I will note, though, is that I wound up cutting each banana in half crosswise before serving, and I think these might actually work quite well cut into even smaller slices before baking.
Next week, we travel north up the east coast to try out a delightful Mediterranean dish. Do join me!