Cooking the Books: A Soufflé of Suspicion by Daryl Wood Gerber
The second French Bistro Mystery finds our heroine, Mimi Rousseau, bracing herself for Crush Week in California's Napa Valley as tourists pour in from all over to tour the many vineyards in one of wine making's most exciting seasons. Tourism means extra dollars for both Maison and Bistro Rousseau, the inn and restaurant that Mimi owns. To add to the excitement (and revenue!), the inn is also the venue for the Sweet Treats Festival organized by Renee Wells, the sister of Bistro Rousseaus's chef, Camille.
Renee is a fledgling festival organizer, having walked out on her old life as a housewife on a chicken-and-egg farm to embrace being a single career girl. While she's definitely on her way to making a success of her new calling, she hasn't made very many friends along the way. Her ex-husband, Rusty, is still pining for her, and the previous festival organizer, Allie, whose contract Renee had bought out, is convinced that Renee has cheated her. Mimi is just hoping the festival will finish without too much drama when the very worst happens: Renee is found dead in Camille's kitchen after making it fairly obvious that she was romantically interested in Donovan, the younger man Camille has been dating. Mimi relies on Camille both as a chef and a friend, so when suspicion naturally falls on Camille, Mimi is determined to clear her name. But Mimi will soon find herself matching wits with a devious killer who isn't afraid to kill again.
I enjoyed the shifting layers of this mystery as we sorted through the many—and sometimes surprising—reasons that people wanted Renee dead. The backdrop was especially terrific; Daryl Wood Gerber writes with intimate knowledge not only of the area but also of wine and French cooking, lending an authenticity to the proceedings that makes the rest of the story feel even more convincing. The cast of characters is especially endearing, and I'm glad that Mimi eventually overcame her superstitions regarding black cats to deal charitably with the one that appears here.
There were 14 delectable recipes included in this volume, and I decided that I ought to take the plunge and make my very first soufflé:
Soufflé Salted Caramel
(makes 2)
Ingredients
For caramel
6 tablespoons water
¼ cup sugar
1 tablespoon crème fraiche
For soufflé
½ tablespoon butter
3 tablespoons plus 2 teaspoons sugar
3 egg yolks
1 ½ tablespoons cornstarch
1 cup warm milk
1 egg white
¼ teaspoon white wine vinegar
For salted caramel sauce
6 tablespoons brown sugar
¼ cup butter
3 tablespoons heavy cream
⅛ teaspoon vanilla
Pinch of sea salt
Instructions
First, make the caramel. In a sauté pan, over medium heat, bring water and sugar to a boil. Stir until it is a dark golden color, about 5-7 minutes, then add the crème fraiche and stir on low heat until smooth. Set aside.
Preheat the oven to 400 degrees F. Brush two 3-inch-wide ceramic dishes (5-6 ounces) with ½ tablespoon melted butter. Dust each with 1 teaspoon sugar. Shake off the excess.
In a medium saucepan (off the heat), whisk together the egg yolks, 3 tablespoons sugar, and cornstarch, then slowly add the warm milk. Note: I heat the milk in the microwave oven for 45 seconds on high. Whisk to incorporate. Cook the mixture on medium heat, whisking constantly, until thick. Then stir in the caramel, which will be sticky. Set the mixture aside and allow to cool slightly, whisking occasionally to prevent a skin from forming.
In a small bowl, whisk the egg white with the vinegar until stiff peaks form. Gently fold the egg whites into the caramel-egg mixture. Pour mixture into the two prepared baking dishes.
Bake for 25-35 minutes until golden. There will be a slight wobble in the center. Remove ramekins from the oven. Let cool 15 minutes. They might sink a bit.
Meanwhile, make the salted caramel sauce. Put the brown sugar, butter, heavy cream, vanilla, and sea salt in a saucepan. Bring to a boil. Let bubble for 1-2 minutes until glossy, stirring constantly.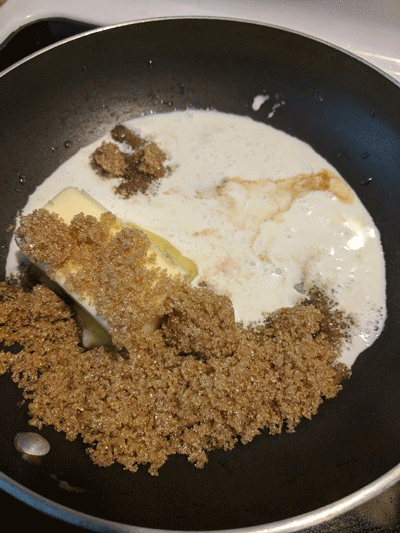 Serve the soufflé with a side of the salted caramel sauce.
This was one of the best desserts I've ever made! Decadent and delicious, it was well worth the effort—even if it is admittedly more complicated to put together than my usual experiments for this column. A large part of the complexity was in the very first step: getting the caramel to get to that exact dark golden color without burning. It certainly takes longer than the 5–7 minutes noted, to the chagrin of my lovely assistant Karin, who was put in charge of not only that but also of separating the eggs, a task that neither of us ever looks forward to.
We both agreed that the end result was well worth it, however, producing restaurant-quality soufflés that were incredibly tasty. We did have to substitute sour cream for crème fraiche due to a surprising shortage of the latter in our area, but it didn't affect the taste unduly (I do like a hint of tang to offset the flavors of salt and sweet anyway).
Next week, we stop back in the Midwest for two weeks to catch up with one of my favorite series for a spell. Do join me!