"Cooking for the Mob" by Niko Vorobyov, author of Dopeworld
Dopeworld is an irreverent ode to gonzo journalism by Niko Vorobyov, a writer who travels the globe to explore the use of recreational drugs in cultures around the world. Read on for Niko's interview with Toto, a chef for the mafia in Novi Sad, Serbia, and check out Dopeworld—on sale August 18, 2020.
An hour's bus ride from Serbia's capital Belgrade lies Novi Sad, Vojvodina. Unlike the capital's brutalist, graffiti-covered apartment blocks, Novi Sad's got a more baroque look thanks to its history as part of the old Austro-Hungarian empire. There, as the sun set over a gothic church on the main square I walked into a café to meet Toto. Toto's not actually a gangster—my book, Dopeworld, has enough of those anyway—but instead, he was the Mafia's chef. He talks like them, he acts like them, and he knows every one of their favourite dishes, but he's not actually one of them. Still, you see a lot working at a mob restaurant, and talking with him was like something out of GoodFellas.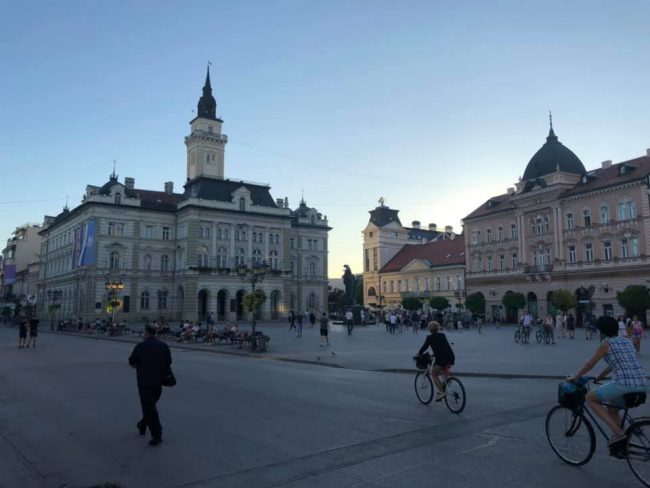 "I was born and raised in Novi Sad, and got drafted into the army as soon as fighting broke out," Toto told me. "I saw some ugly things. When I left the army in 1993 I didn't know what to do with myself for a while so I did a lot of drinking, drugs, but when I saw how people were destroying themselves, I decided to get a job."
It's easy to forget that not that long ago, there was a bloodbath in the middle of Europe. Yugoslavia was breaking down. Marshal Tito, Yugoslavia's leader since the Second World War, had died, bringing nasty nationalistic differences to the fore, and sparking a three-way bloodbath between Serbs, Croats, and Bosnians in 1991. Everyone in the Balkans hates each other, going back hundreds of years to Ottoman rule or which side they fought on in WWII.
The Yugoslav wars are a touchy subject in the Balkans, so not to offend anyone: they all sucked. The Bosnians enlisted the help of al-Qaeda, paving the way for global jihad; while the Serbs and Croats, spurred-on by nationalist rhetoric, carried out ethnic cleansing, including the massacre of 8,000 unarmed Bosnians at the town of Srebrenica. Later fighting spread to the province of Kosovo, home to many Muslim Albanians. But at the same time Yugoslavia lay right on the Balkan route, the main pathway by which heroin enters Europe from the Middle East. The narco-business is about as international as it gets, and so amid all the ethnic strife it was kind of heart-warming to see the Serbs, Montenegrins, Albanians, and of course the Bulgarians put aside their differences to keep pumping smack into Europe's veins.
Toto got a job working at Big Bob's restaurant. "Big Bob" is of course a crafty pseudonym for the colourful, middle-aged don of Novi Sad who'd strut around in cowboy boots.
"Big Bob was a really respectable guy. If he liked you, he really liked you, but if he didn't like you, you'd know it," Toto explained. "His dad was big shot in the communist party so he could do what he wanted. He was the first to bring heroin to Novi Sad. A lot of these guys had high-level ties and worked as hired killers for the communist party."
Serbia in the 90s was a gangster's paradise. These were desperate times. Yugoslavia was put under international embargo, so to get around the sanctions and buy essential supplies the government had to cut deals with unsavoury characters like Bob.
Bob's joint was a small, but popular, hangout spot for wiseguys. It stood in the middle of a park so at night you could see the sirens coming.
"It was a night place, open from six till six, and a lot of the guys rolling through were what we'd call 'big dicks'—guys who like to spend a lot of money and show off. Criminals here never hit the big time because they spent too much money, but tips were good: I was making two, three thousand Deutschmarks a month while most people scrabbled by with a few hundred."
One time, Toto spotted cop cars in the distance and raised the alarm. He grabbed a trash bag and brought it round the restaurant so everyone hurriedly tossed anything they were carrying inside, then threw it out back. When they got in the cops couldn't find anything, but afterwards all the guys had to spend time plucking leftovers out of their gun barrels.
Deutschmarks, for all you millennial, Gen-Z Instagram influencers, were the official currency of Germany before the Euro. It was also the unofficial currency of Yugoslavia when the shit hit the fan in the 1990s.
Toto's speciality was a vegan's nightmare—a half-pork half-lamb abomination with chicken inside.
"When people ask me what I recommend for vegetarians, I tell them a cab," he grinned.
There were a lot of guns floating around after the wars, and guests often came packing heat under their jackets. There were bullet holes in the ceiling from when they used to fire in the air when conversations got rowdy. One time, Toto spotted cop cars in the distance and raised the alarm. He grabbed a trash bag and brought it round the restaurant so everyone hurriedly tossed anything they were carrying inside, then threw it out back. When they got in the cops couldn't find anything, but afterwards all the guys had to spend time plucking leftovers out of their gun barrels.
Another time Toto was working late while a mid-level mob boss was dining. He'd just kicked out a drunk patron when the guy came back pointing a Kalashnikov rifle.
"The man was screaming at me: 'Why did you kick me out? I'm gonna kill you!' Then he settled down and told me to make some food. I told him I'm not gonna make anything while I've got my back turned to you holding a rifle."
While this back-and-forth's going on, the mob boss quietly snuck out through the back and was watching proceedings through a hole in the wall when he realised he'd left his phone inside. A kid walked by on the line to his girlfriend and the mob boss called him over and asked to borrow his phone. The kid refused, so the mob boss slapped him, took the phone from his hand, and called the police.
Toto had no wish to get caught in a shootout so when he heard the sirens, he advised his angry customer to get the fuck out before the cops came.
"He left, but the next day I read he'd tried hailing a cab at gunpoint, then another one, then finally got arrested holding up a pizzeria."
The Mafia also got leeway for answering the call of duty. To carry out ethnic cleansing, Serbian forces turned to militias like Arkan's Tigers led by gang lord Željko 'Arkan' Ražnatović. You can still see his faded mural in Belgrade, a steely glare under his beret, gracing the stadium of FK Obilić, the football team he once owned. Wanted by Interpol for an epic, decades-long crime spree across Europe, Arkan came back to be a warlord and commit atrocities in Bosnia before being assassinated in a Belgrade hotel lobby in 2000.
"Another big criminal at the time was Branislav Lainović, a rival of Arkan," Toto remembered. "He kept getting harassed by police and got so angry he smashed his submachine gun against a tree. So he came to Big Bob. I was there and I remember it very clearly. Big Bob told him: if you want to get them off your back you've got to do something for the government. Next thing we heard, Lainović set up his own paramilitary outfit."
"Lainović was Montenegrin but you'd never say that to his face," Toto added.  "He was a Vojvodina patriot, and he was very harsh towards the Montenegrin criminals. Lainović got his nickname 'Dugi', The Long One, because he had a big dick."
I don't know how Toto got this information, and I'm not sure I want to find out. Since Big Bob's diner's not open anymore, I asked Toto what happened to the old crowd.
"A few years ago we sat down and calculated how many of our guests hadn't survived: 40, not including those who died in suspicious, or not-so-suspicious, car accidents. Big Bob died in 2008 but it wasn't a bullet that killed him. It was a really stupid thing. He always wore these cowboy boots and he didn't want to go to the doctor. He had a toenail growing inward and high blood sugar, and ended up getting infected with gangrene. He must have been shot at a hundred times but he didn't die by the gun."
The old guard have passed on and Serbia's dopeworld is now dominated by soccer hooligans, and warring smugglers from neighbouring Montenegro. But Toto can still grill a mean ćevapi.
Niko Vorobyov is a government-certified (convicted) drug dealer turned writer and author of the book Dopeworld, about the international drug trade. You can follow him @Lemmiwinks_III
---

About Dopeworld by Niko Vorobyov:
Just as Anthony Bourdain's No Reservations did for the world of food, Dopeworld is an intoxicating journey into the world of drugs. From the cocaine farms in South America to the streets of Manila, Dopeworld traces the emergence of psychoactive substances and our intimate relationship with them. As a former drug dealer turned subversive scholar, with unparalleled access to drug lords, cartel leaders, street dealers and government officials, journalist Niko Vorobyov attempts to shine a light on the dark underbelly of the drug world.
At once a bold piece of journalism and a hugely entertaining travelogue, Dopeworld is a brilliant and enlightening journey across the world, revealing how drug use is at the heart of our history, our lives, and our future.