Cooking the Books: Veiled In Death by Stephanie Blackmoore
Summer has begun in the Pennsylvania town of Port Quincy, which means that all eyes are on the upcoming Founder's Day celebrations, complete with historical reenactments of the Revolutionary War battle fought here. Event planner Mallory Shepard is thrilled that she and her sister, Rachel, have been hired to oversee the Cordials and Cannonballs Festival to go with the holiday, but she is even more excited about the upcoming wedding of her close friend Bev Mitchell, an event that her company will also be handling. Bev, in turn, thinks that Mallory should consider speeding up her own nuptials to local lawyer Garrett Davies, even going so far as to suggest a double wedding with herself and her groom.
While Mallory definitely needs time to think about all that, she only needs a split second to decide to buy a beautiful antique veil that she and Bev spot while out shopping for wedding accessories. Unfortunately, as soon as they leave the antique store, Mallory's nemesis (and, coincidentally, her one-time almost-mother-in-law), Helene Pierce, sees the veil and tries to snatch it right out of her hands. Helene claims that the veil is a family heirloom crafted by Betsy Ross herself and that it went missing decades ago after her husband was killed in a hit-and-run.
Sheriff Tucker Davies, Garrett's dad, steps in before things can get ugly. Since there's no proof of provenance besides Helene's unreliable, self-interested word, he allows Mallory to keep the veil in a safe at Thistle Park, the estate-turned-B&B where she lives and hosts most of her events, until authentication can be secured. But when a re-enactor feuding with Helene is killed and terrible secrets about the hit-and-run resurface, Mallory is shocked to find Helene on her doorstep begging for help in clearing her name from suspicion of murder. Helene might be a pain, but she'd never stoop to killing—would she? And if the deaths weren't her fault, then who could possibly be to blame?
The sixth installment of the Wedding Planner Mystery series unfolds at a leisurely pace, letting readers get reacquainted with all the drama of Port Quincy life as a long-suffering Mallory puts up with some truly hostile behavior even from people she considers loved ones. At least Garrett and his daughter Summer are consistently on her side, even as my mind, like Rachel's, boggled at the idea that 30-somethings running successful businesses wouldn't have the "do you want to have kids" talk before agreeing to marry. I was also truly surprised by the identity of the cold-blooded killer and pleased by the way the book handled the topics of adoption, immigration, and what it means to belong.
Given that the truly lovely Summer is vegan, it's no surprise that the three recipes included in this book accommodate her dietary restrictions. While she is too young for the two alcoholic beverage recipes listed, she'd likely enjoy these:
Chocolate Almond Cookies
Ingredients
2 cups flour
½ cup cocoa
½ teaspoon salt
1 teaspoon almond extract
½ cup coconut oil
½ cup white sugar
½ cup brown sugar
1 cup chopped almonds
Instructions
Preheat oven to 350 degrees. Sift together flour, cocoa, and salt. Add almond extract and coconut oil, both sugars, and cream together.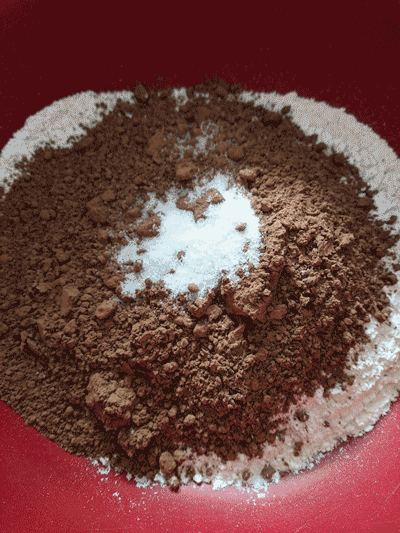 Form dough into small, teaspoon-sized balls. Roll in chopped almonds. Bake for fifteen to twenty minutes.
My husband and I loved these marvelous cookies! Just the right balance of sweet, salty, and crispy, they make for a delightful dessert or snack. Bonus: our kids weren't huge fans, so we had almost all of the 35 I managed to bake up from this recipe to ourselves! I did find that half a cup of coconut oil wasn't enough to make the dough adhere, so I kept adding more by tablespoonfuls until I had a good consistency for forming little balls. I also decided to use sliced almonds on the outside, which I don't think made an appreciable difference from chopped in the final product. I'll definitely be baking these again come cookie season this winter!
Next week, we hop a few states over to make a yummy baked dinner and find another killer using a car accident to cover up their crime. Do join me!