Cooking the Books: Three Widows and a Corpse by Debra Sennefelder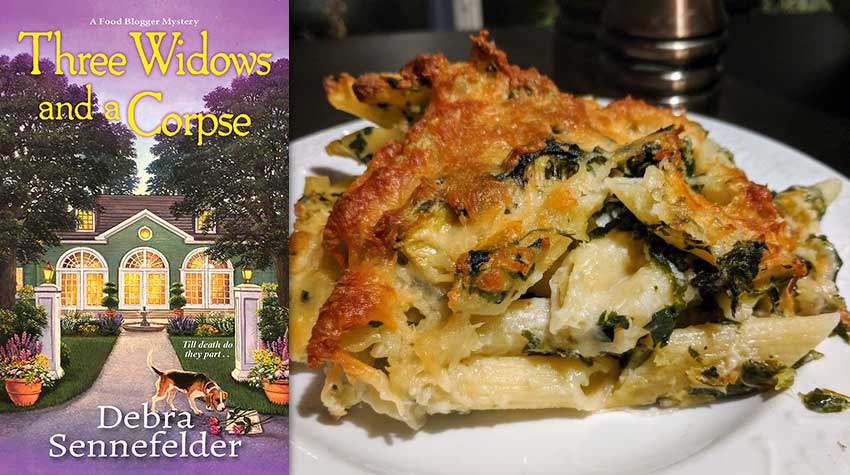 Food blogger Hope Early loves her job, but she has to admit that heading back into a magazine's test kitchen feels a lot like coming home. Not that she wants her old, high-pressure career of magazine editor back, but it is nice to be a guest contributor for a change—in this case for the popular Cooking Now magazine. Hopefully, the experience will lead to greater exposure for her own blog, Hope at Home.
Meanwhile, Hope's sister, Claire, is still in a funk after losing the mayoral election, and Hope and her best friend, local reporter Drew Adams, are determined to pull her out of it. To this end, they're making sure that she takes part in Jefferson's annual scavenger hunt, which Hope and her team have already won three years running. There's a heated rivalry between Hope and her high school frenemy, Meg Griffin, so she's determined to do whatever it takes to win again this year.
Unfortunately, her ambitions are destroyed early in the game when she stumbles across the body of shady real estate developer Lionel Whitcomb. His wife, Elaine, playing for Meg's team, is hot on her heels and understandably distraught. Less understandable are the cries of horror from two other women, each exclaiming over "her" dead husband Lionel.
Hope really, really wants to stay out of investigating another murder, but her inquisitive nature soon gets the best of her—to the exasperation of her boyfriend, Chief of Police Ethan Cahill. His annoyance will quickly turn to fear, however, when the murderer ups the stakes and begins to stalk Hope herself.
This was a mystery with a neat twist that totally had me second-guessing myself. I liked very much how Three Widows and a Corpse had me thinking I knew where it was going then surprised me with where it actually took its narrative. I also appreciated how Hope struggled with her own nosiness and paranoia, particularly as it related to her growing bond with Ethan. It was really nice to spend time with our cast of characters again, who feel like they could really be your small-town neighbors.
Each installment of the Food Blogger Mystery series includes recipes of the delicious dishes described throughout, and this was no different, with six recipes to choose from! I opted for this dish because I wanted something warm and hearty for the whole family:
Artichoke and Spinach Baked Pasta Dish
Yield: 4 servings
Ingredients
1 tablespoon extra-virgin olive oil (EVOO)
4 cloves garlic, finely chopped
1 large shallot, chopped
1 box (9-ounce) frozen artichoke hearts, thawed, halved, and patted dry*
½ cup dry white wine
4 tablespoons butter
3 tablespoons flour
2 cups milk
Salt and pepper to taste
Freshly grated nutmeg
1 ½ cups Gruyère cheese, shredded
1 pound penne pasta
2 boxes frozen chopped spinach, thawed and wrung dry in a towel
1 cup shredded Parmesan cheese
Instructions
Bring a large pot of water to a boil. Preheat oven to 375 degrees.
In a medium skillet, heat EVOO over medium to medium-high heat. Add in garlic and shallot, cook for 2 to 3 minutes. Then add in artichokes and cook until they are lightly brown. Deglaze the pan with wine.
In a saucepan, add butter and melt over medium heat. Whisk in the flour and cook for 1 minute. Add milk, whisking to combine, and season with salt and pepper and a pinch of nutmeg. Continue to cook sauce until thick enough to coat the back of a spoon. Adjust seasonings and add in Gruyère cheese, stirring in a figure-eight until all the cheese is melted into the sauce.
Salt the boiling water and cook pasta until al dente. Drain and return to the pot. Pour in the cheese sauce, spinach (shred it as you add it to the pasta), and artichoke mixture.
Pour out the pasta mixture into a 3-quart baking dish and cover with Parmesan cheese.
Place baking dish on a baking sheet and set in center of oven. Bake until the top is browned and bubbling, about 45 minutes.
Allow to cool and set for a few minutes before serving.
*Sometimes I can't find frozen artichoke hearts, so I use a can of artichoke hearts; just drain and dry before using.
First of all, this serves a lot more than four people, which is good because there's a lot of deliciousness here and in that terrific Gruyère sauce especially! I kind of wish there had been a bit more sauce, as my pasta felt a little dry after 45 minutes of baking. Perhaps the next time I make this I'll add the entire contents of the jar of artichokes, liquid included, and perhaps an extra jar as well, as I love artichokes and think this might have benefited from even more of them. That said, this was a creamy, cheesy delight filled with good-for-you vegetables. It's also easy to add meat if you want a little extra protein with your pasta bake.
Next week, we make the world's easiest cookies to nibble on while solving a murder out in the Midwest. Do join me!