Cooking the Books: Three Tainted Teas by Lynn Cahoon
Mia Malone is thinking of ways to expand her catering and cooking school business when an unexpected opportunity falls into her lap. Her young assistant, Christina Adams, has been roped into being a bridesmaid for a woman she barely knows. Serendipitously or otherwise, the father of the bride has also recently fired the wedding planner and is looking for a replacement. Given that the bride's family is an influential part of the coven that underpins Magic Springs society, Mia knows that accepting the job will give her valuable connections in drumming up new and lucrative business.
What Mia doesn't realize before taking on the gig, however, is exactly how controversial these nuptials are for the local supernatural crowd. Bride-to-be Amethyst Uzzi is the descendant of a long line of witches. Her betrothed, Tok McMann, is the scion of a powerful shape-shifting wolf clan. The long-standing rivalry between their families has been likened to that of the legendary Hatfields and McCoys. Unsurprisingly, not everyone in their families is thrilled by this love match—even less so by the idea of the lovebirds' official union.
Regardless of the controversy, Mia is determined to pull off the best wedding possible, even though Amethyst and Tok's parents are being decidedly overbearing in their micro-management of the affair. But when the previous wedding planner, Chelsea Bachman, crashes a family party to drunkenly confront Drunder Uzzi about firing her, Mia starts to worry that even her usual intrepid nature might find this a problem too thorny to handle. She's determined to charm Chelsea—once the other woman has sobered up the next morning—into handing over the contracts and other relevant wedding information without too much of a fight. Alas, Mia shows up at Chelsea's third-floor hotel room only to find the door ajar and poor Chelsea inside, violently slashed to death in what looks like a wild animal attack.
Was Chelsea the victim of an angry wolf shifter, or are the McManns being framed for her murder? Mia only wants to focus on making the wedding as wonderful and stress-free as possible for the deeply loving couple, but their families—and a murderer—keep getting in her way. Will Mia be able to pull off the wedding of the year, or will more deaths cause the whole thing to be called off?
I love how Lynn Cahoon expands the paranormal universe of Magic Springs to include other supernatural creatures and how Mia muses on each of their relationships to the humanity she claims despite being a witch herself. The paranormal hijinks serve as a wonderful backdrop not only to the main mystery of who would want to stop the wedding badly enough to kill Chelsea but also to the series' ongoing mysteries of the haunted schoolhouse and grounds Mia repurposed for her home and business.
There was one recipe included with this novel, and it is truly as magical as its name.
Magically Easy Peach Crisp
Ingredients & Instructions
Pre-heat oven to 400 degrees F.
Arrange 4 cups sliced fresh peaches (You can leave the skin on or peel these) evenly in an 8 x 8 inch baking dish. I always spray the dish with spray oil, just to keep it from sticking. Mix together 2 tbsp of brown sugar and a tsp of cinnamon and sprinkle over the top, mixing in with a spoon.
Mix the following into a bowl using a pastry cutter (or a fork) until evenly crumbled:
½ cup flour 
½ cup brown sugar
½ cup cold butter
1 tsp ground cinnamon
½ tsp salt
Fold 1 cup rolled oats into the mixture, then press on top of the peaches.
Bake until lightly brown or 30 minutes.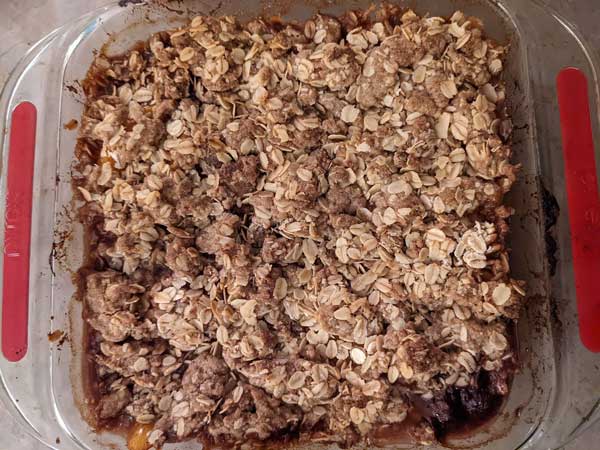 Serve warm with vanilla ice cream.
Since fresh peaches are a bit hard to come by at the moment, I opted for canned, which I think made for a perfectly adequate substitute. I also greased my baking pan with butter instead of spray oil to add just a little more of that delicious buttery flavor to the final dish.
I was a bit surprised to find that my brown sugar had gotten quite hard since the last time I used it, but this recipe is actually really good for incorporating lumps of that into the final product. And oh how wonderful it was, especially with vanilla ice cream! The flavors are perfectly balanced in this delicious baked treat that barely takes any time to whip up before placing into the oven.
Next week, we head southwest for wedding shenanigans of a different kind, while rolling up a delicious appetizer. Do join me!