Cooking the Books: Tea & Treachery by Vicki Delany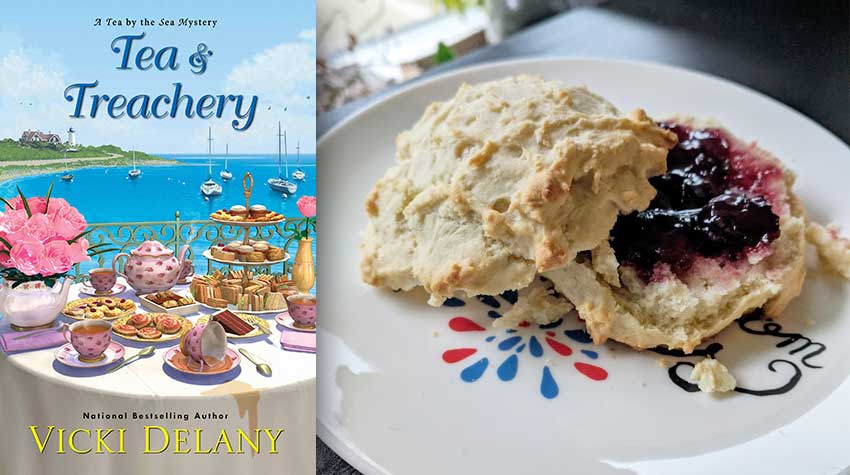 I love a proper afternoon tea service, but since I haven't been able to attend one in ages (thanks, pandemic), reading Vicki Delany's Tea & Treachery while sipping on a cream tea and nibbling on cake was a delightfully atmospheric substitute. Bonus: I got to vicariously enjoy the Cape Cod seaside and solve a murder in the process!
Our heroine, Lily Roberts, has left Manhattan behind to open a traditional English tea room, Tea by the Sea, on the grounds of her beloved grandmother's Victorian B&B on the picturesque Cape Cod bluffs. So far, business has been pretty good—even if Grandma Rose keeps pushing for Lily to expand her responsibilities to include managing the B&B instead of just making breakfast for the inn guests every morning.
Rose is a force of nature (and, at least to me, an acquired taste). As a teenager, she went into service with a landed English family. By the time she turned 25, she'd worked her way up to being the manor's assistant cook. But then, she met Lily's grandfather and emigrated to the United States, starting her family in Iowa. After her husband died, Rose took their savings and bought the B&B, and now Lily has joined her.
Lily already has her hands full cooking for both the inn and the tea room when developer Jack Ford shows up to take a look at the property next door. He wants to raze the dilapidated home there and put up a resort complete with golf course—a prospect that makes Rose absolutely livid. Rose writes an ill-advised letter to the local paper, and Jack threatens her with a slander lawsuit. When he's found dead at the base of the rickety stairs that link the B&B to the beach dozens of feet below, Rose becomes the prime suspect. In the face of an investigating police detective who seems more interested in finding evidence to convict the senior citizen rather than finding the real killer, Rose enlists a reluctant Lily and Lily's far more enthusiastic best friend, Bernie, to try to uncover the truth themselves.
The beleaguered Lily makes for a wonderful protagonist as she balances running her family businesses with sleuthing. Thank goodness for Cheryl, Marybeth, and the long-suffering Edna, who all make sure that food service at the tearoom and B&B runs smoothly no matter what shenanigans their bosses get into. Their assistance makes it possible for Lily to puzzle out the killer's identity as well as provides some of the novel's best passages of dialog.
Tea & Treachery includes recipes for two of the baked goods featured in the text as well as a recipe for tea-scented bath salts. I decided to try out the first one.
Traditional British Afternoon Tea Scones
Makes 12 scones
Ingredients
2 cups all-purpose flour, plus more for flouring work surface and cutter
4 teaspoons baking powder
¾ teaspoon salt
6 tablespoons unsalted butter, cut into cubes
3 tablespoons granulated sugar
¾ cup milk
1 teaspoon pure vanilla extract
½ teaspoon freshly squeezed lemon juice
Instructions
Preheat the oven to 425°F.
Combine the flour, baking powder, and salt in a large mixing bowl. Add the butter cubes to the flour mixture and rub them in with your fingers until the mixture looks like fine crumbs. Add the sugar and stir it in.
Heat the milk in a small bowl in a microwave oven for about 30 seconds, or until warm, but not hot. Add the vanilla extract and the lemon juice to the milk and stir until blended.
Place a baking sheet into the oven to heat it.
Make a well in the flour-butter mixture, add the milk, and combine quickly with a spoon. The dough will seem very wet at first. Sprinkle flour on a work surface and place the dough on it. Sprinkle the dough with flour and then fold it over 2 or 3 times, or until it is smooth. Pat it into a round about 1 ½ inches thick.
Dip a 2-inch smooth-edged cutter in flour and cut the dough into circles. Rework the remaining dough and cut it into circles.
Place the dough circles on the preheated baking sheet and bake for 10 minutes, or until the scones have risen and are golden on top.
The scones should be eaten the day of baking, accompanied with jam and clotted cream. Or freeze the scones the day of baking and serve them later.
I did a much better job of making the prescribed 8 scones this week than I had with last week's biscuits. These came out so beautifully, and I learned a new trick about not getting baked goods to stick by using a preheated baking sheet. I was also pleasantly surprised by the unexpected use of lemon juice in this recipe; I didn't notice any particular tartness in the end result but loved it all the same. These scones were very quickly gobbled up by my family, especially once spread with butter and cherry preserves. I'll definitely want to make these scones again.
Next week, we come back down to my neck of the woods and dive into the latest installment of one of my favorite culinary cozy series while also diving into a bowl of delicious soup. Do join me!