Cooking the Books: Steeped in Murder by Kirsten Weiss
I love Tarot, and I love tea, and I love Kirsten Weiss's witty, whip-smart writing. All these aspects are delightfully combined in her Tea and Tarot Mystery series, beginning with this novel, Steeped in Murder.
Our heroine, Abigail Beanblossom, has worked hard to save enough money to be able to open the teashop of her dreams. While she currently sells her tea blends at a farmer's market stand in the coastal town of San Borromeo, California, her dream has always been to have her own sit-down teashop. She's super excited when she's finally able to put down several months' rent on the perfect building for her enterprise. Imagine her horror then when she goes to visit the still-empty shop front one day only to discover the presence of someone else who claims to have also leased the very same place.
Hyperion Night is a Tarot reader who plans to open a studio offering classes and consultations in the space Abigail has already paid for. Due to several deep-seated personal reasons, Abigail tends to shy away from matters pertaining to the spiritual and occult, preferring logical, tangible solutions to her problems. As such, she's sure that there's some reasonable explanation for this mix-up, so she calls her realtor, Reince Briggs—only to follow the sound of his ringing cell phone to his corpse in the parking lot next door.
While she and Hyperion both come under suspicion for Reince's murder, it soon becomes clear that Reince had conned plenty of other people too. Realizing that the jig was up, Reince had been looking to flee town until someone put a permanent end to him instead. The cops are understandably too busy looking into the murder to help Abigail and Hyperion recover the substantial amounts of money Reince took from them. In order to have any hope of resuscitating their individual dreams, our odd couple will need to team up to try to figure out where Reince stashed their investments. If they just so happen to solve the murder and start a beautiful friendship in the process, then more to the good!
I absolutely lapped up this tale of opposites teaming up to solve their problems, overcoming their differences in order to make the best of things. Abigail and Hyperion are both wonderfully modern protagonists, and their banter with each other and with the others in their orbit makes for engaging, light-hearted reading. While I admit that I originally came for the recipes, I was absolutely hooked on the story and themes here and can't wait to read more.
Speaking of recipes, there were four included with the novel, two for tea blends and two for scones. I decided to try out this one:
Cinnamon-Chip and Coconut Scones
Ingredients
3 ¾ C flour
¼ C sugar
3 T baking powder
1 tsp cinnamon
¼ tsp salt
8 T cold unsalted butter
1 ¼ C milk
2 C coconut (dry)
1 C Hershey's cinnamon chips
Instructions
Heat oven to 375 degrees F.
Mix flour, sugar, baking powder, cinnamon and salt in a medium-sized bowl. Cut butter into cubes and mix into the flour mixture with your fingers, crushing the butter, until the mix is coarse and sandy.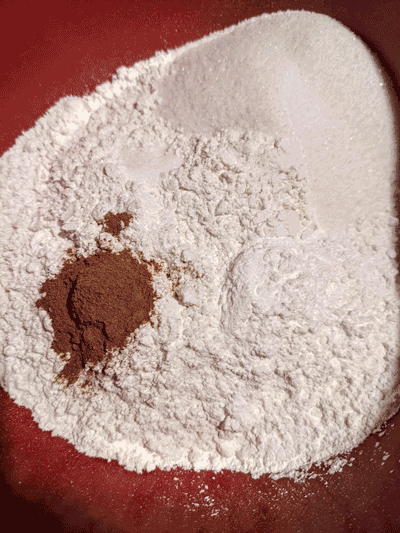 Add milk and stir until almost combined. Add coconut and cinnamon chips and mix in. You may need to add extra milk, a tablespoon at a time, until the mix is incorporated.
Knead dough in the bowl. Roll out to 1″ thick. Cut circles 2 ½ inches in diameter, or cut into triangular wedges 2 ½ inches at the base.
Bake on ungreased cookie sheet until light golden brown.
Circles take approximately 15 minutes. Triangles will usually take 20-25 minutes.
I decided to make circles because they take less time and my kids were already clamoring to taste the scones—in large part due to the enticing scent of the cinnamon chips! I had to bake my own chips, as the recommended Hershey's proved more difficult to track down than I would have liked. Fortunately, I found a simple recipe on the internet that had my kids sneaking little bits of the cinnamon treats whenever my back was turned.
The coconut is an interesting addition to this scone that helps it keep its shape while providing a unique texture to the end result. I think that if you're more of a coconut or even cinnamon fan than I am, you'll really enjoy this scone, which had the perfect balance of lightness to moisture. I'm the kind of person who kept thinking that chocolate would have been a better kind of chip here; if you're not quite as boring as I am, then you'll likely enjoy this even more than I did.
Next week, we stick around San Borromeo to investigate another murder while baking up a swoon-worthy teatime treat. Do join me!