Cooking the Books: Southern Sass and Killer Cravings by Kate Young
Marygene Brown is done with her life in Atlanta and especially with her abusive soon-to-be-ex-husband, Peter. Now, after an absence of several years, she's returning home to Peach Cove Island to take up her role in the family business, helping to run the island's beloved Peach Diner. Her family relations are still a bit fraught: her siblings, Jena Lynn and Sam, have been managing just fine without her help since the death of their mother two years ago, and her relationship with her real father—obscured all those years ago by Mama—is still fairly shaky. But Marygene knows she has her friends to count on, at the very least.
What she doesn't count on is the ghostly apparition of said mother showing up to warn her to keep the diner closed one day to prevent certain disaster. Stunned but skeptical, she decides against trying to persuade her siblings of heeding something she barely believes herself. Alas, curmudgeonly Mr. Ledbetter dies that very day while dining at their family establishment—but not before pressing a secret message into Marygene's hand.
This transaction does not go unnoticed by Roy Calhoun, a city reporter in town to cover a turtle-hatching project. His interest in the case is manifold, not least due to his attraction to Marygene. But she's not terribly interested in men so soon on the heels of the messy breakdown of her marriage, even though her former flame, Alex Myers, is a deputy in the sheriff's department who winds up spending a lot of up-close-and-personal time with her over the course of the investigations. The sheriff himself happens to be her estranged dad, and while he tries to talk her out of looking into Mr. Ledbetter's death on her own, circumstances and her Mama's ghost will push her to search for the truth no matter the danger.
I have a weakness for culinary cozies with a paranormal twist, but I must say that this novel's biggest draw for me was its enormous amount of heart. Marygene's recuperation from an abusive marriage is documented with a loving kindness that is extended to all the victims depicted here. Things can sometimes get confusing with the large cast of characters, but you always know Kate Young's heart is in the right place as she chronicles Marygene's struggles to recover her sense of self-worth while bringing a murderer to justice. The budding love triangle was also refreshingly unhackneyed, though I think I rather prefer Roy to Alex at this point in the series.
Southern Sass and Killer Cravings included seven delicious recipes, and despite my recent run of appetizers, I couldn't resist extending the streak by trying out these savory scones:
Bacon, Dill and Gouda Cheese Scones
Ingredients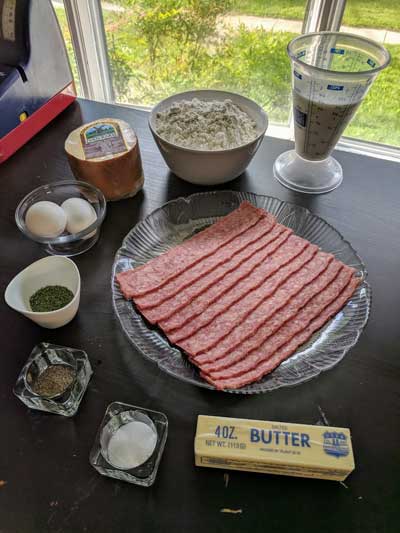 3 cups of self-rising flour
1 teaspoon salt
½ teaspoon cracked black pepper
½ cup cold butter, diced
1 ½ cups grated smoky gouda cheese
2 tablespoons chopped dill
10 slices bacon, cooked crisp and crumbled
1 ¼ cups buttermilk
2 large eggs (1 for egg wash)
Instructions
Preheat the oven to 425°F.
Add the flour, salt, and pepper to a bowl of an electric mixer fitted with a paddle attachment. Add the butter, flour, black pepper, salt, and dill and blend on low until the flour resembles corn meal.
Add in the egg, buttermilk, bacon, and cheese. Mix until just combined. If the dough is a little stiff, add a splash or two more of buttermilk.
Turn the dough onto a lightly floured surface. With a rolling pin, roll the dough into a ½-inch thick rectangle. Cut wedges of dough out to a preferred scone size and arrange on a half sheet tray lined with parchment paper.
In a small bowl, beat the egg and brush each scone with the egg wash. Sprinkle with a little coarse sea salt and pepper, and bake until nicely browned, about 15 to 20 minutes.
I cut out 24 biscuit-sized scones and would have happily eaten every one if given the chance. Each scone had a delightful bacon and cheese flavor that appealed to everyone in my family, even my husband, who doesn't usually enjoy dill. I actually wasn't sure if I used more of the herb than required, as I only had freeze-dried dill on hand. So I put in a tablespoon, which is a teaspoon more than I would have used with regular dried dill.
I served these with the delightful beef and barley soup from Karen Rose Smith's Murder with Cinnamon Scones for a complete, delicious, and satisfying meal. I did skip the suggestion to add a sprinkle of salt and pepper before baking, as I felt these were seasoned well enough already, though perhaps I would have felt differently had I used unsalted butter instead of my usual salted.
Next week, we finally make a sweet dish, traveling nearly all the way west across the country to do so. Do join me!