Cooking the Books: Southern Sass and a Crispy Corpse by Kate Young
Just when Marygene Brown thinks she's settling into life on Peach Cove Island, having successfully steadied the ship that is her family's diner, she winds up swimming into a burned corpse while out skinny-dipping one fine summer morning. No one from the island has been reported missing, so her father, Sheriff Eddie Carter, is ready to believe it was a maritime tragedy outside his jurisdiction—until Marygene discovers another similarly charred body in the basement of a house in which she's catering a gig.
The ghost of Marygene's Mama confirms that the dead are seeking her out to help bring them justice, but to everyone who isn't privy to the ghostly visitations, it just looks like Marygene has a creepy knack for falling over corpses. This raises questions for new sheriff's deputy Javier Reyes, who treats her perhaps with more suspicion than is warranted. But when the corpses are discovered as being far older than expected, with roots linking them to a wild time in the island's history, perhaps Deputy Reyes's default to suspicion is the smartest move. Marygene will soon find that not everyone in her beloved hometown is as trustworthy as they seem—and that some will go to terrible lengths to keep the truth from being discovered.
This is a densely plotted mystery with some excellently layered obfuscation that had me guessing how, why, and whodunnit until the very end. I also love that this book introduces characters of color to the series. A pet peeve I have with modern culinary cozies—especially those set in the American South—is the lack of character diversity, which detracts unnecessarily from the baseline realism I expect of the genre. It is far easier for me to swallow the idea that our heroine is being guided and protected by her mother's ghost than it is to believe that there are no black people in her community. Fortunately, several characters key to the narrative are people of color, including Deputy Reyes, who becomes a love interest for Marygene. I'm a bit bummed that she chose Alex over Roy after the first book in the series, but since Alex then goes on to disappoint her in this book, paving the way for Javy, I can't complain too much (plus, I love saying "I told you so").
There were seven delicious recipes included here, and despite all the savory dishes looking amazing, I decided to try out this equally delicious-looking recipe for sweets instead:
Peach Muffins
Ingredients
3 cups all-purpose flour
1 tablespoon cinnamon
½ teaspoon allspice
1 teaspoon baking soda
½ teaspoon salt
1 cup vegetable oil
½ cup buttermilk
1 teaspoon vanilla extract
3 eggs, lightly beaten
1 ½ cups brown sugar
3 cups chopped peaches
Instructions
Preheat the oven to 350°F and line muffin tins with 16 muffins cups.
In a large bowl, mix flour, cinnamon, allspice, baking soda, and salt.
In a separate bowl, mix oil, vanilla, buttermilk, eggs, and brown sugar.
Pour wet mixture into dry and mix gently until combined.
Fold in peaches.
With a large ice cream scoop, spoon batter into muffin cups.
Bake 20 minutes or until toothpick inserted into the center comes out clean.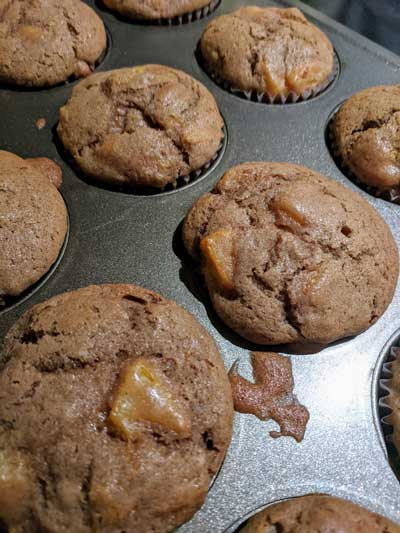 Cool 10 to 15 minutes before turning out on a wire rack to cool.
Despite peaches not yet being in season, I couldn't resist the idea of these muffins, so I chopped up some canned peaches in hopes they would suffice for fresh. Fortunately, they were more than up to the task! The fruit component was definitely a little softer—and perhaps a little sweeter—than if I'd used fresh peaches, but it still tasted absolutely amazing. I'm definitely thinking about baking these again when peaches are in season so I can compare the textures.
If you are using canned like I did, though, I would recommend getting three cans instead of two, as two came a bit under the three-cup measure for this recipe. Even with a slightly smaller amount of peach, the amount of batter wound up yielding 18 muffins instead of 16, which was a nice bonus. I loved the tip of using a large ice cream scoop to portion these out, as that made for a much neater process overall.
Next week, we travel north to Amish country to make candy and solve crime! Do join me!