Cooking the Books: Simmering with Resentment by Daryl Wood Gerber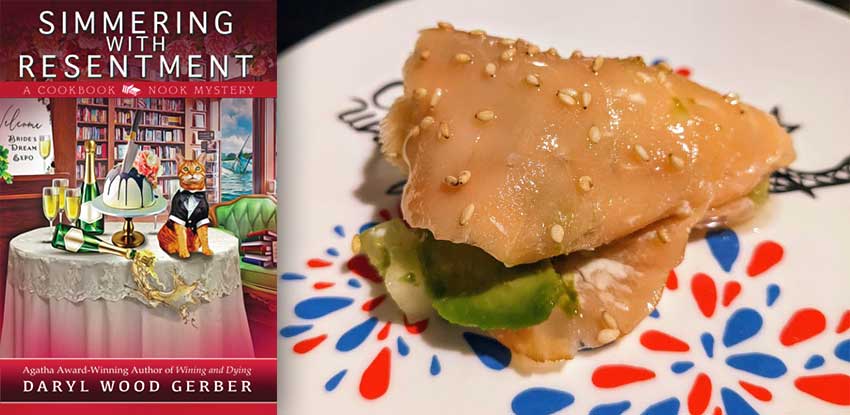 Jenna Hart is about to get married! But so, too, are the flocks of women who've descended on her small town of Crystal Cove, California, for the Bride's Dream Expo. As proprietor of the Cookbook Nook, this is the perfect opportunity for her to feature plenty of wedding-themed wares in hopes of cashing in on the influx of matrimonially minded visitors. Her wedding planner persuades her to take a little time off work to visit the expo too. Not only do they still need to book the music for her ceremony, but it's always nice to see what last-minute additions they might want to make to further enhance her special day.
Much less than nice is the sudden appearance of Sarita Strachline, the woman whom Jenna helped to convict of arson and send to jail. After five years of model behavior, Sarita is out and back in Crystal Cove. She spots Jenna at the expo and initiates a snarling confrontation that leaves Jenna both shaken and convinced that Sarita is up to no good.
So when the intimate prenuptial dinner that Jenna and her fiancé, Rhett Jackson, are preparing together at his restaurant is abruptly halted by a bomb that guts the building's kitchen, Jenna's number one suspect is Sarita. With Rhett under medical observation for a concussion, a frantic Jenna pesters Crystal Cove Chief of Police Cinnamon Pritchett to investigate and arrest the newly released felon, coming up with increasingly convoluted ways that Sarita might have done it after Cinnamon patiently explains that the other woman has an iron-clad alibi.
Determined not to let Sarita get away with it, Jenna starts investigating. But someone else is already two steps ahead of her in the quest to make Sarita pay for her crimes. Will Jenna be able to emerge unscathed after getting in the middle of an explosive game of revenge?
The Cookbook Nook Mystery series is not my favorite of Daryl Wood Gerber's—that honor goes to the absolutely delightful Fairy Garden Mystery series—but this was a very solid installment of it. You don't need to know much of what's happened before to enjoy the goings-on in this novel, as Crystal Cove is rocked by both bridezillas and actual bombs. There's also a very cute subplot about kittens needing homes, though by far my favorite thing about this novel was how calm and collected Rhett was in the face of so much adversity. He makes an excellent foil for the excitable Jenna as well as a good life partner.
There were 14 recipes included in the back of this book, many of them appropriate for a wedding or other fancy do. I had quite a time figuring out which one of them I wanted to make for this column but finally decided on this one:
Salmon and Avocado Rolls
(Yield: 4)
Ingredients
4 tablespoons softened cream cheese
1 tablespoon chives
1 teaspoon lemon juice
1 avocado, sliced
½ cucumber, peeled, seeded, and diced
8 ounces smoked salmon, divided into 4 slices
4 tablespoons olive oil
2 tablespoons champagne or white wine vinegar
1 teaspoon sesame seeds
Instructions
In a medium bowl, mix the cream cheese, chives, and lemon juice. Set aside.
Prepare the avocado and cucumber and set aside.
Lay the 4 slices of salmon out on a cutting board. Spread 1 tablespoon of the cream cheese mixture on each. Top with the avocado and cucumber. Roll gently. Cucumber chunks will slip out. That's okay. Cover and refrigerate for two hours to let the cheese firm up.
Before serving, combine the olive oil and vinegar in a small bowl and whisk until emulsified.
To serve the salmon, cut the rolls into 1-inch slices. Set on plates. Drizzle with the olive oil dressing and then sprinkle with sesame seeds.
This was an outstanding appetizer! My husband accidentally brought home a party wheel of salmon instead of the usual cuts, so I decided to make little trumpets, a lá sushi hand rolls, instead of larger rolls that I'd cut up into 1-inch slices. I wound up with 13 smaller rolls that I split the cream cheese mixture, cucumber chunks, and avocado slices between as evenly as I could. It all worked out pretty nicely in the end.
This recipe does make quite a bit more olive oil dressing than I expected, so use your best judgment when drizzling it over the rolls. I also substituted rice wine vinegar instead of champagne or white wine, as it has a sweet flavor profile that's similar to the former but is mellower than the latter. And while I enjoyed the rolls on their own, I thought they really shone when placed on a toasted bagel, as my husband suggested. Although, I originally served these as a dinner appetizer, they were great on toasted bagels the next day for breakfast too.
Next week, we head cross-country to prolong our wedding fever while baking up a sweet treat and solving crimes both past and present. Do join me!