Cooking the Books: Shucked Apart by Barbara Ross
I honestly don't know how Barbara Ross does it, writing such a terrific cozy culinary mystery series filled with consistently intriguing puzzles and fresh social dynamics for our heroine, Julia Snowden, to navigate as she solves crimes while trying to run her businesses. Tourist season in Busman's Harbor, Maine, is about to get underway, so she's focusing on hiring and prepping for the Snowden Family Clambake, setting aside the offseason restaurant she runs with her boyfriend, Chris Durand. Chris, however, thinks that this between-season lull might be the perfect time for her to turn her crime-solving mind to helping a poker buddy of his, Andie Greatorex, figure out who recently robbed her.
Andie runs the Great River Oyster Company, based out of the neighboring town of Damariscotta. While she was coming home with two buckets of valuable oyster spat (eggs, to us laypeople), she was assaulted and robbed only of the buckets and their contents. The police are focusing on the $35,000 price tag of the stolen spat, but Andie is convinced that the robbery was less about money and more about sending her a signal. The success of her company has her planning to expand her lease in the Damariscotta River, and not everyone is happy about it. From rival oyster farmers to grumpy lobstermen to snooty landowners who think that her "fish farm" spoils the view, it seems that a lot of people are opposed to her efforts. At least one of these folks, it seems, is willing to stoop to criminal mischief—though given the value of the stolen items, technically commit a felony—in order to show her how they really feel.
Julia would be more enthusiastic about aiding Andie if not for two things: firstly, she's surprised that Andie is not, as she'd long assumed, a guy, which leads her to wonder what else Chris has been keeping from her and why; secondly, Andie herself seems weirdly secretive about who could possibly mean her harm. She keeps insisting that no one she knows could have robbed her, even though Julia points out that random assailants rarely steal buckets filled with very niche items on purpose. This mostly becomes moot, however, when Julia finds Andie's stabbed corpse floating in the waters right behind the Great River Oyster Company store. Determined to find justice for her newfound and lost-too-soon friend, Julia will set about investigating Andie's murder even if it means that she might lose everything in the process.
This was another great installment of the series, with a cleverly built murder mystery layered over a moving subplot about trust in relationships. I'm still not over that ending, and I am already so impatient for the next book in the series so I can find out what happens after this! In the meantime, I'll have to console myself with cooking my way through the five recipes included here, though I chose this one in particular for this column (because potatoes are my comfort food):
Lobster Mashed Potatoes
Ingredients
4 russet potatoes
2 cups lobster stock
8 Tablespoons butter, divided
2 large shallots, chopped
¼ cup heavy cream
12 ounces cooked lobster meat, roughly chopped
salt and pepper to taste
snipped chives for garnish
green olive stuffed with pimento for garnish
Instructions
Peel the potatoes and place in a pot of water to cover by 2 inches. Bring to a boil and simmer for 10 minutes. Drain and set aside to cool. Cut into cubes.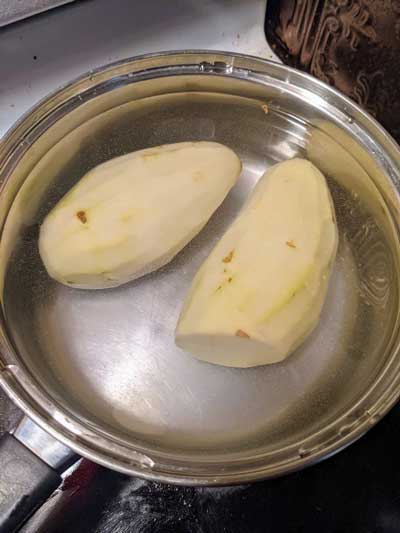 Heat the lobster stock in a small saucepan.
Melt half the butter in a large sauté pan and add the shallots. Sauté for 3 minutes.
Add the potatoes and heat for one minute. Begin adding ladlefuls of stock one at a time, stirring until absorbed by the potatoes, before adding the next until the stock is depleted. Stir in the cream and continue cooking until mostly absorbed. Add remaining butter and season with salt and pepper.
Mash the potato mixture. Gently fold in the cooked lobster meat.
Place in 6 to 8 martini glasses. Garnish with chives and green olive.
I love, love a decadent potato dish, and this absolutely fits that bill! I do recommend boiling your potatoes for as long as you think they'll need; 10 minutes seemed a little on the low end to me, as I generally dice my potatoes before boiling them for 18 minutes to get a nice mashable consistency. I actually did boil these whole potatoes—and you'll notice I did only two, as this recipe halves nicely—for 18 minutes and still found them a little more raw than I'd prefer. It was definitely a workout to mash them down in the end, even after cooking in stock!
That said, this was such a delicious dish and well worth the effort. I actually added a whole bunch of olives and pretended that counted as vegetable enough for this to be considered an entire meal. I'll definitely be preparing this again the next time I feel like making myself a not-too-difficult lobster and potato treat.
Next week, we travel over a few states to bake a yummy twist on your usual cookies while solving a murder in a series debut. Do join me!