Cooking the Books: A Room with a Roux by Sarah Fox
Marley McKinney is looking forward to a winter getaway with Brett, her husband of three months, even if it's only for a few days away in the next county over from her beloved seaside town of Wildwood Cove, Washington. Holly Lodge, the mountainside retreat they've booked themselves into, is everything she imagined and more: a perfectly cozy place to spend time with her new husband. What she didn't anticipate is being involved in a murder investigation so soon after she arrives.
Lodge owner Kevin Manning was involved in several disagreements not only with his wife, Rita, but with a property developer eyeing the land Holly Lodge stands on as well as with a disgruntled employee. So when Marley and Brett find Kevin dead in a snowbank, there's no shortage of suspects, even if none of their motives seem strong enough to warrant murder. Despite having solved several murders before, Marley is distinctly uncomfortable at the idea of being stuck in a secluded resort with a killer, so she's relieved when the local sheriff gives her and Brett the all-clear to return to Wildwood Cove.
Back home, all Marley wants to do is run her beloved pancake house, The Flip Side, and think up decorating ideas for the Christmas tree she's entering in the town's first (and hopefully annual) Festival of Trees. But murder has a way of following Marley around, and when several suspects show up in Wildwood Cove, Marley can't resist investigating. When an invitation to Kevin's memorial service ends up with Marley and Brett back at Holly Lodge again, a showdown with a killer will turn deadly once more.
This was another satisfying installment in the Pancake House Mystery series as Marley solves not only Kevin's murder but also a case of missing Christmas ornaments and, more or less, the mystery of the ghost of Holly Lake. I especially enjoyed the resolution of the missing ornaments as it showcased the large-hearted nature of this series, exploring a restorative approach to justice that merges community spirit with accountability. Another key feature of this series that I always enjoy is how Brett backs up Marley's plays. They work so well as a team, and it's nice to see that kind of supportive relationship depicted in a cozy mystery.
There were three recipes included here, and I was pretty torn between all of them but ultimately decided to try out this one:
Gingerbread Muffins
Ingredients
1 cup unsweetened applesauce
½ cup brown sugar
½ cup molasses
⅓ cup vegetable oil
½ teaspoon vanilla
2 eggs
1 ½ cups flour
½ teaspoon salt
1 ½ teaspoons baking soda
2 ½ teaspoons baking powder
1 ½ teaspoons cinnamon
1 teaspoon ginger
¼ teaspoon nutmeg
Instructions
Preheat oven to 420°F.
Mix together the applesauce, sugar, molasses, oil, and vanilla. Add the eggs, one at a time, mixing after each addition. Sift together the dry ingredients and add them to the egg mixture. Mix well.
Fill the muffin tins to the top.
When you place the muffin tins in the oven, reduce the heat to 375°F and bake for approximately 15-16 minutes.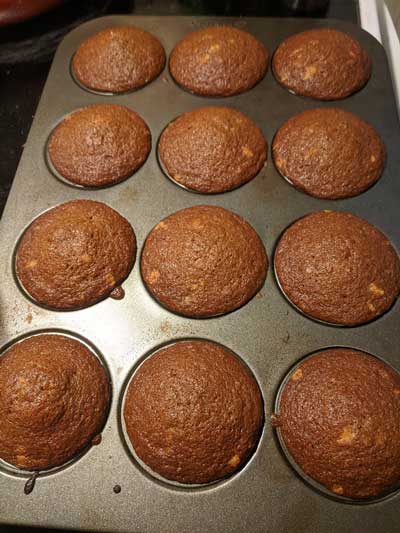 Take the muffins out of the tins and allow to cool before serving. Makes 12 muffins.
While I couldn't quite get the mixture to hit the tops of the muffin tin, this did make a good portion of nicely risen muffins that somehow managed to combine the rich flavor of dark gingerbread with a surprisingly light, fluffy texture. The muffins are also not too sweet, which is always a bonus in my book. These are truly spectacular with a touch of unsweetened whipped cream or even with a glass of milk. I should have thought to grease my muffin tins beforehand, though, or at least considered using liners to make clean-up a little easier. Regardless, this was a quick-to-make recipe that plays with interesting contrasts in texture and flavor to create a playfully unique treat.
Next week, we go cross-country to check out a paranormal culinary cozy (one of my absolute favorite sub-subgenres!) debut while baking a delicious cake. Do join me!