Cooking the Books: Pulp Friction by Julie Anne Lindsey
The second installment of Julie Anne Lindsey's Cider Shop Mystery series sees us back in bucolic Blossom Valley, West Virginia, where our heroine, Winnie Mae Montgomery, has successfully opened her dream cider store adjacent to her grandmother's apple orchard. She's recently expanded to hosting large events and is only too happy to be providing space, service, and cider for the June wedding of local girl Elsie Sawyer.
Everything seems to be going smoothly until she spots her ex-boyfriend Hank Donovan getting a little too cozy with a pretty, blonde bridesmaid. When that same bridesmaid and the groom, Jack Warren, get into a weird little spat and Hank and Jack get into an even louder disagreement, Winnie is both appalled and annoyed, certain that Hank is getting into unnecessary trouble. Little does she know that Hank is about to get himself into an entire world of trouble when Jack is found dead shortly after she sees Hank hightailing it out of her parking lot in his truck. Suspicion immediately falls on Hank for murder, as no one else in Blossom Valley seems to have any motive for killing poor Jack.
Winnie is stunned by the accusation—she and Hank have had their differences, but she's certain he isn't capable of anything like this. She soon finds that she has problems even closer to home, however, as it seems someone was in her house while she was assisting police with their initial investigations at her cider shop. She immediately calls Sheriff Colton Wise, and while they both suspect that Hank might have come to Winnie's looking for help, any intruder who might have been there is certainly long gone now.
Colton wants her to contact him immediately should Hank actually get in touch with her, but Winnie's heart—though greatly attracted to the hunky sheriff—would never be able to deny a desperate plea of assistance from the man she once thought she'd marry. Soon enough, she finds herself investigating in order to help clear Hank's name, even as she discovers the truth behind why Colton is so resistant to her efforts to help him track down a killer.
Pulp Friction does a great job of exploring the world of Blossom Valley, expanding the main characters' backgrounds and setting up intriguing overarching plots for future novels. I also enjoyed the plot twists and the way the clues were woven into the narrative. I wasn't as enamored of Winnie in this installment as I had been in the series debut—she felt less internally consistent than before—but she's still a heroine to root for. That said, there is an adorable Tennessee fainting goat introduced here that was well worth the price of admission.
There are also three tasty recipes included, and I decided to try this easy dessert:
Easy Apple Dumplin's
Ingredients
2 apples, peeled and cored
2 cans crescent rolls (8 rolls each)
¾ c butter, melted
2 Tbs cinnamon
½ c sugar
Vanilla ice cream (optional)
Instructions
Preheat oven to 350°F.
Peel and core apples. Slice each apple into 8 wedges.
Divide crescent rolls into triangles, then cut each in half to make 16 triangles. Wrap each apple wedge in a half-crescent roll.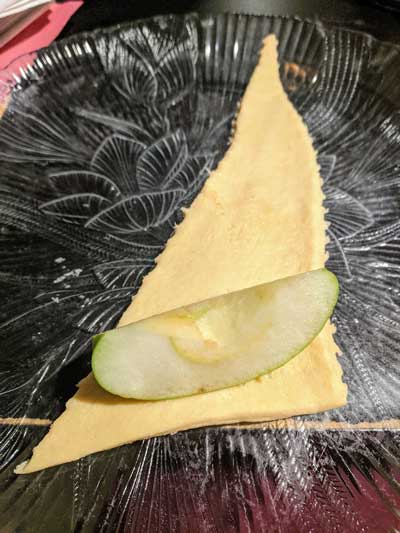 Spray a 9"x13" baking dish with cooking spray. Line wrapped apple wedges in dish. Pour melted butter evenly over wedges.
Mix cinnamon and sugar together. Sprinkle evenly over wedges.
Bake at 350°F for 32 minutes, or until golden brown.
Serve warm. Add a scoop of vanilla ice cream, if desired.
This was so good and so uncomplicated to put together that I've already made it twice! I decided to use Granny Smith apples because they're perfect for baking and to pay tribute to Winnie's grandmother. Eagle-eyed readers looking at the photos may notice that I accidentally missed a step. I attribute this to not having my lovely assistant Karin in the kitchen to catch my mistakes due to the current stay-at-home order. I totally forgot to peel the apples until I'd already wrapped them in pastry, and I certainly had no interest in peeling them at that point!
Fortunately, they came out really nice regardless, tender and delicious. I also liked knowing that I'd kept most of the nutrients by not getting rid of the peel beforehand. I recommend serving these with vanilla ice cream; they're delicious on their own, but the ice cream really adds a nice contrast to the hot, cinnamon-dusted puffs.
Next week, we travel way, way north to fix another delightful dessert before doing a run of savories, all while investigating more murders. Do join me!