Cooking the Books: One Poison Pie by Lynn Cahoon
Kitchen witch Mia Malone is settling down into life in Magic Springs, Idaho, with her beloved grandmother Mary Alice Carpenter and her almost-sister, Christina Adams—in actuality the vulnerable younger sibling of her good-for-nothing ex-fiance, Isaac. Mia is nearly ready to open her gourmet dinner business out of a former school turned into a takeaway cafe hybrid when she gets a catering offer she can't refuse. Her grandmother's best friend, the prickly Adele Simpson, wants a caterer for her upcoming birthday bash. Though wary of Adele and her less-than-stellar attitude, Mia is hardly going to say no to someone so important to her grandma—even if Adele does keep changing the menu on her.
Since her own commercial kitchen isn't quite ready to handle the event, Mia is relieved that the kitchen of the resort where the party will be held is happy to accommodate her. The head chef there is an affable host, and with the help of handsome grocery store owner Trent Majors, Mia thinks she finally has the menu under control. But then, someone stabs the guest of honor to death, and Mia's favorite knife goes missing, placing Mia under suspicion of murder. As if being a murder suspect wasn't enough, a real estate developer is making nasty moves in an effort to get her new property out from under her. And then, Isaac shows up again, making a big deal about looking out for his sister when Mia knows he's really come in search of the recipe book she created to make their previous joint venture a success that he's now claiming belongs to him even though she was the only one to work on it.
It's a stressful time for a kitchen witch, but luckily, she has a little magic on her side to help her out of all these sticky situations. For a paranormal cozy, there wasn't a huge amount of the supernatural on display, particularly at the start of the book, but by the end, the magic feels like a seamless, if subtle, part of the narrative. I also really enjoyed the frank way Lynn Cahoon discusses sexuality and politics in this novel and how she points out how easy it is to blame the "other" or outsider who often suffers a much harsher punishment than a member of the in-group would. I would recommend that new readers check out the novella Chili Cauldron Curse that precedes this novel first, however, as it fills in a bit of backstory missing from this otherwise satisfying paranormal culinary cozy.
There's one recipe included, and since it has the word "easy" in the title, I decided to eschew my habit of using store-bought pie crusts to try out the entire thing.
Magic Springs's Easy Apple Pie
Pastry Ingredients
2 cups flour
1 tsp salt
⅔ cup shortening (I use butter)
4-6 Tbsp cold water
Pastry Instructions
Mix the salt into the flour. If you use butter, use right out of the fridge and cut into squares. Fork the butter into the flour until you don't see any butter and it's all crumbling. Once you do that, dribble the water into the mix until you can hand mix it into a ball. Divide these into two balls and wrap in plastic. Then refrigerate for at least 45 minutes.
Roll out the bottom pastry and fit into a pie plate.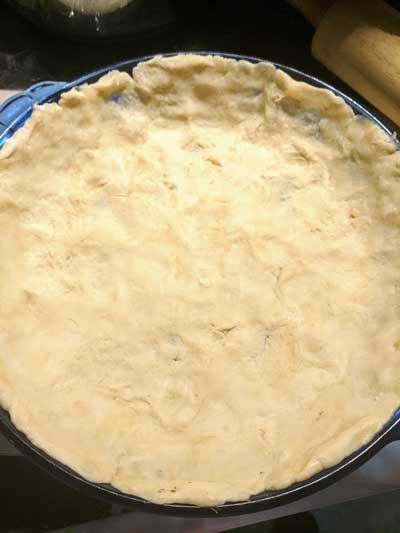 Preheat oven to 425 degrees.
Filling Ingredients
Peel, core, and slice 6-8 tart apples (Granny Smiths are great)
In a bowl mix the following dry ingredients:
¾ cup sugar
2 tsp cinnamon
½ cup flour
Filling Instructions
Put the apple slices into a large bowl, then sprinkle with 1 Tbsp lemon juice. Then add dry ingredients and stir well to coat the apple slices. Pour into the bottom pie shell. Top with 1 Tbsp of butter.
Roll out the second ball of pastry into a circle. Cut a design into the middle of the circle to allow steam to vent (I like a stem and leaves.)
Put top circle on pie and seal the edges with a crimping motion.
Sprinkle top of crust with sugar or brush with an egg white.
Bake 35-40 minutes until filling bubbles inside the crust.
Serve at room temperature with ice cream or warm with a slice of sharp cheddar cheese.
This is definitely an easy recipe to follow, but it is time-consuming, so feel free to set aside a few hours to complete it. Also, feel free to get started on the filling while the dough sets in the refrigerator since it took me almost 45 minutes to make the filling even using only 6 apples. I sprinkled my crust with sugar after making a simple vent pattern, and I am incredibly pleased with how prettily this pie turned out—and how deliciously! Everyone in my family loved this pie, even if I was the only one to enjoy it with cheese.
Next week, we stay in the Pacific Northwest to investigate a mysterious death in the sand dunes while trying out another sweet treat. Do join me!