Cooking the Books: No Parm No Foul by Linda Reilly
Carly Hale is looking forward to the cooling weather of fall, especially after the tumultuous and literally murderous events of the long, hot summer draw to a close. All she wants to do now is focus on her grilled cheese restaurant and, perhaps, win her Vermont town of Balsam Dell's annual Halloween Scary-Licious Smorgasbord competition.
Unfortunately for her, Ferris Menard—the owner of the Sub-a-Dub-Sub shop and the reigning competition winner three years running—seems determined to disrupt her peace of mind. It doesn't help that Carly's grill cook Grant Robinson has just quit his part-time job at the sub shop in favor of working with her exclusively. Menard subsequently shows up at Carly's Grilled Cheese Eatery during her afternoon rush, loudly and publicly accusing her of sabotage. While her loyal customers swiftly work to escort him from the premises, Carly worries that this is only a taste of what's to come in the run-up to the competition.
Her fears seem well-founded when, at the end of what's supposed to be a fun seasonal event, the judges discover that the competition's ballot box has been stuffed. Things get even worse when Menard is found dead in his shop the morning after and Carly's boyfriend, Ari Mitchell, is accused of his murder.
Carly knows that Ari wouldn't hurt a fly. Someone must be trying to frame him, but who and why? The state investigators called in to solve the case seem perfectly content to go along with the false narrative that's been conveniently laid out for them. Understandably perturbed by this, Carly feels compelled to do a little investigating of her own in order to smoke out the real killer and clear her beloved's name. She only hopes that she won't find herself trapped in a murderer's crosshairs once more.
I really liked the way that Linda Reilly wove together the many different subplots and details in No Parm No Foul to create a mystery as satisfying as a really good grilled cheese sandwich. I was also appreciative of how Carly knew how aggressively annoying she was with her questioning and how people kept calling her out when she thought she was being subtle. She might not be the smoothest criminal catcher, but she's certainly got her heart in the right place. Hopefully, the valid criticism she faces will help her grow as a character as the series continues.
There were two delicious grilled cheese sandwich recipes included here, and after some consideration, I decided to try out this one:
Alvin's Panko Perfection
Ingredients
Depending on the size of your bread, 4 to 6 thickly sliced rounds (about ½ inch wide) of a firm, ripe Roma or plum tomato
Salt
1 egg, beaten + 1 teaspoon water
About ¼ cup all-purpose flour
About ½ cup panko crumbs (Carly uses plain, but you can also use seasoned panko.)
About ¼ cup Parmesan cheese
Vegetable or canola oil
2 large slices of coarse white bread
Salted butter, softened
Sharp cheddar cheese–4 thick slices
Instructions
Place the tomato slices on a plate, and then lightly salt both sides.
Place the beaten egg/water mixture and the flour in separate bowls.
Mix the panko crumbs with the Parmesan cheese and place in a shallow dish.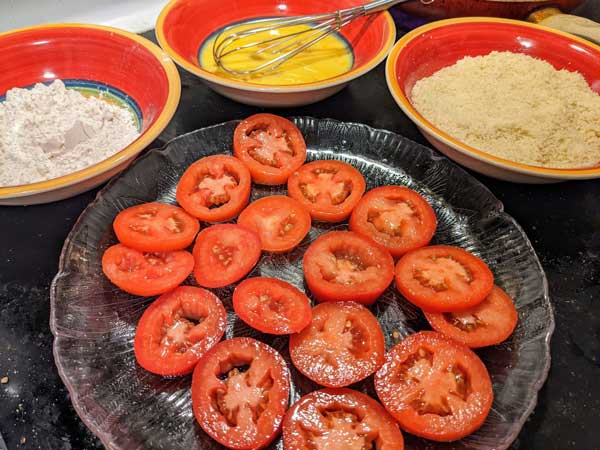 Dip each tomato slice into the flour, coating both sides and shaking off any excess, then dip into the beaten egg mixture. Dredge each slice through the panko/Parmesan mixture until each side is thoroughly coated.
Fry the coated slices in a skillet with about ½ inch of very hot oil for about 2 minutes or until the bottom side forms a golden crust. Flip them carefully and do the other side. When done, they should be golden and crispy. Blot them lightly on a paper towel.
To prepare your sandwich, butter one side of each slice of bread. On the unbuttered side of one slice, stack half the cheddar, then add the coated tomato slices side by side so that they cover the entire sandwich. Add the remaining cheddar and top with the remaining slice of bread, butter side up.
Grill over medium heat for about 2 minutes. As you grill, press lightly with a spatula or grill press, and then flip over and grill the other side for about approximately 3 minutes. Grilling slowly will ensure that the cheese is thoroughly melted and the bread is golden brown.
Slice in half and serve with chips, pickles, tomato soup, or whatever gladdens your taste buds.
Alvin, whom you'll read about in the pages of this book, has certainly missed his calling; this is the best grilled cheese sandwich I've ever had! A lot of that is due to the genius idea of including panko-fried tomatoes in it. I've had sliced tomatoes in grilled cheese sandwiches before, but this was just an otherworldly experience. It helps that the panko-fried tomatoes themselves are so delicious on their own; I happily feasted on the slices that I couldn't manage to fit into the sandwich. They make a great side dish too!
Next week, we head south down the coast to investigate a potential serial killer while cooking up another delicious side. Do join me!