Cooking the Books: Nacho Average Murder by Maddie Day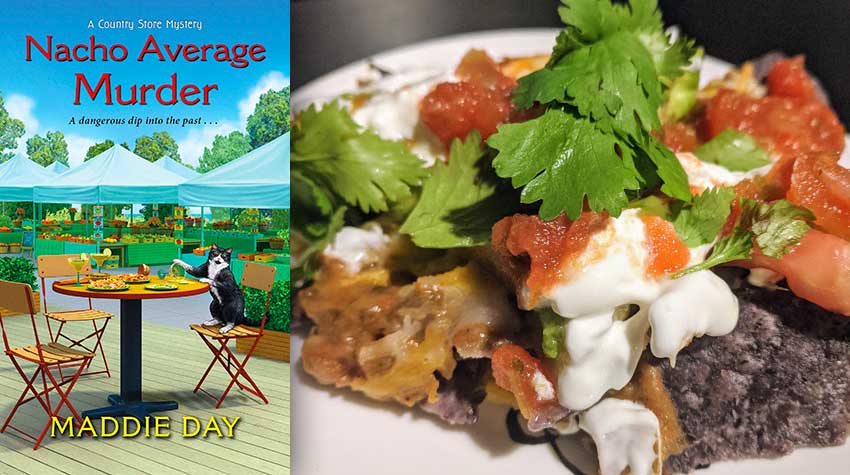 Robbie Jordan is leaving South Lick, Indiana, for a week to attend her 10th high school reunion. Traveling back to Santa Barbara is a bittersweet experience. While she's glad to see most of her friends again and enjoy the balmy winter weather, she's also reminded of her last visit home, two years ago. Her mother, Jeanine, only in her early 50s, died alone and unexpectedly of a brain aneurysm, and Robbie is still grieving her loss.
When she gets word that an old friend of her mother's might have new information about the death, she's shocked but ultimately curious. Paul Etxgeberria is an environmental activist who was friends and allies with Jeanine as they protested Agrosafe, a local company whose pesticides were decidedly unsafe for some of the smaller ranchers and farmers who lived downwind of spray areas. He's heard that the toxicity of Agrosafe's chemicals could induce brain aneurysms and fears that Jeanine was the victim of foul play.
Even as Robbie is processing this information—along with the news that her main rival in high school is the daughter of Agrosafe's CEO—Paul himself is found dead of a brain aneurysm too. Robbie immediately alerts the authorities that something seems fishy, but with less than a week to spend in the area and a burning desire to discover the truth behind her mother's death, she soon becomes involved in her own private investigations. After all, she's had some success solving murders back in South Lick. How different could Santa Barbara possibly be?
Quite different, which is only one of the things to love about this latest installment in the Country Store Mysteries. While I very much enjoy reading of Robbie's adventures running her B&B in Indiana, I did find this interlude featuring mouthwatering, coastal Cali-Mex cuisine to be even more delicious than her usual Midwestern fare. Of course, I love fresh seafood and avocados, so you could say I'm predisposed to this new menu. It was also really fun to find out more about Robbie's background as well as meet and catch up with her friends from back home.
This volume included six recipes of dishes included in the narrative, each one more delectable than the last. In honor of the title's delightful pun, I decided to try out this one, lightly edited for format.
Nachos
Ingredients
1 tablespoon extra-virgin olive oil
1 large onion, chopped
2 garlic cloves, minced
1 teaspoon cumin
1 teaspoon chili powder
1 15-ounce can refried beans
¼ cup water
1 9-ounce bag tortilla chips
2 cups shredded cheddar cheese
2 cups shredded Monterey Jack
For the topping
1 avocado, diced
1 large tomato, diced
Sour cream, for drizzling
Salsa (fresh or from a jar)
Hot sauce (optional)
¼ cup fresh cilantro leaves (optional)
Instructions
Preheat oven to 425 degrees F. and line a large baking sheet with foil.
In a skillet over medium heat, heat oil. Add onion and cook until soft, five minutes. Add garlic and spices. Cook for one minute without browning garlic. Add refried beans and water to skillet and stir until combined. (If you're feeling lazy, omit the onions and garlic and just stir the spices and water into the beans.)
Spread half the tortilla chips on the baking sheet and top with dollops of bean mixture. Sprinkle on half the cheese. Repeat one more layer. Bake five minutes or until cheese melts.
Scatter with tomato and avocado, and drizzle with sour cream and salsa.
Enjoy hot. Offer hot sauce and cilantro as options. You can omit the beans for those who can't digest them.
I love nachos, and I absolutely love this recipe! I actually used a slightly bigger bag of tortilla chips because, as eagle-eyed readers may note, I decided to sauté and shred a chicken breast and add it to the baking sheet as I put the layers together before insertion into the oven. This wound up making a ton of food, however, which was well beyond the capabilities of me, my husband, and our three small sons to finish in one evening while watching a movie. Fortunately, the nachos are still pretty good heated up and dressed the next day, though they definitely lack the satisfying crunch when enjoyed as leftovers. This is definitely a great snack to make if you're looking to wow company with finger food while watching a movie or game, though.
Next week, unlike Robbie, we get to stay in California and try out a different kind of finger food while figuring out the identity of a devious killer. Do join me!