Cooking the Books: Murphy's Slaw by Elizabeth Logan
Bear Claw Diner owner Charlie Cooke is dreading a trip to the Alaska State Fair despite the enthusiasm of nearly everyone else around her. Her teenage experiences staffing the cotton candy machines have ruined an annual event most other people look forward to, so it's with great reluctance that she accepts her best friend Annie Jensen's invitation to make a day trip of it. When State Trooper Cody Graham, or Trooper as she prefers to call the man she's known as an authority figure and friend almost all her life, alerts the women to the fact that he'll need their help as his deputies at the fair, Charlie perks up considerably—until she realizes that it's due to the fact that another old friend of hers has been murdered just on the outskirts.
With local reporter and fellow deputy—and Charlie's sometime love interest—Chris Doucette in tow, the friends use their day at the fair to gather as much information as possible while Trooper attends a mandatory law enforcement conference that allocates funding throughout the state. Charlie and Annie are saddened by the fact that the victim, Kelly Carson, was not only two years ahead of them in high school but was also a vendor to their businesses and someone they were regularly in contact and friendly with. It seems inconceivable that someone could have stabbed her to death right as the fair was closing the night before.
The question, of course, is whodunnit? Who could possibly want to harm, much less murder, a likable woman who'd dropped out of college in order to raise her orphaned nephew while making a success of her family farm? Could it have been a shady boyfriend, a neighbor with a land dispute, or someone with even more nefarious purposes? Soon, Charlie is jumping at shadows as she worries she might be next on the killer's list. Even more distracting for her is the growing attraction between Annie and Chris and what this might mean for her own relationships with them.
This third installment of the Alaskan Diner Mystery series was a little more slowly paced than its predecessors but was still a fascinating look at life way up in the north. Revolving around the Alaska State Fair and the quirks of law enforcement in our largest but least densely populated state, it showcases a collaborative, community-based approach to crime-solving that's perfect for the cozy mystery genre. The relationships also take center stage, not only in the nascent love triangle but also in Charlie's bonds with her traveling parents as well as with her beloved cat, Benny.
As always, there were two recipes included, one fairly accessible, the other slightly more complicated. As always, I opted for the easier one.
Slaw
Makes approximately 10 servings
Ingredients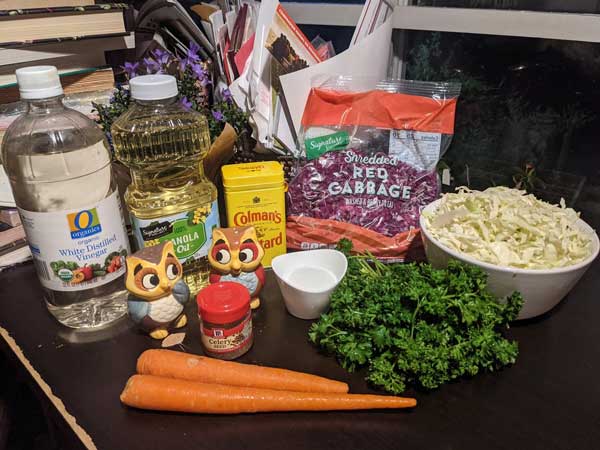 8 cups red and green cabbage, shredded
4 medium carrots, shredded
½ cup parsley leaves, coarsely chopped
Dressing
½ cup canola oil
½ cup white vinegar
1 T dry mustard
3 T sugar
1 tsp celery seeds
salt and pepper to taste
Instructions
Toss cabbage and carrots and parsley.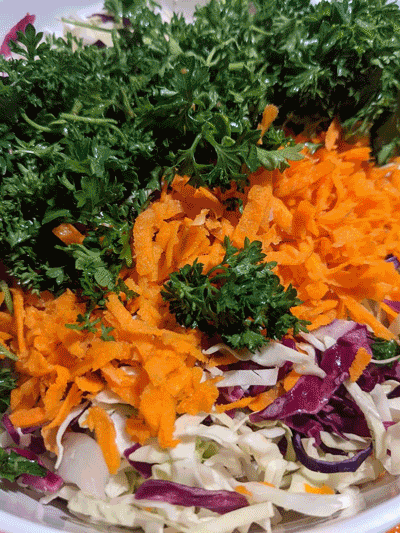 Mix all other ingredients to make dressing.
Pour dressing over cabbage and carrot mixture, wetness to taste.
Cover and refrigerate at least 1 hour.
This vegan coleslaw is perfectly piquant, with the dry mustard and celery seed balancing nicely with the sugar in the dressing. It's great as a side, as pictured, where I enjoyed it with some delicious Mexican food. I also recommend trying the slaw mixed with a protein for a salad or for a sandwich filling. The brightness of the slaw is especially delicious with tuna fish.
This recipe also halves nicely if you're not making it for too large a group. I even used pre-shredded cabbage from the store to save myself a step but also to cut down on the quite large amount of coleslaw the original recipe makes. Bonus: this recipe comes just in time for cookout and picnic weather!
Next week, we catch up with one of my favorite paranormal-tinged mystery series while whipping up an amazing Hungarian dish. Do join me!