Cooking the Books: Murder with Darjeeling Tea by Karen Rose Smith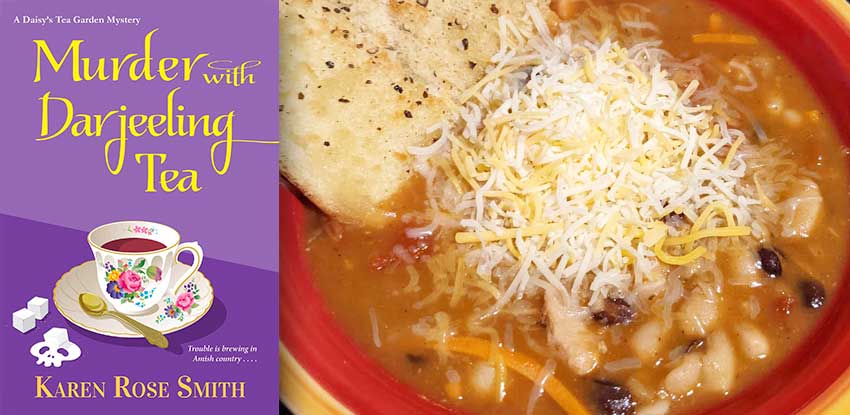 The eighth book in the Daisy's Tea Garden Mystery series may be the most heartwarming yet, even with murder marring the proceedings! It starts out with our heroine, tea house proprietor Daisy Swanson, looking for the perfect birthday gift for her boyfriend, Jonas Groft. Her efforts lead her to the statuary business of Wilhelm Rumple, whose love of dogs far exceeds his affection for humanity. Still, he's more than happy to sell Daisy a statue of a golden retriever that looks a lot like Jonas's dog, Felix, though not before attempting to entice her into purchasing one of the more extravagant items he stores under elaborate lock and key.
Daisy wants to keep her purchase a secret from Jonas so that she can surprise him with it at the birthday bash—also meant to be a surprise—that she's throwing in his honor. So when a biking expedition leads them past Rumple's Statuary a few days later and they spot a patrol car out front, she keeps mum about her experience of the place. Apparently, the Willow Creek police have come in response to a possible burglary, which Daisy knows is decidedly none of her business. But when Wilhelm is later found murdered in a dog run behind the Four Paws Animal Shelter where Jonas also volunteers, Daisy realizes that she can't keep her visit secret for much longer.
You see, Daisy had witnessed a very loud altercation between Wilhelm and local business tycoon Stanley King while she was browsing the statuary. She can't, in good conscience, hide that from her friends in the police department. But all her attempts at secrecy prove for naught when Stanley gets wind that it was she who led the police to suspect him, resulting in another very public scene at her teahouse. Shaken, Daisy must figure out who had it in for Wilhelm and why before she's the subject of more abuse—or even worse at the hands of his killer.
As always, it's a delight to get reacquainted with Daisy as she adjusts to the ongoing developments of her personal life while solving dreadful murders. With her youngest daughter, Jazzi, looking forward to college while her elder daughter, Vi, makes plans to move her young family into their own home, Daisy is suddenly facing the prospect of an empty nest. Added to this turmoil are her concerns regarding her future with Jonas. She knows she's ready for a greater commitment but isn't sure how to bring it up to him, resulting in at least one hilarious reminder from Jazzi that this is the 21st century, and women are allowed to initiate relationship conversations with their men if they so choose.
There were three recipes included in this book, and for once, I chose the most complicated to try out.
Chicken Chili
Ingredients
2 tablespoons olive oil
½ large, sweet onion, chopped (about a cup)
½ cup grated carrots
5 tablespoons flour
½ tablespoon chili powder
½ tablespoon ground cumin
2 cans chicken broth (14.5-ounce cans)
2 cans great northern beans (about 15 ounces)
1 can black beans (about 15 ounces)
1 ½ cups cut up cooked chicken
Instructions
Toppings can be sour cream, cheddar cheese, or chopped tomato.
Using a high-sided skillet, slightly heat the olive oil on medium, then drop in onions and grated carrots. Stir until the onion is translucent. The carrots will steam further in the cooking process. I mix flour, chili, and cumin (you can add more of the spices if you like it spicier) and then sprinkle that mixture over the onions and carrots. Stir for a minute or two until the flour and spices are worked in.
Once you have a paste, pour in one can of chicken broth. Stir until gravy-like, and then add the other can. Cook on medium to medium-high for about two minutes, constantly stirring to thicken. I use canned beans to make this a quick recipe, but I rinse them with water to cut sodium. Stir in chicken.
There are two ways you can cook further. Leave the chili on the stove and simmer for about 20 minutes—
–or use the method I like: just put the chili into a Crock-Pot (I spray mine with cooking spray) and turn on low for about three hours. The beans soften more, the spices have more zest, and the chili is ready whenever you want it!
This was super delicious and not too difficult to make, but I don't know if any recipe will ever really convince me that chicken chili is superior to any other kind. Perhaps I'd feel differently if I'd had the foresight to buy sour cream to go with this, as sour cream, like butter, makes everything better. This isn't to say that this was a bad dish; as far as chicken chilis go, it was excellent! And if you want to save a step with grating carrots, you can buy them in matchstick form from the grocery store as I did, which made this an even easier chili to whip up on the stovetop than I'd anticipated.
Next week, we travel to my former stomping grounds to make a delightful brunch treat while investigating the murder of a local restaurateur. Do join me!